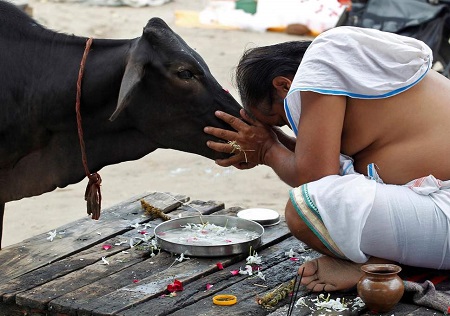 The killing of a police officer by so-called cow vigilantes, belonging to far-right Hindu groups, has triggered outrage in India.
Local media reported on Wednesday that Yogesh Raj, the main suspect behind the violence, is absconding and remains to be arrested.
Inspector Subodh Kumar Singh was killed on Monday when villagers, many of them members of far-right Hindu groups, clashed with police in Uttar Pradesh state's Bulandshahr district, about 100km from the Indian capital, New Delhi.
The villagers were protesting the alleged inability of police in Chingrawathi village to stop cow slaughtering, claiming that animal carcasses including of cows were found in the area Aljazeera reported. A police outpost was torched, while a young man, who was allegedly part of the mob, also died in the rioting.
ALSO READ: India unveils world's tallest statue celebrating independence hero
The police officer's killing following a cow-slaughter protest was the first-of-its-kind in India, where Muslims and low-caste Dalits have been frequently attacked over the issue in the past.
Four men have been arrested so far in connection with the killing of Singh, while more than two dozen people are facing charges, including of rioting and destroying property. Seven Muslims, including two minors aged 11 and 12, were also charged by the police for cow slaughter.
A video purportedly showing the moments leading to the killing of the police officer appeared on Wednesday.
While police said they were still looking for Raj, from the Hindu right-wing group Bajrang Dal, reports on Wednesday said he had issued a video, claiming innocence and making contradictory statements over the incident.
Uttar Pradesh Chief Minister Yogi Adityanath, a hardline Hindu monk known for his anti-Muslim remarks, called a meeting in state capital Lucknow on Tuesday.
ALSO READ: My experience with herdsmen —Archbishop Abegunrin
At the time of the incident, Adityanath was touring the neighbouring state of Chhattisgarh to campaign for the ruling Bharatiya Janata Party (BJP) ahead of local assembly elections.
An investigation into allegations of cow slaughter was ordered by Adityanath, but local reports said he did not address Singh's killing in the Lucknow meeting.
India's Hindu majority regards cows as holy and their slaughter is banned in most Indian states.
Hindu vigilantes often roam the roads in northern India to protect cows, frequently resulting in assaults against India's Muslim population – some 14 percent of the country's 1.3 billion people.