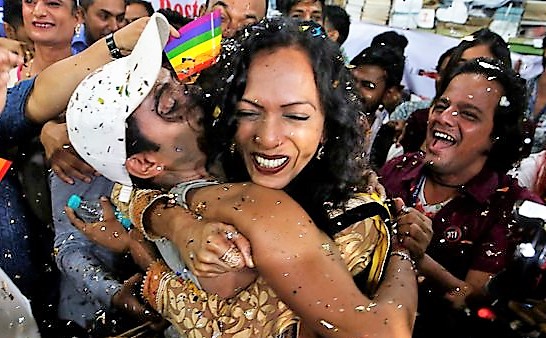 India's Supreme Court has decriminalised gay sex in a landmark ruling.
The court heard petitions challenging the constitutional validity of Section 377 – a colonial-era law under which a same-sex relationship is an "unnatural offence" punishable by a 10-year jail term.
"Any discrimination on the basis of sexual orientation violates fundamental rights," Chief Justice of India Dipak Misra, who was head of the five-judge bench, said in Thursday's ruling, Al Jazeera reported.
"The constitution is a living organic document, and pragmatic interpretation has to be given to combat rigorous inequality and injustice. Social morality cannot be used to violate the fundamental rights of even a single individual. Constitutional morality cannot be martyred at the altar of social morality."
Thursday's judgement is a shot in the arm for India's gay community.
"We become equal citizens with the removal of Section 377. Equal rights are accessible for us with this decriminalisation," one of the petitioners in the case, Ashok Row Kavi, told Al Jazeera.
Hundreds of LGBTQ campaigners, who had gathered outside the Supreme Court in New Delhi, broke into loud cheers as news of the ruling reached them.
ALSO READ: Medical reasons you should have more s3x
Activists say the law banning homosexuality had been used to harass and target the community.
"This section 377 is a terrible colonial legacy," Menaka Guruswamy, one of the lawyers representing the petitioners, had argued in court in July.
She had urged the judges to "emancipate a class of people who have not been given the promises of our Constitution".
"LGBTI communities in Sri Lanka, Pakistan and Bangladesh are also working to repeal similar remnants of British colonisation in their own country and the ruling from India will feed into more dialogues, at least among LGBTI civil society across these countries," she added.
Homosexual acts are still illegal in most of India's neighbouring countries, including Sri Lanka, Pakistan and Bangladesh.