Barely 24 hours after Ikere-Ekiti successfully held the Olosunta Festival amidst sizable crowd, including a team from the Ekiti State Council of Arts and Culture, Ire-Ekiti also staged its annual Ogun Onire Festival in a spectacle which brought out the attributes of the legendary Ogun as a war-like deity. TUNDE BUSARI reports the various trappings of the event.
One event which records annual convergence of sons and daughters of Ire-Ekiti from different parts of Nigeria and the diaspora at their ancient town is the Ogun Onire Festival, which is held in the rainy month of August each year.
The festival, Nigerian Tribune gathered, is an important custom of the town since Ogun, which is the Yoruba god of iron, is said to have disappeared into the earth in protest against a certain action of his which forced him to kill his people after he had received what he later discovered to be a false alarm of war.
Taraba: How villagers saved two other policemen from being killed by…
Regardless of the prevalence of Christianity and Islam, indigenes of the town famously known as the City of Clay, usually set their foreign faiths aside and look forward to August to reunite, perform rites and relive their past at the carnival-like festival where they flaunt their latest attires.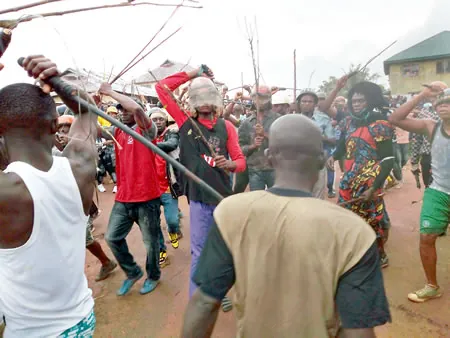 Last weekend, neighbouring communities of Ire-Ekiti such as Ilupeju and Afao felt the air of the 2019 edition of the festival. The hype of the crowd-pulling occasion spread to as far as Ado-Ekiti, the Ekiti State seat of power, where commercial motorcycle operators positioned themselves to the spot where in-coming travellers disembarked to hire commercial motorcycles to their final destinations. If you were Ire-bound, you did not need to search for description or engage a tour guide as the business-like commercial motorcycle operators besieged your car and advertised Ire as their destination.
One of them who gave his name as Sunday told the Nigerian Tribune that his colleagues were aware that Ogun Onire festival would be held on August 3 and expected an increased traffic of passengers to the town, which is about 40 minutes drive from Ado-Ekiti.
"That is why we run after passengers even before they alight from buses or cars so that we don't miss target. Travellers often come to witness the festival every year. We also look forward to it," he said at a road side near the bridge and Adekunle Fajuyi Park.
From the morning of Saturday till late in the evening, it was a beehive of activities among the youths and some physically fit old, all of whom were in frenzy of the festival, singing, dancing and exuberantly sharing joy among them. A local musician was staged few metres away from the palace of the Onire, where patrons were hanging out on bottles of alcoholic drinks.
Remarkably, the part of the festival which combined excitement and fear was the overt display of strength by the youths, each of whom wielded a long stick and charged at one another, in a scene depicting a state of anarchy. A historic quarter known as Iji-Are, hosted that combative show of force, which did not exclude some brave female folks who freely mixed with their male counterparts and also tested their gut in the act.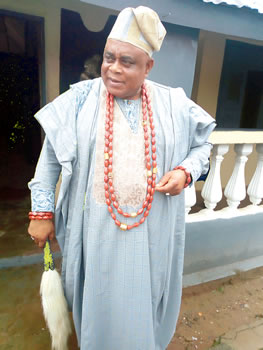 "I am not scared of the male combats because this is our culture. I grew up to know this event and decided to have the experience. It may be strange to you outsiders, but it is fun to us," one Adenike told our correspondent. When Adenike was asked on fear of being hurt, without bating an eyelid, she replied in Ekiti dialect: "There is nothing like being hurt. You cannot enter the water and still complain of cold. We are used to this fun; no one gets hurt, no matter what. Come and see us tomorrow, you won't believe your eyes. No one would be found on sickbed nursing any wound. That is the tradition, which our forefathers bequeathed onto us. So, I am very proud being a participant."
It was also learnt that the use of sticks during the festival was only an improvisation to preserve the spirit of the festival. Sharp machetes are said to have been used in the olden days in undisguised demonstration of the valour of Ogun Onire as a warrior whose pastime during his days was waging wars.
Mr Francis Ojo, a hunter, told our correspondent that however sharp a cutlass was, it won't cut opponent because each participant was expected to have fortified himself with relevant protective charms.
"Back then in the days of my ancestors, it was display of might among the youths. I am 58 years now and always looking forward to this festival because I derive a lot of pleasure in it. There is nothing we can do about this cane; it is an important part of the festival. I can even say that it is the festival. We are okay with it as long as that it the prescription of Ogun, our progenitor. In fact, if we failed to use can, Ogun would not accept that festival until we do the right thing. It is that important," he said as he wielded a dane gun.
Findings, however, revealed the abuse of that act by some participants who allegedly hid under it to launch an offensive against their target. A palace source told our correspondent of a woman who was stabbed at the back with bottle. A few similar cases were also reported with the Onire of Ire Oba Victor Bobade promptly, calling on the policemen on the ground to go after the culprits. Before departing the town, it was learnt that a suspect had been thrown into the cell while effort was ongoing to pick others.
The visibly disturbed Oba Bobade confirmed the incident and expressed his disappointment at the misdemeanor of some youths during the festival, assuring that he would stop at nothing in ensuring that decorum is brought into the culture event with a view to attracting tourists outside the state. He revealed that months before the festival, he had made some efforts to discourage the use of cane from the programme, saying he would need to wield a big stick, if need be, to drive home his point and give him the kind of Ogun Festival he desire in the 21st century.
Oba Bobade queried the justification of continued practice of the same thing the same way, saying the question was his grouse against the use of sticks for the festival, adding that a festival which seems to promote violence would not attract tourists.
"This is the issue but I won't relent in getting to where I am taking the festival to. It is the festival of my father. So, I have every right to organize it in a way that will make it more famous among other festivals in Yorubaland. The age of whipping one another is gone for good. My children are not animals; so they must see reason with me and drop their cane for a symbolic object.
"Turning Ogun Onire Festival into a big carnival is my dream which will surely come true. How then would I defend my exposure to the outside world when I cannot upgrade my own festival? Why should anybody take broken bottle and stab another person? This is barbaric, and I am not going to treat the matter with kid gloves. I am happy that the police have got the suspect. Let them keep him; so that he would realise why he should not have turned the festival to into something else," he said.
The representative of Ekiti State government, who doubles as the Director-General of Ekiti State Council of Arts and Culture, Mr Wale Ojo-Lanre persuaded the traditional ruler to drop his hard stance and offered suggestions on how to realise his dream tension-free festival. Leading senior officials of the parastatal to the festival, Ojo-Lanre said this year's edition was an improvement on the previous during which, he recalled, many injuries were usually recorded.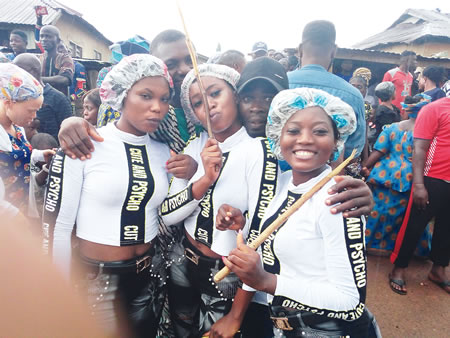 "While I want to believe that Kabiyesi's worry is genuine and good for a traditional ruler who promotes peace in his domain, I want him to tread softly on the way to handle the issue. He is the custodian of the festival, and has the right over how it is observed. But he should make his innovation gradual in such a way that the youths would not have a choice but to embrace it voluntarily. At the council level, we are also going to brainstorm on this to have a festival which will attract foreign tourists to the state," he said.
Ojo-Lanre used the opportunity to add that the council is planning to harmonise all important cultural festivals in Ekiti State under what he called 'EkiFest', a state event which would stage and showcase Ekiti cultural heritage. He said this year's EkiFest would be held in December while the inaugural edition of the harmonised one would hold in August 2020.
"It is our business at the council to give the state more appealing cultural shows. We were at Ikere-Ekiti yesterday and joined the Ikere people in their festival. We are here today, and will be attending others too. Ekiti is blessed with rich culture, and we are going to sell this treasure to the world," he said.
In terms of sales recorded by traders in Ire during the festival, it was harvest, especially for the sellers of alcoholic drinks, particularly the sachet ones. Almost every stick-wielding youth was seen with at least a sachet of choice alcoholic liquid, something which, it was learnt, stimulated their acts. Olanike said though she did not take any alcohol, she owned up that it was "necessary water for the boys to be more active during demonstration."
The National Sales and Marketing Manager of Seakam Global Resources Limited, the brewer of Bajinotu Poki, Mr Wumi Okulaja led a team from his employer to the event where they offered non-alcoholic product to the willing youths at a stand near the entrance to the palace. Oba Bobade prayed for Okulaja for identifying with his effort to reduce tension in the festival.
"It is our responsibility too to ensure the festival goes without problem, hence our deliberate strategy to bring non-alcoholic drink, which we shared among the youth. We are blessed with culture which our forefathers unfortunately failed to document. We have no choice but to document our culture so that the white people would know we are equally blessed. Our company has been doing it, and we shall continue to identify with our root," he said.
At the end of the well-attended festival, Oba Bobade clarified and declared that the Ogun Onire festival is the birthday celebration of Ogun, not worshipping the deity, arguing that he does not need to worship his father but celebrate him with fun and excitement.