In Defying Inhumanity, Bob-Nosa Uwagboe's art hits Argentina
The non-conformist artist, passionate about the progress of humanity, held two successful solo shows in Buenos Aires last month.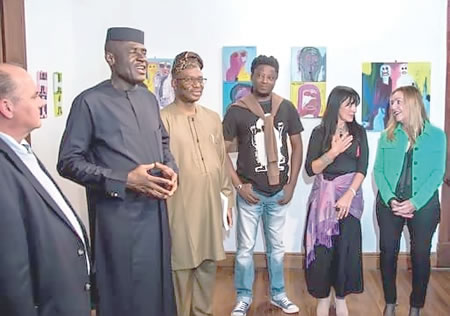 EIGHt years after his first solo exhibition, 'Homme Libre' (Free Man), at the African Artists' Foundation in Ikoyi, Lagos, aficionados in Buenos Aires, the capital city of Argentina, have had a taste of the 'protest art' of Bob-Nosa Uwagboe.
In his first ever showing in the South American country, the artist had two solo art exhibitions of the same title at different venues.  The first show entitled Defying Inhumanity and sponsored by the Buenos Aires City Government, was inaugurated on April 15, with government officials, authorities of the city's cultural centre, artists and the public in attendance.
From April 4 to 10, he also showed Defying Inhumanity, at Culture House – Capilla del Señor – Buenos Aires Province. Both exhibitions featured oil, aquarelle, drawings, paintings, gouache and included a retrospective of his work added to recent works made in Argentina. Mostly, Argentines had their fill of the artist's rebellious style.
Uwagboe used the works to draw a straight line between his art and its claim: no more inhumanity that threatens human existence. He challenged the stereotypes of the bourgeoisie, the non-action of the political classes and those who passively watch societal decadence. In his paintings, the protest about social injustices is clearly observed. The name of his school, 'Protest Studio' further attests to his convictions.
Asked about his experiences in Argentina, the dreadlocks spotting artist disclosed that the Buenos Aires atmosphere was very inspiring and that while creating the new paintings, he felt the distance between Nigeria and the country disappeared.
Interestingly, Uwagboe's shows in Argentina came after another solo exhibition, Obituary featuring the artist's 'protest art' held last November at Signature Beyond Gallery, Ikoyi, Lagos. That exhibition featured his recent paintings which focused on contemporary African challenges like migration and refugees with provocative works that sometimes appeared ghoulish.
But even at that, he evokes emotion with his art. Using diverse materials seemingly unconnected at first, he often succeeds in challenging the audience to deeper engagement with his works that have varied interpretation and are reflections mostly concerned with issues including falsehood, deception, bad leadership and reaching to the unreached.
Explaining his choice of protest art, he disclosed that: "The poor leadership in Africa and inhumane practices among men that has become the norm is my primary interest in art, which I interpret either offensively or defensively. My art is a puzzle, magical and consuming to my viewers. My creative process is a moment of calmness, anger, pain, passion, therapeutic and evoking emotion. And I employ diverse materials such as my used fabric, my hair, sand, papers, sack, rope, acrylic, spray paint, crayon, charcoal, oil paint on canvas or board. This process is a moment of total surrender to my will power and opening up my soul as a channel where good ideas pass through, and the result is of social significance and global validity. I don't pre-destine my art process, these might circumscribe my creative effort and jeopardise creativity."
Born in 1974 in Benin City, Edo State, Uwagboe was educated at Federal Polytechnic, Auchi and graduated with a Higher National Diploma in painting in 2004. Bob-Nosa, as he is called, opted immediately for full-time studio practice after his one-year mandatory national youth service in Abuja. After a brief stay in the Federal Capital Territory, he relocated to Lagos to set up The Protest Art Studio to channel his creative energy into an experimental path that has resulted in thought-provoking themes. These are often sparked by anger, pain, passion and vision that is not often defined by the subject matters and defy the border usually set by artistic canons.
He has shown in exhibitions within and outside Nigeria including The Last Picture Show in Douala, Cameroun; Art Basel Miami and the Beirut Art Fair, Lebanon. The Buenos Aires exhibition is his latest international show.