In Akure, accolades for Fagunwa, Soyinka
Scholars from across the globe paid homage to the late D.O. Fagunwa and Nobel Laureate, Professor Wole Soyinka at the second international conference of the Fagunwa Study Group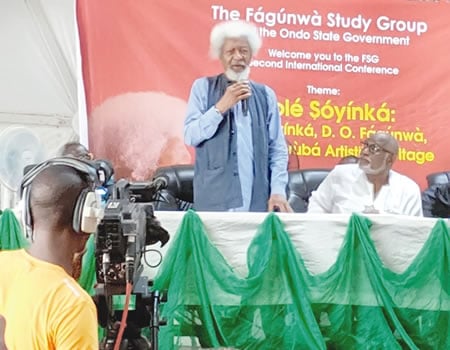 SIX years after its first international conference to mark the 50th anniversary of the passing of Yoruba author and educationist, Daniel Olorunfemi Fagunwa in Akure, Ondo State, the Fagunwa Study Group (FSG) returned to the city recently.
The group comprising scholars and intellectuals mainly of Yoruba origin honoured Professor Wole Soyinka, who clocked 85 in July, alongside Fagunwa with another conference themed 'Wole Soyinka, D.O. Fagunwa and the Yoruba Artistic Heritage' from August 7 to 11.
It was a roll call of eminent scholars at the celebration of the foremost figures in 20th-century Nigerian and African literature at the conference partly supported by the Ondo State Government.
Professors Adeleke Adeeko and Moradewun Adejunmobi (keynote speakers), RopoSekoni, Olufemi Taiwo, Remi Raji-Oyelade, Wumi Raji, Tunde Babawale, Gbemisola Remi Adeoti, ChimaAnyadike and Dele Layiwola were at the nourishing intellectual feast. There were also Doctors Akin Adesokan, Ogaga Ifowodo, Bisi Adigun, Ainehi Edoro Glines and Tunji Azeez.
The Executive Editor of TheNews/PM News, Kunle Ajibade and writer Molara Wood also attended the conference that opened with a screening of Tunde Kelani's 'Sidi Ilujinle', an adaptation of Prof Soyinka's 'The Lion and the Jewel'.
At the formal opening ceremonyat the International Conference Centre (Dome), Akure the following day, speakers highlighted Soyinka and Fagunwa's contributions to literature. They noted how despite writing in different languages, the duo appropriated from Yoruba culture to produce exquisitely entertaining and instructive works. Convergence and divergence points in the works of both icons were further highlighted in seminal papers presented.
Welcoming guests, the meeting's convener, Professor Tejumola Olaniyan, explained that the goal of the Fagunwa Study Group is to promote Yoruba culture and drawing attention to the works of outliers.
"It is our responsibility as scholars to promote and disseminate Yoruba culture and literary values. We all know that Fagunwa is a pioneer in this regard. He is no doubt the originator of Yoruba writings," Olaniyan said, adding that: "Soyinka's works are suited for discourse in worldview now and in the future. He also promotes the works of Fagunwa, thereby providing more insights into what the Yoruba culture stands for. His interpretations or translations of these works have further enriched the understanding of Igbo Olodumare and the ingredients of the forests that produced those amazing stories. A Forest of a Thousand Demons, Soyinka's interpretation of D.O. Fagunwa is a pacesetter, helping to situate his voice in world literary map."
Chair, Board of Trustees of the FSG, Professor Ropo Sekoni, also reiterated the goals of the body and appreciated Soyinka and Akeredolu's support.
Governor Oyetola, who was represented by his Chief of Staff, Dr Charles Akinola, also commended the FSG and Soyinka. "His ideals and ideas as a writer have travelled far into the world. He keeps helping us to tell our stories; who we are and where we are headed. Both Soyinka and Fagunwa have set standards we must follow in the 21st-century. There's the beauty in what they have written to remind us that we have a language we must not forget or treat with disdain," Akinola said.
Governor Akeredolu toed the paths of the previous speakers, praising Soyinka in superlatives. "It is hard to believe that he is 80, talk less of 85, considering the vigour, speed and intensity with which he carries on. One feels strong and encouraged by Professor Wole Soyinka's writings and activities over the several decades of his engaging years. His life at every station has taught us that to make meaning of life, a man must set forth at dawn and immerse himself at the epicentre of beliefs, struggles and activities which seek to reclaim society and help it attain its natural fullness of being."
In his speech, Soyinka mourned the demise of Professor Molara Ogundipe and U.S. writer, Toni Morrison, two female writers close to him. "The two are great writers" Soyinka noted, adding that it would be difficult to erase the friendships from his memory. Never one to let the moment pass, the Nobel Laureate also commented on the insecurity in the country.
Some of the papers presented at the conference were: 'The Furry-Bearded Being and the Beardless Butcher on a Rock Promontory: Notes on Soyinka's Breed of Hybrid Humanity in Alapata  Apata' by Professor Adeoti; 'The Famished' Fourth Stage': The Nigerian Road and the Aesthetics of Wole Soyinka's Yoruba Tragedy' by Bisi Adigun; 'Fragmentation as Form in Amos Tutuola's The Palmwine Drinkard' by Ainehi Edoro; and 'Of State, Stranger, and Progress: A Soyinka resque Reading of Ryan Coogler's Black Panther' by Tolulope Akinwole, a doctoral candidate at the University of Wisconsin-Madison.
Others were 'Myth, and Rationality in the Dramaturgy of Soyinka and Brecht' by Prof Anyadike; 'Trees of Life and Forests of Death: A Spirito-Physical Reading of Six Yoruba Artists' by Tunji Azeez; 'Fagunwa, Soyinka, Bunyan and the Echoes of 16th Century Christian Reformation' by Professor Layiwola; and 'Framing the Fantastic in Fagunwa's Yoruba Lebenswelt: The Translator Dilemma' by Prof Raji-Oyelade.