I'm used to winning laurels but this is special —Omotoso, Newcastle University's best MSc Electrical Power student
After his higher education at the Federal Polytechnic, Ado Ekiti, Omotoso Olutayo Olusogo won a scholarship to study at the Newcastle University, England. There, he beat every other first class student from around the world to emerge the best with distinction. In this interview by SAM NWAOKO, he speaks on his experiences and his plans. Excerpts: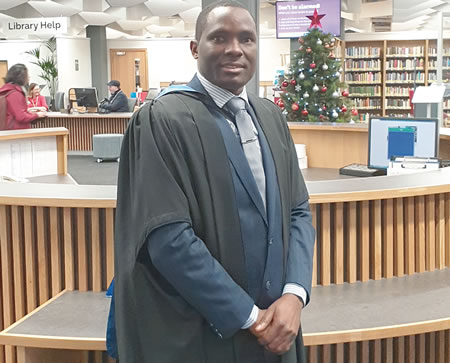 You came tops in your class at the Newcastle University, UK. How do you feel with this achievement? 
It was not my first time anyway, as I have won several academic awards. These include the Rector's Award for the Overall Best Student in Electrical and Electronic Engineering Department, the Federal Polytechnic Ado-Ekiti (2004), HOD's Award for the Overall Best Student in Power System and Machine at the Olabisi Onabanjo University, Ogun State (2017), etc. Yet, my award at the Newcastle University is special. It gives me one of the most blissful moments of my life being celebrated in one of the world's topmost universities; though a lot of sacrifice, commitment and self-denial of fun were involved. I feel good that the feat has propelled me to the next stage of life having won another full scholarship for Doctor of Philosophy/Doctor of Engineering (PhD/EngD) programme at one of the top ranking universities in the world.
How did you sponsor your MSc programme, considering the cost of education in the United Kingdom?
It was sponsored by the Petroleum Technology Development Fund (PTDF), Nigeria. I won their scholarship.
How does the PTDF scholarship work? 
Petroleum Technology Development Fund (PTDF) postgraduate scholarships are of two schemes, viz: the Overseas Scholarship Scheme (OSS) and Local Scholarship Scheme (LSS). Both are highly competitive with the selection criteria being based on academic merit, membership of recognised professional bodies and viability of research plan (for PhD) and statement of purpose (for MSc). The requirements for short-listing of MSc candidates include a minimum of Second class upper honours (with relevant experience) in first degree. Candidates must have successfully completed the national youth service. Possession of five Ordinary Level credits including English Language is a must. To be eligible for short-listing, prospective PTDF scholars must have passed through a very rigorous screening process and interview anchored by experts from the industry, academia and relevant government agencies.
When did you obtain yours and how did you go about it? 
I obtained the PTDF scholarship on 25th June, 2018 for MSc Electrical Power at Newcastle University. It was highly competitive.  This was evident in the rigorous screening process. The statistics of the shortlisted candidates' grades taken during the 2018 MSc induction (for Strategic Partnership in the UK) showed that over 75 per cent of the selected candidates bagged first class in their first degrees.
Did winning the scholarship come as a surprise to you, or were you confident you would get it? 
Considering my academic track record, winning a scholarship would not be a surprise. Yet, I had little hope in securing the PTDF scholarship because of what people tag as 'Nigerian factor'. But I was surprised by the PTDF's strict adherence to laid down selection process and requirements. Hopefully, Nigeria will be a better place in no distant time if other ministries and government's agencies can emulate this.
What's your area of study? How many students were in your class and what do you think stood you out? 
My area of specialisation is Electrical Power, which includes Power System Stability and Control; Power Electronics for power system and mobility applications using wide band gap technology. My class capacity was 50. Graduating as a top student in MSc Electrical Power came as a surprise to me for the fact over 80 per cent of the students were best candidates from their respective countries. Again, most of them had their first degree in the developed world with state-of-the-art teaching facilities, conducive teaching and learning environment and, most importantly, in high-ranking universities. I want to believe that the grace of God stood me out. Considering human efforts, I would say consistent study, persistence in solving problems were tools that propelled me to the top.
What would you say were the major challenges you faced at the initial stage of your sojourn?
The weather was the initial challenge as one needed to battle with temperature as low as -2⁰ C sometimes. The cost of living was also throat-cutting. For instance, the cost of making a pot of soup in the UK is almost five times its equivalent in Nigeria. There was no challenge about food choice as I am not choosy. English people are friendly, helpful and easy-going.
Do you have a particular study schedule or pattern? 
I do not have a specific study schedule, but I have preference as per where I study. I don't do personal study where people are or in the library; though I love and engage in group study. I study mostly in bed.
Are there benefits attached to your emerging as a top student at the Newcastle University? Have you been offered an extension of your stay and study in England? 
A special Certificate of Achievement (with prestigious prize) was conferred by the university. I was also celebrated with my picture posted on the Alumni Facebook for this feat. Both PTDF and Newcastle University are gratefully appreciated for this. Nevertheless, I will like to suggest that candidates in this category should be offered automatic full PhD scholarship in the future. This will encourage hardworking and pragmatic research outcomes.
What's next for you? Are you returning to your school in Nigeria?
As mentioned earlier on, I want to start my PhD/EngD Power Electronics as applied to Power System and mobility technologies.
What's your advice for people who would want to be like you?
Students who want to be on top must be hard working, observe consistent study, and be relentless in problem solving. In fact, such students' education/academic perspective must be unique and different. For me, I see education like taking a bath to look healthy rather than look good. That is, I view education/academics as a way of acquiring knowledge to impact the world positively rather than money making.
What's your background like? And how has it influenced where you are today?
I never had the opportunity of attending private or any of the best primary or secondary schools out there as my parents are peasant farmers. In fact, at the time I was in the primary school, my school was one of the worst in the state as there were no designated classrooms for each class and one teacher taught not less than two classes for all the subjects. As at that time, there was no examination centre in the village. We had to always trek to the local government headquarters (over six miles away) or the nearest community in the ward to write terminal examinations. I could not also go for university education initially because my parents could not afford it. I remember my first school fee at the Federal Polytechnic Ado-Ekiti was less than N2000. My parents had to borrow it. HND put barrier to my academic progression, hence, I had to self-sponsor myself to acquire BSc, which, to my humble assessment, by quality, was equivalent or even inferior to the polytechnic education I received.