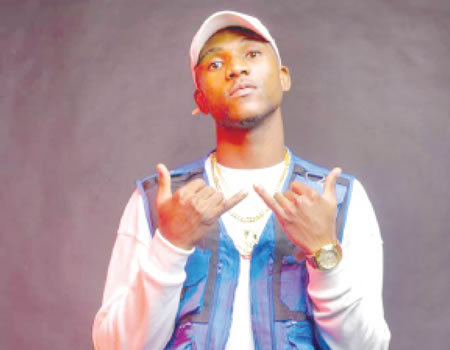 Fast-rising music sensation Uzoma Victor, otherwise known as Charmee speaks with SEGUN ADEBAYO on his music journey and life as a star.
Since you got signed to Idol Records, there has been a lot of buzz about you and it seems you are ready to take your music to the next level. Tell us about the transformation that has happened to your life?
Thank God, I chose music. I am happy about the beautiful things happening in my life through music. The transformation did not just happen today; it's been a long time coming. It started for me at a tender age. I was in the children's choir at the age of four;  we were called the little stars then. When I got to secondary school, I still kept the music dream alive sneaking out of the house to record at studios. My university days were fun too, as I won a lot of awards with my music. Then I really knew that music was it for me. And thank God I'm here today
How did you find your way into Idol Records?
I got connected by my very good friend and senior brother that I met from my school days. I thought it was a joke when he said he loved my songs and was going to link me up but it happened and I'm grateful to God.
Do you truly believe the label has the capacity to push your career to the next level?
I have full confidence in the label. I would not have joined the label if I was not sure of what I was getting into. Looking at where I am today, you'll see I am on the next level. So, we are aiming for the highest level. I'm so amazed that I've got this far in such a little time.
You had your first degree in Computer Science but you chose music as a way of life.  How did that come to be?
Music has been a passion from a very long time as I said earlier. Music and I have come a long way and we would continue to go together till God says we should stop being together. In fact, I don't see myself leaving music for anything. It is my life. My parents put me in the music way from my tender age. And as I grew day by day, the passion grew stronger. The vibes and the right melody fell in love with me more and more so, we got hooked to each other.
ALSO READ: The oldest, largest McDonalds where US dollars not accepted
 Looking at the industry and its structure, do you think you are ready for what the industry could throw at you?
First of all, I'll let you know I'm unique. So I'm going to take over real soon. I've got the best team and we are not here to play
You have a new song Ogologo and you have been making waves with it. Tell us the inspiration behind the song?
When I wanted to record Ogologo, I wanted to do something different from the norm. I grew up listening to people like Duncan Mighty, Timaya and Wizkid.  I got the name Ogologo from tomato's song same day I went on Instagram and as I was browsing through, the name popped up. I felt a connection and I knew the track and name Ogologo were perfect. From the moment I started writing, I knew the song was going to change the story of my life. And, thank God for my team, when I did an accapela of the song, they felt it and I hit the studio with Mystro, the producer. The rest is history today.
You are an Afro pop star in an industry that has over a 1000 singers competing for space. What do you have that would make you edge others out of the game?
It is very simple. My uniqueness, hard work and self-belief are all I've got and I know it would speak for me
If there is one artiste you wished you could work with, who would it be?
That will be Duncan Mighty. The man is on fire at the moment. I look forward to working with him because he makes music, especially the lyrics so easy.
What's the greatest thing that has happened to you as a musician?
Getting signed and being loved by many people around the world with just my first single. I'm so grateful to God. I know greatness is my mine.
What's next after Ogologo
Ogologo is something that I believe will change my life and I am grateful to my label boss and my team for helping me this far. I believe there's still so much to do with Ogologo. But right now Ogologo promotion is going on but I would be in the studio with Peruzzi and Speroach very soon. So, my fans should expect something from me and Peruzzi dropping after Ogologo.