Hardly will his fans recognise his real name, Gabriel Amanyi, but the industry vibrates and his fans ginger when his stage name, Terry G is mentioned. The Apako master, in this interview by SEYI SOKOYA, speaks on his switch to gospel tune, family and among other issues.
You released a new song in December, which was a shift from what you are accustomed to. How would you describe its acceptance?

Yes, the new single is entitled Chimo and it means God in English. The song is very close to my heart because I used it to thank God for keeping me alive and making me relevant in the music industry. The song was produced by my company and can be classified as a gospel tune.
PDP, APC trade accusations over mayhem in Kwara
The song is also to show those who have been doubting my relevance to know that I  am still a force to reckon with in the industry. The vibe and energy is still intact. Chimo is a rap song with a difference. I am not threatened by other musicians and what they have put out there. I have peace of mind. Terry has come of age and I just want to create positive vibes. I was one of those that started what is trending in our industry now. I pioneered what they now call street song. The outgone year was progressive; I released three singles and had a couple of collaborations. I am inspired by my environment.
So how have you managed to stay relevant?
One just needs to observe and know when to put down the right cards. You have to play the game and I have been playing it for decades. Though I make mistakes, sometimes and I learn from them and I move on. I am not stereotyped with my songs and if you observe, I don't jump on the bandwagon.
You can't keep eating rice and get tired of it. I still have much more to offer my fans and the industry.
You ventured into business some years back, how has life been on that side?
It has been awesome, because the business is moving well. I am delighted to say that Terry G pure water business has grown bigger that what I emphisaged and I feel very proud of my success. The business has experienced a huge development under the management of my wife, the most intelligent woman in the world. She has made sure the business keeps going stronger by the day. I am sure that it will record more successes this year and beyond. I have also been doing other things and getting shows. So, I feel proud and I am glad that things are looking up for me.
Your parents were said to have disapproved of your decision to go into secular music as against the gospel where your career actually started from…
I think it was quite difficult to convince my parents. At a stage, I had to run away from home. My dreadlocks are still a threat to my parents, because they never wanted them. My mother was a bit supportive, but they both never wanted such music. All they wanted from me as the first child of the family was to take after them. My father is a cleric, so they wanted me to toe that line, which I am into right now, because I believe we are all servants of God and we are sent to different areas.
So, how did you switch?
I was just looking for a way to make my voice heard. So, I met Faze through Shola Animashaun during one of my church ministrations. I once ministered before Pastor Enoch Adeboye and he laid his hands on me and prophesied into my life. In fact, I touched the lives of people when I was doing gospel songs. During one of my ministrations back then, people were moved by God through my music.
So what happened to that spiritual side of Terry G?
I lost the anointing because my spiritual life is no more what it used to be. I know that I am blessed with the gift; I am a covenant child. I am a very sensitive person.  You can't do the things I do and still think you can connect with God like I used to do.
Why did you disband your team?
I disbanded it because I felt it was not working for me. I probably was not in the right state of mind to manage a band. I was so much in love with the music that I didn't fail to put the right structure in place. I was also not looking at the business part of my music. In a nutshell, it was not coordinated.
Your songs, Free Madness and Aye Logan changed the game for you, but why have you not been able to repeat the same feats?
There is time for everything. Nobody in the industry is an island; we are not perfect. I think that was my fault. Now, I have been able to balance my social and personal lives, but not yet at the perfect stage.  I am now more responsible. I know what my duties are. I know what  public service is and I know what to do when I am out there. These are the things I did not handle properly then because of the neighbourhood I grew up in. I simply had no guide.
You are a father of one and your son is six years old. Do you plan to have another child?
I feel I will have another child when I am ready. I am not under pressure to have another child. My mother does not bother me about it. The goal is to invest in my son. He is in Chelsea Academy and going to school. So, I need to focus on him for now.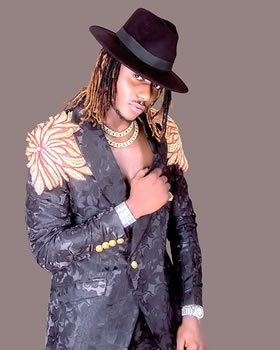 Do you have plans to marry your baby mama?
She is not worried about that and we are still young. We have been through a lot together and she handles most of my businesses. I think we are not in that level now. When the time comes, we will do that.
Are you saying you don't believe in marriage?
Of course, I do. Marriage is all about trust, and it is not until you make noise or paint the town red before one sees himself or herself as a married person. I am married to the mother of my son already even though we are not officially married.
But not many people are aware that you are both in good terms?
We are cool; she is in charge of my business as I said. She is the only child of her parents. She knows me as Gabriel and not as Terry G. She criticises me a lot. I need to also remind you that she is a very classy woman.
You once acquired a Ferrari, but there were reports that you sold it when you got broke. How true is this?
It is not true. The road network in Lagos was frustrating, so, I had to take it to Abuja. It is in my small house in Abuja.
Are you not tired of your dreads?
I must probably be richer than Dangote before I cut my hair, because it is my signature.
What is your assessment of the industry?
We are growing. The fact that we are not serious about life is the problem. We need to know that life is not all about now; it is the future that matters. That is why 2face is still the number one artiste. Artiste should plan their tomorrow with their last strength.