IGP orders probe as Hushpuppi fingers Kyari in $1.1m fraud
•US court orders top cop's arrest •How he was linked to money laundering —FBI •Hushpuppi only sent N300,000 for kaftan, I connected him to my tailor, Kyari clarifies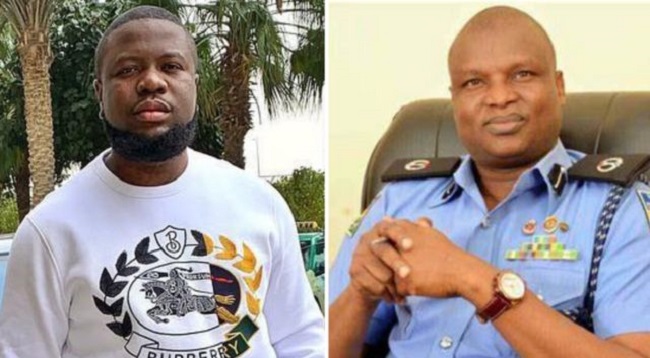 THE Inspector-General of Police, Usman Alkali Baba, has ordered an internal review of the allegations of money laundering and advance-fee fraud against the celebrated crime-buster, Assistant Commissioner of Police, Abba Kyari, levelled against him by authorities of the United States of America. 
The Economic and Financial Crimes Commission (EFCC) is, however, yet to commence investigation into the allegations. 
Kyari is now wanted in the United States in connection with the money laundering and cybercrime cases against celebrity fraudster, Ramon Olorunwa Abbas, a.k.a. Hushpuppi. 
Abbas pleaded guilty to conspiracy to defraud a Qatari businessman of more than $1.1 million, according to the US Justice Department. 
A federal grand jury three-count indictment unsealed on Wednesday showed that Abbas, detained in Los Angeles, pleaded guilty on April 20, to charges of money laundering and cybercrime offences. 
He faces 20 years in prison. In the depositions made to a United States District Court for the Central District of California, Kyari was listed as an accused person alongside Abbas, Abdulraham Imraan Juma, a.k.a. Abdul; Vincent Kelly Chibuzo, a.k.a. Kelly; Rukayat Motunrayo Fashola, a.k.a. Morayo and Bolatito Tawakalitu Agbabiaka, a.k.a. Bolamide. 
Kyari, listed as Abba Alhaji Kyari, was accused alongside others of conspiring with Hushpuppi to "fraudulently obtain and launder at least $1,124,426.36 (US dollars) from a victim." 
Abbas reportedly indicted Kyari as an associate, with the Federal Bureau of Investigation (FBI) in America launching an extensive investigation into the alleged crime circle, starting from November 12, 2019, according to court documents. 
Investigators claimed they eventually linked both the self-confessed fraudster and the Nigerian super-cop to the alleged crime. 
In the course of the investigation, it was documented that Abbas pledged allegiance to Kyari, telling him in an intercepted call, "I'm really happy to be ur (your) boy. I promise to be a good boy to u (you) sir." 
Otis Wright, in charge of the case, has given FBI the mandate to track Kyari and bring him to justice. 
Nigeria is one of the 100 countries with treaties with United States and regular suspect swap is done between the two countries. 
When the spokesperson of the EFCC, Wilson Uwujaren, was contacted, he said the commission was not doing anything on the Kyari matter yet and suggested Nigerian Tribune should check with the police. 
When reminded that the commission usually probes cases like the one involving Kyari, he maintained that nothing was going on at the anti-graft's end. 
In the court documents seen by Nigerian Tribune, a special agent of the FBI, Andrew John Innocent, swore to an affidavit, linking Kyari to Abbas. 
A request to detain Kyari in the United States, when nabbed, was also sought on April 29, according to court papers. 
The FBI agent deposed that "I am a special agent with the Federal Bureau of Investigation ('FBI;), and have been so employed since approximately March 2015. I am currently assigned to the Los Angeles Field Office, HighTech Organised Crime Squad, where I primarily investigate cyber-enabled fraud and business email compromise ('BEC') schemes. 
"Between approximately August 2015 and Decem- ber 2018, I was assigned to a cyber-crime squad in the Chicago Field Office, where I investigated cyber-related crimes, including BEC cases. 
"During my career as an FBI Special Agent, I have participated in numerous computer crime investigations. In addition, I have received both formal and informal train- ing from the FBI and other institutions regarding computer-related investigations, computer technology, and white-collar fraud." 
He also gave a graphic detail of how Kyari was unmasked. 
According to the affidavit, "Kyari communicated with Abbas primarily using the phone numbers +2349099999131 and +2348120000043 — both of which Abbas had saved with contact names including 'Abba KYARI,' as discussed below. 
"Kyari's messages to Abbas contained numerous photographs of himself, some of which also included his name. For example, using the phone number +2349099999131 — which Abbas had saved as 'Abba Kyari'– Kyari sent Abbas the following photograph, (displayed in the affidavit) on September 8, 2019: 
"This image depicts Kyari sitting at a desk, surrounded by multiple photographs of himself. Zooming in on the image revealed that the nameplate on the desk says 'DCP Abba A. Kyari' and a photograph on the wall states "DCP Abba Kyari' and 'The Nigeria Police Force.' 'DCP' is an acronym for 'Deputy Commissioner of Police,' which was Kyari's title within the Nigeria Police Force. A magnified version of the latter photograph is included here (shown in the affidavit). 
"Using the phone number +2348120000043 — which Abbas had saved as "Abba Kyari new numb' — Kyari sent several images of himself to Abbas in April and May 2020, including the following: (pictures depicted). 
"Additionally, on June 9, 2020, Kyari sent Abbas a link to an article in the Nigerian publication 'The Independent' describing how the Deputy Commissioner of Police, Abba Kyari, was be- ing honored by the Nigeria House of Representatives. I and another FBI employee located this article online, and a screenshot of it is included below: 
"I reviewed online articles about Kyari, which indicated that Kyari is an Inspector General of the Police's Intelligence Response Team and a Deputy Commissioner of Police in Nigeria. Kyari previously managed the Special Anti-Robbery Squad, commonly known as SARS, as the Officer-In-Charge for several years. 
"Articles referred to Kyari as a 'super cop' of the Nigeria Police Force and described him as 'The Most Decorated Officer In The History Of The Nigerian Police.' 
"Kyari has been awarded many accolades, including recognition for his performance by the Nigerian House of Representatives in June 2020, which Kyari informed Abbas of, via the news article discussed above. I also reviewed other articles, from October and November 2020, which indicated that Kyari had been accused of falsely arresting and extorting a businessman in Lagos. 
"Based on those articles, Kyari's work, in general, appears to have related primarily to kidnapping cases and I did not see any articles suggesting that Kyari worked on fraud cases.
"Finally, I have reviewed a certified NIV application sub- mitted by Abba Alhahi Kyari, in April 2019. This application included one of the afore-mentioned phone numbers (09099999131) that Kyari used to communicate with Abbas, as well as a date of birth in March of 1975, and Kyari's Nigerian passport number ending in 3677. Based on my training and experience, I know that this phone number format includes the prefix '0' which is how someone within Nigeria would dial that phone number, rather than using the country code '+234.' 
"Based on messages I reviewed, Abbas appears to have first interacted with Kyari in September 2019, when Kyari travelled to the U.A.E. The conversation indicated that Abbas sent a car and driver to drive Kyari during that trip. Soon thereafter, Kyari sent Abbas a video slideshow which showed some personal photographs of Kyari, some of which appeared to have been taken in the U.A.E. 
"Later in September, after Kyari sent Abbas an article that discussed him arresting alleged kidnappers, Abbas wrote, in part, to Kyari: "I'm really happy to be ur (your) boy,' and later, 'I promise to be a good boy to u sir'." 
In a release from the Department of Justice, US Attorney's Office, Central District of California, on Wednesday, Hushpuppi, Kyari and the other four were said to have been indicted for the fraud involving the Qatari school founder. 
Regarding the alleged relationship between Kyari and the Hushpuppi, the statement reads in part: "Court documents outline a dispute among members of the conspiracy, which allegedly prompted Vincent to contact the victim and claim that Abbas and Juma were engaged in fraud. 
"After this contact, Abbas allegedly arranged to have Vincent jailed in Nigeria by Abba Alhaji Kyari, 46, of Nigeria. According to the affidavit, Kyari is a highly-decorated deputy commissioner of the Nigeria Police Force who is alleged to have arranged for Vincent to be arrested and jailed at Abbas' behest and then sent Abbas photographs of Vincent after his arrest. "Kyari also allegedly sent Abbas bank account details for an account into which Abbas could deposit payment for Vincent's arrest and imprisonment." 
Kyari has, however, denied any wrongdoings in his association with Abbas. In a statement he put out on Thursday, he said, "Friends: Abbas who we later came to know as Hushpuppi, called our office about 2 (two) years ago that some- body in Nigeria seriously threatened to kill his family here in Nigeria and he sent the person's phone number and pleaded we take action before the person attacks his family. 
"We traced and arrested the suspect and after investigations, we discovered there wasn't an actual threat to anyone's life and they are long-time friends who have money issues between them hence we released the suspect on bail to go and he was not taken to any jail. "Nobody demanded for a kobo from Abbas Hushpuppi. Our focus was to save people's lives that were purported to have been threatened. 
"Later, he saw some of my native clothes and caps on my social media page and he said he likes them and he was connected to the person selling the clothes and he sent about N300,000 directly to the person's account. The native clothes and caps (five sets) were brought to our office and he sent somebody to collect them in our office. 
"Nobody demanded any money from Abbas Hushpuppi and nobody collected any money from him. We responded to a distress call he made on threat to his family and released the suspect when we discovered there was no life threat from the suspect. This is the true story. Vincent is alive, he can be contacted. 
"For those who are celebrating that this is an indictment on us and mentioning some fictitious big money, they will be disappointed once again as our hands are clean and our record of service for 2 (two) decades is open for everybody to see. They will continue seeing us serving our fatherland and we will continue responding to all distress calls from all Nigerians, provided they are life-threatening. 
"For good Nigerians who appreciate our service, please don't worry as our hands are clean and they should please not respond to those celebrating and creating many false narratives without any evidence. We are used to such types of people and false newsmakers and distributors. Thank you all and GOD bless Nigeria." 
Kyari created bubbles on social media weeks back when he was seen at the lavish funeral ceremony of mother to controversial billionaire, Obi Cubana. He claimed Obi is a long-standing friend. 
Meanwhile, sequel to the receipt of allegation and indictment processes from the FBI, the Inspector-General of Police, while reaffirming the commitment of the Force to the pursuit of justice and the strengthening of its professional relationship with the FBI and other international partners, ordered internal probe of the allegations. In a statement by the Force Public Relations Officer, Frank Mba, the police chief said further developments on the case will be communicated to members of the public accordingly. 
PDP demands full probe into allegations 
The Peoples Democratic Party (PDP) has demanded for a forensic investigation into reports against Kyari. In a statement issued on Thursday by Kola Ologbondiyan, its national publicity secretary, the party said the revelation of the involvement of Kyari, the head of Nigeria's intelligence response unit, "as a receiver of proceeds of international fraud is worrisome, disturbing and a stain on the integrity of our nation." 
The party, therefore, demanded that the All Progressives Congress (APC) administration should not sweep the matter under the carpet and urged President Muhammadu Buhari to allow for a forensic investigation on the suspect. It asked that if Kyari is found culpable, he should be handed over to the FBI.
YOU SHOULD NOT MISS THESE HEADLINES FROM NIGERIAN TRIBUNE
Lagos Is Second Least Liveable City In The World For 2021
Lagos is the second least liveable city in the world for the year 2021. This is according to the most recent annual ranking put together by the Economist Intelligence Unit (EIU)…
FACT CHECK: Did UNICEF Say Blocking Children's Access To Pornography Constitutes Human Rights' Infringement?
CLAIM 1: A Twitter user claims UNICEF said any efforts to block children from accessing pornography might infringe their human rights.
VERDICT: MISLEADING!