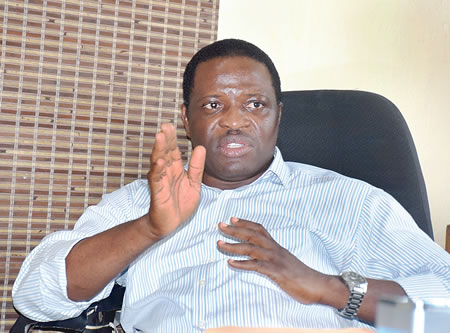 Owoyemi Korede Emmanuel is a pastor, mental health specialist, economist and CEO of Mental Health. He spoke with SEGUN KASALI, SYLVESTER OKORUWA and LANRE ADEWOLE on life as a child and taking care of people in depression.
WHAT did your parents tell you about you?
When we were in primary school, one of things they always asked us to do was to find out why we were given our names. I asked my mother why she named me Korede. She said during pregnancy, things began to change for good for the family. Korede means someone who brought goodness into the family.
ALSO READ: Court to EFCC: You can't compel Kalu to embrace your choice of defence
Life must have been beautiful then
Wow! That was before our father's death. Things became so very tough after his death that my mother moved the family to Lagos. Getting here, being a single mother with six kids, my mother said I was too smart for her and she felt in her own way that she wouldn't be able to take care of her boys. So, she took us, the two boys, to Kaduna to stay with her elder brother.
That was a good decision, but she never knew what the repercussions would be, because there were a lot of suffering in Kaduna. My uncle did not mean evil, but someone who would leave home in the morning and come back in the night, didn't know what we were going through.
It was a lot of hunger until my father's elder brother, who came to Kaduna, saw us suffering. She said that this should not be happening to his younger brother's children, so we  got relocated to Kogi and consequently had to continue my education there. After secondary school, I finally came back to Lagos. I think it will be 30 years this September that I have been in Lagos.
The challenging childhood must have a hand in the man you have become.
A lot. I would say that it has helped us to survive whatever is happening now, because then, we were without father and mother in Kogi, and after my father's elder brother died, we were all alone. My mother being an illiterate was working under Jakande in one of the schools, receiving a small salary. As a result, I had to start going to farm with one of the village headmasters. I couldn't work like others and the man would taunt me as 'omo-eko'. For the work I was able to do, the man would give me N5 and it was that N5, I would use to eat all through the week.
How did you get educated to the point of becoming a CEO today?
I wouldn't have finished secondary school because I couldn't pay my school fees. Sometimes for a whole year, I wouldn't pay school fees at ECWA Secondary School, Kogi State. The funny thing is that every term I would take the highest prize, maybe 12 out of 14 prizes. But immediately after, I would be caned for not paying school fees. When I was in Form 4, I went on holiday to Kaduna.
I saw it as a way out for me to decide that I wouldn't go to that school any more. I said to myself, nobody knows me, I'm going through all these sufferings and I'm owing school fees. So after we resumed, I didn't go back to school. I just stayed in Kaduna, saying to myself that I can't bear it again. But my immediate elder brother, with whom we always went to vigil together every week, told me one day after a vigil that the Lord said I should go back to school. I was very angry. I just told him that you are mad.
I disrespected him for the very first time. He was amazed because I had never been so rude to him. I asked him: which God asked me to go back to school? I have one year school fees to pay. How am I going to survive? I would write WAEC and God is saying I should go back. So, he ran around and got transport fare for me and he put me in a bus to Kogi. It was like a dream while I was on the trip. Amazingly, by the time we got to Mopa, few people that saw me started shouting that they had been looking for me. I was afraid.
I was asked to go and drop my bag to see one woman. I didn't know the woman, but I had to look for her. When she saw me, she said: are you the boy? We have been looking for you. They called them Harmony Sisters, the club of rich married women who have set out to give scholarship to indigent students. One of them was a teacher in my school, who suggested my name.
They said they wanted someone they could start with who would not disappoint them  in WAEC. So, it was my name they picked and here is the boy they picked, now back to school after two months. The woman said others were insisting that another person be picked, but one Mrs Ajibona kept insisting that it was for me and they must wait for me. I was taken to Chief Silas Daniyan.
Baba asked, so, why is he just coming to school? The women said they didn't know and that they had been looking for me all this while. The man just asked my name and I said Aremu. He said; I know your family in Kaduna. What's the problem? That was how they cleared all the school fees I was owing and also told me anything I needed would be provided. My life changed suddenly. And then, what shocked me was the opportunity it provided me to see how short, human memory is.
The same students and people who saw how I was owing school fees, couldn't pay and got flogged, now saw the way I was living, not owing again and all of that, and they started saying my dad was very very rich in Lagos (Laughs). It was as if my father just came back from the dead. And that was how I finished secondary school and, fortunately, I finished with the best result in my school and that encouraged the club to continue.
You saw yourself through tertiary education?
I worked to sponsor myself. I couldn't go back because there was no one to send me to university. I had to struggle. I actually started Electrical Engineering at Yabatech because I had to work and go to school. I got a job at the port doing clearing, forwarding and all that. When some people brought in some plastic moulding machines, I joined them. I never knew that corruption had been long in Nigeria.
Then, anything that was below $1,000 was duty-free and Nigerians were hiding under that. Something that's worth more, they would bring an invoice of $900. So, when those machines came in, they came under less than $1000 invoice. But customs saw it and just carried the whole container from Tin can to Badagry because they knew the invoice was a lie. I didn't know that there was a lot of money in that.
Eventually, exams had started in school. When you take a job in shipping, you are in trouble. I was going to Badagry every month, to sort things out. By the time I finished with it, exams had been concluded in school and I was told the only reason they could do my own for me was to tell them I was sick and that I should go and get a letter, but I said I was not sick and that was how I had to drop out.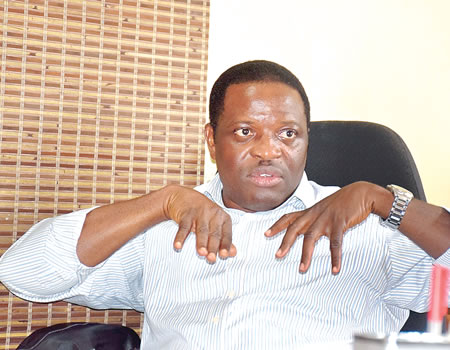 For me to lie that I was sick was a serious issue. In fact, a family friend went to get a letter from a doctor, but I refused to present it and the man didn't talk to me for years. He felt I was a very stupid young man.
The miracle of you being educated must have helped your faith in God.
There was no going back. Since that time that God said I should go back to school, there was no way I would go back from Him. I have given my life to Christ fully and since that time, that's what I enjoy till today. And almost all my education has been on scholarship. Even when I wanted to enter the university, somebody saw me and said I would sponsor you. I took that advantage to study Economics at Delta State University, Abraka.
We were the first satellite campus set. That's why I can tell any young person that you can do it. You need determination. Even right now, the job we are doing in mental health, there has been no grants and support, but God has a way of preparing us for whatever he wants us to do in life.
So, coming through that background, I'm not somebody who's easily discouraged about anything. I'm always optimistic because I've always seen things work out no matter how tough they are. That's why I say there's hope for Nigeria and anytime we say it's finished for Nigeria, it's an insult to my personality.
What's the most memorable moment in your life?
It's still going to be the day I gave my life to Christ. I can't imagine what would have happened to me.
Any past event that still shakes you?
The day I was kidnapped with my elder brother. I was in primary 2 and my brother was in primary 5. A man came with pick-up vehicle to see our uncle then on Ahmadu Bello Way, in Kaduna, where he had a business centre. That was where we stayed most of the times when we came back from school. So, this man came and was looking for him and we felt we should  take him to his office. So, we jumped into the vehicle and took the man to his office. We were seated at the back of the vehicle with one hefty man. All our thinking was that when he finished with him, he would take us back to where he picked us. So, we were waiting to enjoy the ride back again. Immediately he left our uncle's office, drove us out of Kaduna, into a bush. My elder brother knew something was wrong, so, I just kept quiet. Then we got to this bungalow, very beautiful house, and all these buzus that used to wrap their heads with swads were there. Then, the man came down and someone said Alhaji, I brought something for you and he said how many and he said two. I don't know where my elder brother got the courage to jump and drag me down and we started running. It still amazes me. I don't know maybe when we see God, He will be able to explain why they could not catch us. When I became weak and could not run again, he put me on his neck and was running inside the bush. He's someone who is so gifted and he has been like that. He kept saying that he was seeing someone in white. So, anywhere the person went, he would follow. That was the person that led us to the road  before we explained to people what happened and we crossed over to the town. I would have been producing money for one Alhaji somewhere now, if not for God.
Despite the dangers and hunger, you must have had a happy childhood.
Well, that was the enjoyment. That's why I'm strong. When you go through all that, nothing is new again. When people are lamenting, you just keep calm and start looking at them. I think we got better through those things. Butterflies struggle to come out of that cocoon. Any butterfly that does not go through that struggle will never fly. It's not always that easy. It's during that struggle that power is released in their system and their feathers come out and break out before they fly. So, if we are able to have a positive side to most of the things we go through, it will be for our good. That is why what I hate most in my life is intimidation.
You studied Economics and now you are into mental health.
My childhood dream was to be a medical doctor. Eventually when I had the opportunity to go to school, I knew I couldn't do all that again. I couldn't also do anything that wasn't science because in our time, we had schools that were into pure science, and arts. I was in the school of pure science. The only course that was close to science for me was Economics and that was why I went to study Economics and also because it's broad and challenging. And if you ask now, I always knew I would never use it. I did that because I don't want people to say I was not educated. I always tell my friends that I would never work with what I studied in school. I already knew where I was going. If I had good counseling, I would have gone the way of psychology, which is what I'm into today. I simply hate seeing human beings not happy. I will like to say that it started with a concern. I was curious about how the human mind works and I kept begging my friends then to visit psychiatric hospitals with me, but we never went. Up till now, I can't stand seeing anybody naked. If I was in the bus then and saw anybody naked, I would put my head to the other side or I would just start crying. I'm always imagining how can a human being like me be walking around naked.
Like I said, from that concern, it became an encounter when a friend of mine was suffering from depression. The desired visit to psychiatric hospital to support them for years that I did not do, became a reality when this happened. That was how it became a calling because when I found myself in psychiatric hospital, queuing to buy drugs and in those days, the psychiatric hospital was not like the way it is now. You would go there for hours, queueing in the sun. You would queue to get prescription. You would queue to buy drugs. It was hectic and I went through all these for a friend. You know my friend was living in denial. Most of the times, my friend didn't even take the drug. I devised different means of giving him the drug. It was either I would grind it and put in eba or coke.  For a month of two, he was talking all through the night and day and yet, he was saying nothing was wrong with me.  At least I that knew that something was wrong, had to ensure that my friend was okay. So, out of that love, I kept paying the price- financially and physically.
Then the calling?
One day, I was under the sun at the hospital for three hours, queuing, having left the office of the consultant, who told me about a lot of his clients at Chevron, Banana Island, Ikoyi, saying that this thing does not spare anybody, that even bankers are affected only that they would not come here but we go and meet them, even when they still think nothing is wrong with them. Within minutes, a top state official called that his wife had broken down and that he should come and solve his problem. I left his office to queue under the scorching sun and the only reason we were there for three hours was because those issuing receipts were just playing and people would say 'please answer us' and their responses were always harsh. While on queue, I just started weeping, asking God, why and wondering if someone with mental illness, is no longer considered human. And I heard a voice, 'somebody has to do something about it'. I just shouted and said 'I am going to do something about it'. That was the call. So, I went back to the office of the consultant and told him everything. The man said if that's what I wanted to do, he would support me. That was how mental health foundation started.
Did you meet madam in church?
(Laughs). Normally at the level of our faith, we want to marry someone we have the same faith with. I think that was the first thing for me and the Bible is clear about that. It was just a funny case. We didn't meet directly like that. I think we first met by me hearing her voice during evangelism and I was like who's this person and from there, we eventually met.
Do you feel appreciated for this special assignment?
It's pretty challenging. We work for people who do not appreciate us directly and sincerely, not because they do not want to appreciate but because of the state they are. If someone is depressed, maybe bipolar, it is not that they don't want to be thankful a lot of them are in a state where they don't even know what's happening to them. So, if you don't have full understanding of their situation, you might feel unappreciated and might stop what you are doing.
I figure you are also this  passionate at home.
We try to balance everything. I usually joke that maybe when I came to the world the first time, I had no children. The quickest way to touch me, is to touch my children. I don't joke with my children. I don't joke with my family. If I beat my child now and he's crying, if the crying gets too much, I might start crying too (Laughs).
Is it a family of pet names?
(Laughs). People around me know that I don't like this daddy, daddy thing. Sometimes, if a woman calls me daddy, I won't answer. Even members of the church don't, not to talk of my wife at home.