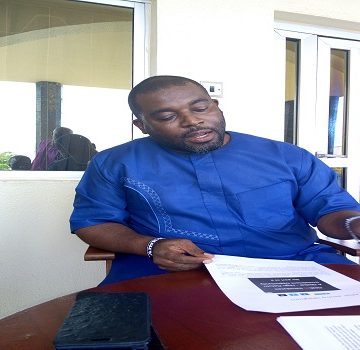 FAMILY of the late Chief of Staff Supreme Headquarters, Major General Tunde Idiagbon, has disclaimed a 2019 All Progressives Congress (APC) aspirant for the House of Representatives seat, Mr Abdulwaheed Idiagbon, for calling himself the son of the late military man.
The House of Representatives aspirant for Ilorin East/South federal constituency in the forthcoming general elections had granted an interview allegedly claiming that goodwill of Major General Idiagbon would contribute to factors to actualize his dream in the forthcoming elections.
"I thank you for saying we are coming into office on the goodwill of our father. A good name is better than riches. Good pedigree will be a leverage point to get into where you want to get into. My motivation is that I have seen what the dormant development is within my constituency. There is the need for an aggressive change and development," Mr Abdulwaheed had said.
Speaking with journalists in Ilorin on Wednesday, eldest son of late Major General Idiagbon, who is also the first son, Adekunle Mohammed Idiagbon, said that all members of the family of late Major General Idiagbon were aggrieved and embarrassed by the alleged claim.
ALSO READ: Minimum wage: NULGE directs workers in 774 LG to commence strike on Thursday
Mohammed Idiagbon, who said that members of the family were embarrassed by the alleged claim of the aspiring lawmaker, added that the family had commenced legal steps to bring the aspirant to book.
"People started calling all over the embarrassment caused by the claim in the publications. I have never set my eyes in him and never known him. Before now, members of his family and mine had called him to order but he still went ahead with the illegal action. I've petitioned the police through the Inspector General of Police, APC and the INEC. Yes, there are many families bearing the name Idiagbon that I know who are not from my family, but this man has been going about with the claim before now saying he is a son of the late Idiagbon. The two families had gone to meet with the Emir, being our overall father before on this matter yet he is adamant," he said.
However, Director General of the Abdulwaheed Idiagbon Campaign Organisation, Shehu Bashir, denied the allegations, saying that there was no such time that Mr Abdulwaheed Idiagbon ever claimed to be General Tunde Idiagbon's biological son.
"It is important to State that the name IDIAGBON is a family cognomen, borne by every indigene of the compound, which Mr Idiagbon also biologically belongs to, with pride and honour. Our most revered late Gen. Idiagbon also bore this name with pride and we are proud to have him anytime, any day.
This clarification has become necessary in order to properly guide the general public," he said.