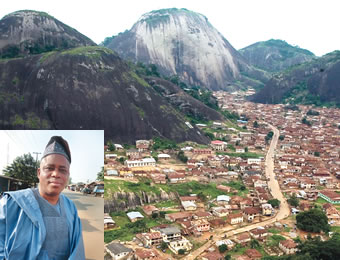 The Owa of Idanre, Oba Dr. Fredrick Adegunle, Aroloye IV, in this interview by HAKEEM GBADAMOSI, speaks about the ancient town, his life before and during his reign as the paramount ruler of Idanre.
What is the history behind the establishment of Idanre?
We have two sets of history. The first one, dealing with the aborigine, their belief then, was that that they descended from heaven by chain. The first foot marks on the rock is still there till today. We call it Abogun foot marks because it was Abogun that discovered the foot marks later.
Another history says when Oduduwa and Olofin came from upper Egypt to Ile-Ife, because of their intelligence they changed our administration. They became the head, I mean Oduduwa became the Ooni of Ife and when Oduduwa died, Olofin took over as the head. Olofin wanted to continue the journey. So Olofin asked the first son of Ododuwa, Oranmiyan to stay behind but he (Oranmiyan) refused, he wanted to follow his uncle. Olofin was the immediate younger brother to Oduduwa.
Oranmiyan followed his uncle. They met us here and took over the leadership as usual. When Olofin was about to die, he assembled his people and told them that when he died, if they would like him to be protecting them they should be providing him human  sacrifice every year. The people were surprised and they saw this as a difficult task. When he died, his first son, Abogun became the Oba.  Oramiyan wanted to become the Oba but the people opted for Olofin's son and so Oranmiyan left for Edo and later to Oyo Alaafin.
The medicine that his father taught him and the human being that his father demanded from him annually would come by itself with two leaves called Irere. Any stranger seen then during Olofin's period would be used for the sacrifice. When the surrounding towns saw what was happening to us, they gave us a nickname, Onidan, which means people that performed magic to get human for ritual sacrifice for their god. Our former name was Ife Oke. When they started kidnapping our children, we left that area for Utaja for protection. There was a man among us who was a hunter. He said he discovered a place at the hilltop that would accommodate our population at that time. That was how we moved up there and we were there for 800 years before we came down. Governor Carter from the colonial office came up there to sign a treaty with my grand father, Arubiefin the first, saying that her Majesty, the Queen of England would give us protection and that we should not follow any other foreign country.
We were ruled right from the colonial office in Lagos. When my grand father died, my father, Oba Aladegbule, who brought Christianity to Idanre in 1895 was supposed to become the next Oba but because he was a Christian, people said they didn't want him. They preferred his younger brother who was an idol worshipper. His brother did not leave long. He ruled for seven years. After his death the people came to my father again, asking him to become king. He was enthroned  in 1919.
In 1926, my father wrote a letter to the lieutenant governor in Enugu. Then Nigeria had been divided to northern and southern protectorates and the southern protectorate was being administered from Enugu. So it was Enugu that my father sent the letter to and it was debated in the legislative council and passed that we were free to move down the hilltop. It was then the Surveyor-General was asked to survey the new town for us. They made two places for us  called Ilu-tuntun.
 Are you not of the same family with Alade Idanre, the neighbouring town?
We are the same because by that time, as I told you earlier, they were purely idol worshippers and we were Christians. There were clashes the. The district officer advised my father that in order to prevent future crisis, we should manage the space given to us. There is a stream that divides Oke Idanre town into two. There is a market which has been in existence as far back as the 15th Century. We said we should call that place Alade to differentiate the two towns.
 Are you saying that Alade Idanre is a creation of the British colonial masters?
No, they only planned the place not naming it and in that legislative council, it was stated that all people moving from Oke Idanre down should owe their allegiance to the Owa of Idanre as their paramount ruler. It is also in the archive.
What about Atosin Idanre ?
Atosin is one of our oldest settlements. People were there before we moved down from the hilltop.  They were there for quite a long time. When we were up there, they were there farming.
The popular Idanre hill has about 660 steps, how did the steps come into being?
They were constructed when Akin Deko became our chairman for Idanre District Council. He brought an idea and the whole town bought into. He called the steps Jacob's ladder. They used cement in making them.
Is there any festival that binds the Idanre people together?
We have Olofin festival and we also have Orosun festival. Orosun is the goddess of children. We celebrate the festivals annually. During the celebration of Orosun, we fast on that day. We go to the shrine and pray.
We also kill a dog as sacrifice for the goddess because she liked dog when she was alive. It is the Osolo that represents the Owa at the shrine every year.
Any taboo?
In Idanre, we have quite a number of taboos. First, we don't allow anybody to go near the oloris, we monitor them and when an olori is menstruating, she must never see the Owa for seven days until she finishes her period. When an Olori misses her period, she will be under protection, they would watch her until she puts to bed. At that stage she must not touch the baby. They will invite the Odofin and two other chiefs to check if the child has royal signs and when they see the signs they would keep the secret, only the reigning monarch would know so that in the future when the monarch dies, they would ask how many princes has these sign.
Is that how you were being chosen as the successor of your father ?
In my own case, my father secretly told me that I was the one he was going to hand over to and I told him no, I did not want to be an Oba. But I did not tell anybody.
Why did you refuse the offer?
I refused because my father had earlier told me that he did not want male children to live in the palace because they would be arrogating power to themselves unnecessary, that they would be lazy and Olofin might kill them, that was his belief. So any prince that was up to four years of age would be sent out of the palace. I was the first to be in the palace because I was born when my mother was already old,when she was not expected to have a child again. When I was born I was given proper care. According to my mother, when I was a baby, about six months old, I was having stomach pain and later I died. She said she felt bad. She narrated that as I was about to be buried outside the palace, something struck her mind and she told those who wanted to bury me to wait for her. She said she went into the palace and brought one Sayan cloth to wrap me. As she was about to wrap me with the cloth I suddenly sneezed and woke up. Quickly she gave me breast to suck. Since that time I did not fall sick.
Were you chosen automatically to succeed your father when he passed on?
Many things happened after the death of my father and during the selection period. For instance, after my father's death, some politicians approached me, they brought a paper for me to sign so that when I finally became the king I would be a member of their party. I refused. I told them an Oba should not be partisan. I would be for all.
Later they brought one of my brothers to contest the stool with me and according to our own registered declaration, we have only one ruling house and a candidate at a time and members of the ruling house will be all the palace Chiefs, all the surviving Oloris, olori Omoba obirin, Olori Omoba Okunrin and the direct children of the past Owas and if anyone is dead, the first child from that line would represent the line at a meeting. I was selected, there was a bit of politics about it but the government followed the declaration and I was later selected in 1976. After my selection all the contestants congratulated me and I embraced all of them, we are all brothers of the same family.
What are your challenges as the traditional ruler of Idanre?
There are so many. Shakespeare says the love that follows us is sometimes our enemy. If you are not careful you would fall into the hands of people who would be your enemy. One of the problems we have is a major land matter and it has been on for a long time.
What is your dream for the town?
To place Idanre on a global map which we are realising gradually. Idanre has beentourists' attraction lately and this has affected the economy of the town positively. We are able to achieve this because of the love and peace we are enjoying here.