I'd love to visit WHO where health decisions are made —Nkasi Obim Nebo, health specialist and founder of PeachAid Medical Initiative
Nkasi Obim Nebo (PhD) is a maternal/reproductive health specialist and the founder of PeachAid Medical Initiative (PMI). She was recently named Nigeria's winner for the Commonwealth Points of Light Award by Her Majesty, the Queen of the United Kingdom. In this interview by KINGSLEY ALUMONA, she speaks about her childhood memories and how they inspired her humanitarian career, her medical initiative; about family planning, menstrual hygiene management, and where she would like to visit if were to go on a foreign tour.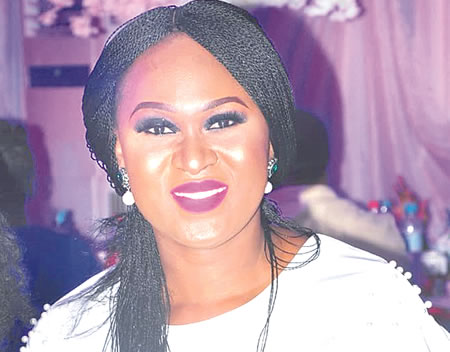 BRIEFLY tell us about your childhood experience and how it inspired your interest in humanitarian endeavours.
We lost my two elder siblings to malaria complications because there was no functional health facility where we lived at that time. This incident left my mom depressed for years. So, in a search to find her a sense of closure, I started mobilising medical students to rural communities where we gave free health services to vulnerable children. Our first outreach was in October 2009. That was how my inspiration started. The decision to finally focus on maternal/reproductive health came after one of my volunteers died during childbirth from a queried pre-eclampsia; and lastly, my near-death experience during childbirth about two years ago, caused by queried puerperal sepsis.
You are a 2019 120Uder40 winner and the Gates Institute GHLA Fellow. Tell us about these awards and how they shaped your career.
Bill and Melinda Gates Institute for Population and Reproductive Health recognised the significant contributions my work has made in family planning space through our advocacy and service delivery programs, hence the award. And the fully-funded Gates Institute Global Health Leadership Accelerator course I participated in at Johns Hopkins School Bloomberg School of Public Health, United States, improved my leadership skills and imparted in me innovative approach to leadership, program management, policy analysis, strategic planning, communications, advocacy and organisational change.
You have a master's and a doctorate from Bethel Theological Seminary. Why did you choose a theological school for medical courses?
Care is the heartbeat of missions. I choose theological school because I'm a missionary. You've to be a missionary to be able to passionately venture into hard-to-reach communities and care for vulnerable people who'll never pay you back. Once more, I've other certificates in EMT foundations, medical emergencies, trauma emergencies, epidemiology, emergency obstetric and new-born care, maternal survival, and immunisation essentials. Finally, education is essential, but who you finally become is solely influenced by your passion.
You are the Founder and Director of PeachAid Medical Intuitive (PMI). Briefly tell us about it.
PMI is a non-governmental, community-based organisation. We manage and implement community-based interventions that support clean and safe child delivery, family planning and menstrual hygiene management. We achieve this through our focused antenatal care (ANC) services, our contraceptive security program, and our menstrual cups distribution. We're also training birth attendants to improve their knowledge in maternal health issues and family planning services, especially Community Health Extension Workers (CHEWs) and Traditional Birth Attendants (TBAs).
Except for the sporadic donations from few individuals and organisations, which include GIKs, etc., PMI is majorly self-funded by me.
You believe that: "Every pregnancy should be by choice." Does that mean you support abortion?
In our rural communities, mothers are required to give birth to as many children as possible without putting into consideration their health, as well as the family's economic situation. These mothers are made to believe by culture and tradition that they don't have a voice or the power to how many children they should bear. 'Every pregnancy is by choice' means that every mother is given the right to choose the number, timing, and spacing of their pregnancies. Planned/spaced pregnancy will not only benefit the mothers, but also allows their husbands enough time to be financially ready; and this in turn, will help reduce maternal mortality in Nigeria.
As a family-planning and hygiene advocate, in what ways do you think men could assist their wives in antenatal and menstrual hygiene management?
They could encourage their wives by joining them to ANC classes, this's where the basic pregnancy care starts from. And perhaps, they'll also get to be taught that menstruation is not a taboo after all. This in turn will help stop the stigmatisation women in rural communities are still facing during their menstrual flow.
You extend your services to Internally Displaced Persons (IDPs), especially the females there. What kind of services are those? And, what was your experience there?
We're giving many vulnerable pregnant mothers in rural community access to focused antenatal care and skilled birth attendants. We use this opportunity to show them their developing babies through ultrasound scan, detect and treat some pregnancy complications, prepare the mothers for birth, parenthood and Postpartum Family Planning. We also ensure every mother receives her scan results for further management. Finally, we're educating local birth attendants to improve their knowledge in maternal health issues and family planning services. We believe that until pregnant mother in rural community gains full access to a functional health facility, local birth attendants cannot be totally ignored, because in their hands most often are the lives of these mothers, and the knowledge the TBAs have when these mothers go into labour will determine if they will live or die.
We've visited 5 IDP camps in Federal Capital Territory and many rural communities across Nigeria.
As a health specialist, how would you rate Buhari's administration in terms of primary healthcare infrastructure and health personnel welfare?
I personally believe it takes a whole lot to be the president of very intelligent humans like Nigerians. Mr President is doing his best even though much more will always be required.
Recently, according to UNICEF, Nigeria represents 2.4 per cent of world population but contributes 10 per cent of global death of pregnant women; and every year, about 262,000 babies die at birth, the world's second highest national total. What could be done to change this narrative?
More pregnant mothers should be encouraged to receive a planned tetanus toxoid immunisation, and the government can do more by ensuring availability of this vaccine for mothers in hard-to-reach communities and in a valid and unbroken cold-chain. Tetanus toxoid immunisation is very important because tetanus is one of the major causes of neonatal deaths in Nigeria, and has been tagged 'a disease of poverty'. This means that it'll highly affect children born in an unhygienic environment. Our partnership with Birthing Kit Foundation Australia has consistently availed us with delivery kits which are helping us create clean and safe environment for child delivery in rural communities.
Is PMI a full-time job for you? Apart from PMI what other vocation(s) demand your time and expertise?
Yes. PMI is a full-time job for me, but it allows me enough time as a research consultant to support research-based organisations through data collections, data analysis and report writing. This's where I earn the funds that sustain PMI. I'm also a full-time single mother of an adorable girl.
What are the major challenges you face in your line of work?
The value of a woman in most of most communities is determined by their fertility. So, they would rather give birth to too many children than to accept family planning services. Another major challenge is a lack of sustained funding. We would love to reach many people at the same time, but we're highly limited. Commodities and consumables need to be replaced; medical bills of high-risk pregnant mothers (who are under our care at the hospitals we work with); enumeration for our medical field volunteers which is paid on every outreach; mobile clinic hire for each outreach, etc. There's so much sustained funding can do for us.
What do you like doing at your leisure? If you were to go on a tour in a foreign country, which country would that be, and why?
I lost my leisure after I gave birth to my daughter two years ten months ago. I would love to visit the World Health Organization Headquarters in Geneva, Switzerland. I would love to experience this place where all our health decisions are made.
What advice do you have for young people, especially the female ones, who are aspiring to be like you?
Now is not the time to be silent. Find your passion, pursue it relentlessly, passionately and loudly. Be persistent, and don't let anyone shut you up.