Troops of the Joint Task Force (JTF) codenamed Operation DELTA SAFE (OPDS) have killed a notorious kidnapper, Ossy Ibori in a hideout at Ajakpa, Ese-Odo Local Government Area of Ondo State.
It will be recalled that "General" Ossy Ibori, as he was known, coordinated most of the bank robberies and high profile kidnappings, including that of the three school girls at Babington Macaulay Junior Seminary School in Ikorodu, four landlords at Isheri North, Oniba of Ibaland, Oba Goriola Oseni and many others within Lagos and Ogun states.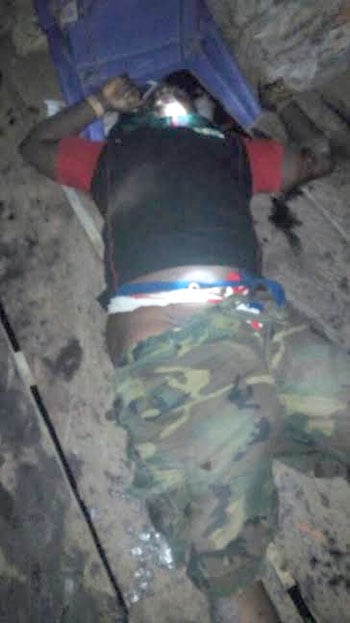 The lethal kidnapper met his waterloo during a gun duel with troops around Ajakpa community in the creeks of Southern Ondo State on Sunday night.
He was said to have led his gang to launch an attack on the troops who were on a special operation in line with the JTF's mandate to rid Niger Delta of all criminal acts of militancy and kidnappings.
Major Abubakar Abdullahi Coordinator, Joint Media Campaign Center of OPDS, in a statement signed and made available to journalists on Monday, said: "Ibori was gunned down during the gun duel, along with some of his gang members."
According to him, "his body was identified by some of the locals in the area, while search for other criminals who jumped into the water with gunshot wounds is ongoing."
Abdullahi added that one AK-47 rifle and four magazines were recovered from the gang.
The army officer disclosed that a gallant soldier paid the supreme price while three others sustained gunshot wounds during the duel.
The injured soldiers, he added, had been moved to military hospital for proper medical attention.
It will be recalled that the criminal gang, led by late Ossy Ibori, has been terrorising parts of Lagos, Ogun and Ondo states prior to his demise.
Ibori and his boys had been involved in atrocities which have been threatening the peace and security of the area.
Just last month, the gang killed an army captain and two policemen at Ikorodu, Lagos State.
Late last year, Ibori and his boys also abducted students and staff of a secondary school.
The criminals, in addition, carried out several attacks at Ese-Odo community around Ajakpa, Safarogbo and Balowo areas.
Ibori had boasted in an interview that his group had over 21 'generals' commanding 7,800 battle-ready boys.
In October 2016, Ibori and his faceless group notorious for pipeline vandalism, kidnapping and bank robberies, demanded for amnesty, threatening to disrupt the economy of Lagos and Ogun states if the Federal Government did not dialogue with them and grant members pipeline protection contracts.
Ibori and his gang also boasted that his group was rich enough to fight the Federal Government as it had acquired thousands of military grade arms and ammunition, which he said would be deployed to disrupt the economy of Lagos and Ogun states, should the Federal Government fail to dialogue with them.
Meanwhile, Major Abdullahi has said that the mandate to flush out the criminals from their hideout became necessary to ensure peace and security in Ondo State.
He appealed to law-abiding residents of the affected communities to remain calm, vigilant and support the troops with valuable information on whereabouts of other fleeing criminals.