Ibadan flood aftermath: Oyo govt set to move against structures without building plans
We offer sacrifice to appease water goddess- Community leader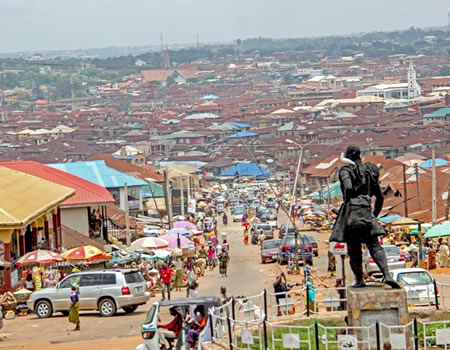 Following Wednesday's flood in Ibadan, the Oyo state government has expressed displeasure at the existence of several structures on waterways which point to there not have building plans.
State Commissioner for Environment and Natural Resources, Mr Kehinde Ayoola made this observation on Thursday, when he led other state government officials on an inspection tour of some gravely flood-affected areas.
While urging residents to stop endangering their lives by remaining in their flood-prone buildings whenever it rained, he said the state government was poised to take drastic measures to arrest the situation
He particularly enjoined inhabitants and owners of structures on waterways and floodplains to temporarily evacuate, especially whenever it rained.
ALSO READ: Marte council boss begs military to liberate LGA from Boko Haram
Speaking further, Ayoola decried the habit of residents dumping refuse in drainages and streams thereby blocking gutters and water channels as a great factor behind the flood.
He further urged landlords and community development associations to patronise waste collectors for their waste to be evacuated in an organised manner.
"Our people should stop doing things that help flood like putting buildings on waterways, dumping refuse on waterways. These houses we see probably don't have town planning approval. We are going to arrest the situation, and we are not just making promises," Ayoola said.
The assessment saw the government officials visit Olodo, Wofun, Kute, Jerinyin and other areas of Ibadan.
Speaking, Secretary, Oyo State Emergency Maintenance Agency, (OYSEMA), Lukman Arasi said the agency would roll out emergency measures once it ascertained the extent of damage and got the approval of state governor, Mr Seyi Makinde.
"We have come for assessment and once we ascertain the extent of damage, we will forward it to the governor and once it is approved, we will work on it. We'll get across to the affected persons soon," Arasi said.
Speaking, Ekerin, Olodo of Olodo, Chief Kamorudeen Gbadegesin decried the recurrence of flood in Olodo area, noting that they had had to offer sacrifices to appease the water goddess.
He decried that people from near and far usually dumped refuse in the stream in the area thereby resulting in recurrence of flood in the area.
Another Ibadan resident, simply called, Iyaafin Adeoye lamented the dilemma and uncertainty that residents in Olodo area always faced whenever it raised.
She prayed that the government gets more decisive with persons dumping refuse in waterways and streams, as well as rehabilitate dilapidated roads across the state.
A landlord in Kute area, Mr Adegoke Funso also prayed that the current state government lives up to its promise to address the issue of flood in the area.
On the assessment tour to flood-prone areas were state Commissioner for Works, Professor Raphael Afonja; Permanent Secretary Ministry of Environment and Natural Resources Dr Bashir Olarenwaju; officials from the state emergency management agency and other government functionaries.