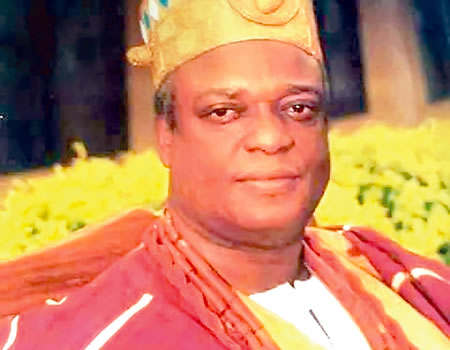 Oba Hezekiah Adeniyi Owolola is the Adimula of Ifewara, Osun State. In this interview by KEHINDE ADIO and TUNDE BUSARI, the traditional ruler speaks on the establishment of Ifewara, the challenges of development, among many other issues.
How did Ifewara come into being?
Ifewara was founded over 600 years ago after a rift ensued between two brothers over the throne of the Ooni in Ile-Ife. The younger brother happened to overpower his brother, Adeniregun, a situation that made the chiefs rally round Adeniregun. This development led to a relocation which eventually gave birth to Ifewara.
Did Adeniregun and his followers meet anybody on the land on their arrival?
There was nobody there. As a matter of fact, Adeniregun was already familiar with the area because that was where he was farming. We can say the relocation took a natural course. In those days, when you left home, the next place was your farmland. That is why till date, Ifewara is an important agrarian town where we have cocoa farmers doing well. The town also sits on gold to underscore the natural richness of Ifewara. I can say as I always do that to God be the glory.
Can you recall the process through which you emerged as the Adimula of Ifewara?
The process was not different from what obtains in Yoruba custom and tradition. When my predecessor, Oba Titus Adetoba passed on, there was natural vacuum which must be filled. That was how I emerged.
We want you to be specific on your experience during the race.
There was no race in that sense really.
Was this not strange when some towns are divided over succession dispute?
Let me give you the details of how it happened. I was not one of the 10 aspirants our ruling house presented for the kingmakers.
What is the name of your ruling house and why were you not one of them?
I come from Ogogo Ruling House. I was not on the list because my father who was popularly called Sekoni was one of the aspirants. But to the surprise of everybody, none of them was picked by the Ifa oracle. Then somebody then told my father to put me forward once all of them had been rejected. My father disagreed because it sounded funny to him. One of the chiefs overheard them and insisted my name must be presented to the Ifa oracle. The priest would later break the news that I was the right choice.
Where were you while that was playing out in Ifewara?
I was in Ibadan, searching for job after I had completed my school certificate examination at Oluorogbo High School, Ile Ife.
What happened when the family representatives came?
They told me that the town wanted to send me on an errand. I followed them. Then they told me that the late Henry Fajemirokun wanted to see me in Lagos. The picture was not clear to me. I then followed about four chiefs to Lagos.
What was the position of the late Fajemirokun in the town?
He was the Orunto Obalufe of Ifewara, equivalence of the prime minister.
What did he tell you?
Apart from the fact that he promised me assurance of his total support, he backed his word with action. He bought me a brand new Volvo car. Can you imagine a secondary school leaver given a brand new car?
What happened afterwards?
We returned home and my name was forwarded for government approval. David Jemibewon was the governor of Oyo State then. He approved my appointment.
Ipebi (seclusion) is an important feature of installation. What was your experience?
I spent two years in Ipebi, instead of three months. It was so because of the state of the palace then. The place was inhabitable. But after two years I had to insist on moving in, and that was what I did.
You must have faced some challenges, especially on your first one year on the throne. Can you share it with us?
My first challenge on the throne was the untimely death of Chief Fajemirokun. It was a shock. Don't forget the role I said he played. In fact, he died one week after he had given me the brand new Volvo. He gave me the car on Wednesday and died the following Tuesday. It was a challenge I cannot forget being a young man with no means of sustenance. My salary was N60. After tax of N6 was deducted, I had N54 left to run the palace and do other things. My wife was a banker. She earned N250 salary per month.
How did you then survive the financial burden?
One of my subjects who worked with Guinness facilitated a distributorship for me. He was the head of the sales department. His name is John Olawole. Chief Akin Akinola of the International Brewery Limited, Ilesa also gave me distributorship. This really helped me as I expanded into other ventures. I thank God for seeing me thus far. By next month, October 28, I will clock 40 years on the throne.
You must have been surrounded by elderly chiefs. How did you cope in your early years?
In fact, the youngest among the chiefs was 85 years, when my father himself was 65. Some of them were above 100. But I thank God that humility helped me to relate with them well. They were useful to me in administering the town. I listened to them a lot and I asked them lots of questions on different issues that came up. I think they were impressed and were always ready to put me through. In that regard, it has been a good story. Being humble is a virtue which everyone must hold dearly. I thank God for that gift which is my greatest asset to weather through different situations of life.
As a child, did you have a premonition of emerging a traditional ruler?
It was not that I had a premonition but something happened when I was just nine years old. I was then living with my brother in Opesa village near Akure. I followed my brother to another village called Ibule. He went there to consult Ifa oracle. It was when I grew up that I got to understand that story better. After he was through with consultation, the Ifa priest told my brother to let me also touch the plate. As I did, the man bowed his head to touch the Ifa plate. He rose and told my brother not to make me suffer. I was happy to hear this because I was very stubborn playing football about. I knew he would not beat me again with that warning. The second incident was the time I went to the palace during the reign of my predecessor. He called me among my peers and said he had misplaced something inside his room and needed me to go and find that lost item. I was scared to hear this from Kabiyesi who never saw me. I followed him into the room and he asked me to search. I did and found a bottle of schnapp. I picked the bottle and handed it over to him. He opened it and dropped a little on the floor and told me: 'it is not yet time, don't come here now. Just go. It is not yet time.'
Ifewara is an offshoot of Ile-Ife, how can you describe your relationship with Ooni of Ife, Oba Enitan Ogunwusi?
I have a good relationship with him. I go to him anytime and he has also visited me twice. I also had a cordial relationship with the late Ooni, Oba Okunade Sijuwade. I was always in his company on his several trips abroad.
You must be a football fan.
I am not only a fan but a good goalkeeper from primary school. I later played for ACB Football Club Ilesa. I love football. In fact I used to play in the evening at the Obafemi Awolowo University field in Ile-Ife to kill boredom. I played with the late Professor Adejumo popularly called Uncle D, Professor Ehindero, Professor Olu Odeyemi, Professor Fabayo and others.
Which team are you then supporting both in local and European leagues?
It may surprise you that I have no preference. I only support any team that plays well.