Afro Beats King, Chief Sunday Ishola Adeniyi Adegeye, popularly known as King Sunny Ade (KSA), will be 73 years old tomorrow, 22 September. In this interview by Hakeem Gbadamosi, he speaks about his music and other life experiences. Excerpts:
Sir, at 73, how would you describe your journey so far?
I want to start by thanking my creator; He is the beginning and the end. I want to thank Him for His blessings thus far. I have experienced the ups and downs and I can stand before the world today because of His special love for me.  It is Almighty God that controls everything, with the kind of business I am doing.
He has made it acceptable to the people. People love it and they show they enjoy it, so it is for me now to keep on doing it until further notice.  I have learnt so many things in life but I give glory to God. The truth is that you can be whatever you want to be, by taking a good look at yourself, who you are as a person and be absolutely hopeful and joyful about what you do. But I thank God for what He has done for me. It is only God, who else can I attribute my success story to than Almighty God that has taken me this far? I thank God for His mercies and for making me what I am today. With all sincerity, I will say I have it all; there is nothing I have not achieved yet. I also thank every single soul that connects to the success of my life, because if I start to mention names, I'll offend so many people. But I thank God, here we are today and I am very confident we're going higher because we are still doing it and waxing strong.
Your band, the African Beats, has been around for so many years, one would be tempted to ask what will become of the band when you retire…
Retire? To me there is no retirement. It will be very difficult for me to talk about retirement. What will I be doing if I quit music? Where will I go? Who will be in charge of the group? So, many questions to be answered if I retire. Apart from this, my fans across the globe will not let this happen soon. I appreciate God for the good health but the only thing I can do is to limit my performances. Let me tell you this, there is no musician who retires, especially if the talent is there, there is no way you won't be involved with music. It was rumored that I was planning to retire sometime ago and I can tell you that I received more than three thousand letters from my fans, urging me to keep the ministry going. I told some of them the need to reduce my stage performances and assured them that there was no plan to retire. I want to ask you if I retire now, who will be responsible for my pension?  But I have decided to be attending shows, investing in video, ballroom shows, video recording and some activities but not a complete retirement from music; it will be very difficult for me to retire.
And besides that, I say it with pride that there is no musician across the globe that retires. You can only leave the stage or you slow down. So, like they say, there is a season for everything but to me, no talented musician retires, and if music is truly the food of love, let us continue. It's good to manage and understand your health as you grow older but there is no plan to retire from music as music runs in my blood.
Reps angry as service chiefs shun security meeting
Can you remember the last time you were in the hospital and how many times have you been hospitalised?
I was admitted in the hospital in 1991/ 92 and the news spread like wildfire that time. There were series of rumours about my health status but thank God, I survived it. It was not as much as they exaggerated it then because the doctors noticed the need for me to rest at that time. The doctors said I was suffering from stress and advised me to rest but people started spreading rumours but they were the ones who also said I was alive and active
But were you truly sick then and what was really going on?
Yes, I was sick. When doctors diagnosed me, they said I was suffering from stress. That I overworked myself, because I love working nonstop. I love keeping my fans happy. I love doing things I love to do best and it keeps me going. But when it was recommended that I needed to rest, I had no option but to rest because my body was paying the tax for the stress and I have to rest and slow down.
Yes, I was scared. I would not say I was not scared because many things were running through my mind. I thought about my fans, my followers, and my music family. I was thinking the feelings of my fans, if eventually it went the other side, but thank God I survived it with their prayers. I was able to make a comeback to stage and I prayed to God on my sick-bed to give me the opportunity to keep making my fans happy by giving them my best. I love to entertain through my music. Music is my joy and thank God that I am still here today to keep playing for my fans.
At 73, you are still strong and active on stage, how do you maintain your health? Any special diet?
I give glory to God.  Music is my business, it keeps me going. Music is my life, I live it and do everything with music and I must tell you I love what I am doing. I always watch my health and don't play with it.
No special diet, but what I believe in is modesty, you should not take any food in excess. For instance, I love eating Eba when I was growing up and even till now, but I don't just eat it anyhow and anywhere, I have places where I can eat but I have reduced it now. All the same, I thank God for that.
A lot of philosophical music from you, how and where do you get your inspirations from? 
Inspiration is unlimited, it comes from everywhere. When you do anything with strong commitment, there are times some things happen to inspire you. They may be your own thoughts, creative inspirations through happenings, listening to people and many others. You added to it this afternoon during this interview and you might not know. So, whenever you get an inspiration, you will know it. At times I write or jot some things down; I consult or seek other people's opinions on my work. It will be right again to tell the whole world that Anu ni mo ri gba (I received a special grace from God). All the same, music is in the blood and the inspiration is unlimited.
I see myself being on the platform always and I don't think I want to retire because music is in my blood. So, I keep on doing what I know best, and my fans have been encouraging me not to quit the stage and as long as they keep encouraging me, I will be there for them. Who am I to say no to them? I eat from there, my family eats from there. Basically, that is my life.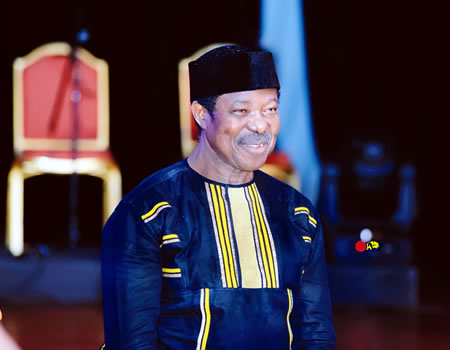 You said that music is in the blood. Do you have any of your children taking after you?
Yes, so many of them, boys and girls. Even my grandchildren, most of them are on the stage. You will see many of them but you might not know. But one thing I always preach to them is to be educated before taking up music or any other profession. I am not against them taking after me but they must be educated. This is very important. Music is in their blood also and they are at liberty to explore it to any length and I told them I will always be available to be their manager, to encourage and nurture them to stardom.
As a musician whom women seem to be flocking around, are they still head over heels with you at this stage of your life?
Women are part of my music, they are attracted to my music and not chasing me. They are attracted to me because of what I do and I do see them as my sisters and mothers and because they are interested in what I do. I don't see them as chasing me and I always explain to people that they keep my music ministry moving, they are part of me and what I do. Women love music, they all love me and we have music between us. The more the music, the more we enjoy ourselves. I want you to know that music is an essential part of human life and listening to music remains a therapy to improve your mood and keep you happy always and women love to be happy always. Music is love.
Why I'm appealing tribunal judgement — Atiku
Most times, you sing philosophically, what's the motive behind this?
I want to start by telling you that music and philosophy are interwoven. Some things are better expressed by looking deeply inwards rather than outwards to provide better understanding of what you're giving out to your fans. We are blessed with proverbs as part of our ways of expression, tabling and resolving issues in this part of the world and most times, I explore these proverbs and sayings of our people.
This is one of the reasons fans believe philosophical songs are used to settle scores among musicians but music in Nigeria goes along with proverbs. I mean the language of the Yorubas, you express your thoughts through proverbs. If I want to compose a song that will bring change or I want to advise the society, the interpretations depend on you and the way you want to use it but as long as it doesn't cause a rift or fight, the message should be there. My first record which was  'Alanu ni Oluwa' is more or less a gospel music. It was like we were cooking something then and at the end of the day, it came out good and here we are today.
Can you share the motive behind one of your albums about this song on twins living different lives you said  "Mo ti ri Tayelolu ti ko lowo lowo, mori Kehinde ri to o sori're…….."
(Sigh) There are always two sides to a coin and to everything in this world. When you look into the world, you will finally find out the truth about this. There are always the good, the bad and the ugly. That is how our Creator created things. While your eyeball is black and white, there's darkness in the night and it's bright in the day.  A Yoruba adage says, 'enikan gbin, enikan ntu; enikan lo, enikan bo' Whatever we do in this world, there are always a good side and a bad side too.  That is part of what I learnt from my mother who told me that all that I could always do was to be myself always and be prayerful. I chose to be on the bright side ever since then and that's why I have been keeping my fans happy with my music and that is what I know how to do best till today and to the glory of God.
When you started your career in music, what was the disposition of your parents to it? 
A big question. But I will enjoin you to get a copy of my book 'My Music, My Life' where I explain my humble beginning.
I was very stubborn when I was young. I had the belief that there was nothing I could not do once I had my mother's support. My father was so strict, but I knew he would not support my dream but my mother loved me so much and believed in me. So, when I didn't know what to do, I ran away from home. We lived in Osogbo then. I went to school there and attended African Church School, then  Methodist School and Saint Benedict Catholic School. I went to Catholic Grammar School but I never finished there before I eloped with Baba Sala. You know Baba Sala played juju music then and I went away with him and to God be the glory, here I am today, your King Sunny Ade.
Who exactly would you say is the father of juju music? 
We have reasons to appreciate God for those before us, though many people would not know that they are still relevant in the music world. The history of juju music is not complete without these great men
Great men like?
Yes, great men who have been in the music industry before I was born. We have people like Babatunde King,  Ojoge Daniel, Ayinde Bakare, I.K Dairo, Sir Christopher Oyesiku and a host of  others who are authorities in this world of juju music. But what we have done is to build on the foundation of these men. We picked juju music where they stopped, we upgraded it, added flavour, repackaged it and took it to higher heights and repositioned it as a special brand of music. It is not about the language but the music itself which has become an acceptable brand of music around the world and this is one of the things I am always happy about. Juju music is known across the globe and  I thank God for this.
How many LPs have you produced and which is your favourite? 
Without the unreleased ones, it is running to 112 now. The unreleased ones are so many because I don't normally record my songs as an album. I record all songs. But the one I love most is my first, 'Alanu ni Oluwa'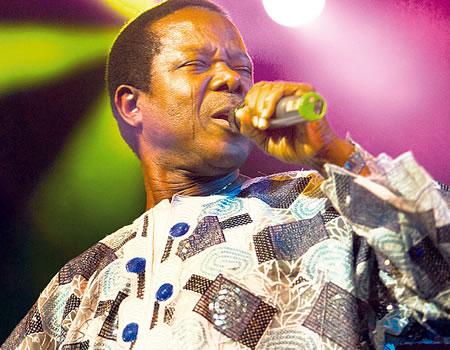 But some people noticed that juju music is gradually going into extinction?
Juju music is just like a reservoir where many musicians do drink from. This brand of music has come to stay; it has always been relevant in the music world. Juju music is one of the oldest in Nigeria. And it has refused to die because of those who knew its importance in the music world.  Today, as a juju musician, you'll find me in concerts, ballroom dance, festivals, parties and everywhere and when I am on stage, people still crave the music. There are so many other young musicians who are doing great too, they are stars and recognised in the world of music. Even some of these upcoming artistes have demanded for collaboration with me and I'm happy juju is being given its rightful place. I believe in doing it right and bringing smiles to the faces of my fans and to me, juju music will never go into extinction.
Twenty years after the death of the late Afro Beat king, Fela Anikulapo Kuti, some young musicians took after his brand of music, do we have something like that in Juju?
It is there completely. Check the music of all these young artistes, there is always a touch or an element of juju music in it. That's one of the reasons I said juju cannot go into extinction. You'll always see an element of juju music in all these music. Some even play my songs. It is a thing of joy when you see the younger ones repackaging your music in another form to make it suitable for the period.  It means these songs can stand the test of time. They change my music, my songs to suit theirs
Your advice to upcoming artistes?
First of all, my advice to all upcoming artistes is to be dedicated to what they believe in. Put in your best and your best will be good enough to take you there. Also, avoid pride. Pride goes before fall. Give respect to all and be careful in dealing with people. Like I tell most of them, be committed to whatever you're doing, don't see yourself above the law, respect yourself and you will always be relevant. Don't let your fame becloud your reasoning; you must always try to be a good music ambassador at all times.
So, they have to respect themselves and the law of the land, give respect to those who deserve it. Be open to correction. Don't think that because you are there, you cannot be corrected. Be humble. Many are still coming behind you and you must always lead by being a good example to others.
Most musicians, when they are getting old, tend to consider establishing a Church. Are you considering such a move? 
You see, I don't want to delve into something like this, simply because I have not been called. There is a purpose for everything in life and God cannot make mistakes, so if you're called, there is no hiding place for you and you cannot even hide. But it will be wrong for me to call myself and start attributing it to God.  If someone is called by God, you don't need to ask the person, it will be an open thing, compared to those who call themselves. I have been glorifying God with my music, from my very first album till date.
Yes, I will heed the call if I'm called. I don't need to tell the whole world that I'm being called, because those in the realm of Christianity will surely know.
What is your relationship with the Stigma Club of the University of Ibadan and the Havana now?
It dates back a long time ago. I have a relationship with these people and the relationship is still waxing stron I still play for them at the Havana show some three years ago and people are used to it, and anytime they are putting up the show, people are always happy to witness it. I am proud to associate with this club.
You have spent 70 years on earth, if you look back, what would you wish to correct?
Correct? I will always give glory to God for His mercies. He has been kind to me and has blessed me; there is nothing I have cause to regret. He designed my life the way He wants me to live it.  I have my ups and downs but above all, there is nothing I wish to correct about my past. We all have our past but I want to tell you there's nothing I would want or like to correct about my life. God is perfect. I will only continue to pray to Almighty God to guide, guard me and continue to bless me.
You are a renowned musician around the world and a successful one, what is the estimate of what God has done for you and how much do you worth? 
How much King Sunny Ade is worth? Honestly, I cannot quantify my worth because God has blessed me with wonderful people like you and that is a very great asset. It is only God that can do that and  I never give that a thought, but I want to tell you that I am still working, still playing my music, I will still be on stage this Saturday. I'll be playing somewhere again next week.
Do you see the xenophobic attacks on Nigerians in South Africa causing strain in the music relationship between the two countries?
This is not the best of times for Nigerians in South Africa. The latest xenophobic attacks have ignited tension between the two countries and I think the leaders of the two countries should go into discussions as soon as possible. It will not only cause strain in the world of entertainment but it will affect so many other things. The two governments should come together to iron things out before this incident divides Africans.
Your message to your fans
I will keep appreciating them always. I will always thank God and my fans across the globe for believing in me and for their support always. I am still around to give you my best; we remain on stage just because you are all still there for us. I want to thank you and appreciate you for your support.