Popular actress and movie producer, Linda Adedeji, gives her best to any role she is given and has wormed her way into the hearts of many movie lovers over the years. After staying away from acting for about three years, the mother of one is now back to what she loves doing best. In this interview with SEGUN ADEBAYO, Adedeji speaks on her marriage, career and life.
Would you say you have come this far in the movie industry on account of your talent or luck?
Yes, I would say I have come this far because I'm talented, secondly because I'm lucky and thirdly, because I got support from my colleagues. I would say I'm talented because I deliver my role very well. If I'm not good at my role, no producer would want to offer me jobs again. Secondly, if I'm not lucky, even if I'm talented, they might still not give me any role. If I don't get support of my colleagues, nobody will call me to their production, that means I will only act on my movies alone. Though, my movies alone will take me to places, the support from my colleagues and my featuring in different movies will actually take me farther and will make people know me more. I think the three worked for me.
You are also a movie producer. At what point did you decide it was time to start producing movies?
I think it is about one's determination to keep rising and taking opportunities that come one's way. I didn't set out to be a movie producer, but as one grows on the job, one begins to see the need to explore more. I don't believe there should be a limit to what I can achieve. I have produced nine movies so far and I am happy about the successes I recorded in all my projects.
BREAKING: IG orders immediate arrest of Shi'ite leaders nationwide
Why is it that every actor feels the need to produce their own films? Is it a measure of success in the Yoruba industry?
I won't say it is a measure of success. Sometimes, we decide to produce movies to bring out the best in us. In my case, I wasn't really getting the kind of roles I really wanted from producers and directors. What I get from them are the roles of a housewife, runs girl but none of them has ever given me that village girl role. That was why I decided to start producing movies myself so that I could play the roles that people never believed I could play. That was what brought about one of my movies, Omotoni. It was a village movie where I had to speak the typical Yoruba language. Since nobody wanted to give me the role, I decided to bring it up, and people were amazed because they never believed I could play a village girl role. Having said that, another reason some of us are producing is because we can no longer tolerate insults from directors and producers.
What kind of insult are you talking about?
I don't want to talk about it. We have moved away from that.
What does it take to produce an average Yoruba film and how do you compare being an actor and a producer?
Most importantly you must have a good storyline, good cast, good director, good locations and great crew. If you have the money and the right crew, you can produce a good Yoruba movie. As per comparing an actor with a producer, I would say being an actor alone, you will have to wait for someone to call you and give you a role, you will have to wait for a producer's call which doesn't come every day. You will have to wait for it. It is only if you are a very popular actor that you can get regular calls from producers but if you are an up-and-coming actor, you might not even get a call for a long time and it will look like one is not making progress. But being a producer, even if they don't call, you can appear in your movies and make your money.
If there is something you don't like about the Yoruba-speaking movie that you belong, what would it be?
I am usually turned off by the mistakes we make in our movies. It's sad to watch a movie and see continuity man crossing the movie or you see the leg of the make-up artiste in the movie that is aired on cable stations that everybody would see. I believe that whatever is worth doing is worth doing well.
So your movies are perfect?
I won't say mine is perfect but you will see some common and unpardonable technical faults in some Yoruba movies and you will feel very bad. In the United Kingdom, we get a lot of bad comments that I feel so ashamed of being Yoruba actress. You can't even defend Yoruba movies because people will bring out five movies with similar mistakes. It's so sad and it turns me off. Sometimes you see stories written badly and some with terrible ending. Most times, our so-called celebrities will come to your location and say they are in a hurry. They will want to force you to shoot their scene and before you know it, the producer will be rushing and everybody will be rushing. In the process, many things are left undone. For example, if they want to use a good hospital for the movie, they will create a hospital in the same living room just because they have to go to someone else's location. These things make me sick. I can't even deal with it.
As a UK-based actress, how would you compare the film industry there to Nigeria
I won't say I am based in the United Kingdom because I stay more in Nigeria. I don't know if there are Nollywood caucuses in UK. I haven't heard of any. If we have to act a movie in UK, It is either we bring the actors from Nigeria, which will cost millions or we shoot some parts in UK with the few Nigerians that are here and you go back to Nigeria to shoot the other parts. I have actually produced some movies here in the UK that have not been released. I have never completed a movie in UK because it is very expensive.
What is the story behind your relocation to UK?
My relocation to UK is based on love. If you love your kids, you must stay with them. If you have British kids, you will have to stay there with them. My career is in Nigeria, so my staying in UK is absolutely based on love.
What do you think about the baby mama fad in Nigeria?
I believe every woman should be married because it is good to be married. It is good to have kids with your husband by your side. If you choose to be a baby mama, it is not the best way to go for a woman. I understand those who became victims of rejection by men and leave them to take care of the kids, but choosing to be a baby mama is not a good life.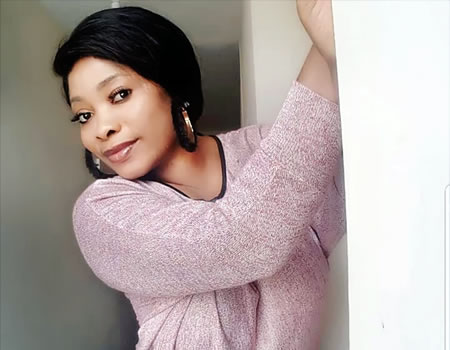 Is it true that most of your colleagues live fake lives?
It's not only about the actors, although it's common among the artistes. We all know what is going on recently in the industry. I can't say about the English movies, most especially in the Yoruba industry, we are just in the industry because of fame and not for money because there is no money in the Yoruba movie industry. But some of my colleagues don't want to lead a normal life. They want people to see them as super rich. They could go as far as using cars or houses that don't belong to them. We have seen people throwing a party to celebrate a building that does not belong to them. A lady actually went as far as going into someone's house to snap, claiming someone's property. It is that bad.
What is your ultimate goal as an actor?
My goal as an actor is to be successful.  I want to touch lives, I want people to see me as an icon. My goals are really high. I want people to be excited each time my name is mentioned. I know that one day, my dreams will come to pass. I want to be successful and to be known all over the world.
What can make you dump acting?
Nothing can make me dump acting. I have done that several times in the past, I was busy, there was no time but I can't do that again. The reason I dropped acting for two years now was because of my baby. I cherish my boy a lot. Many people have been asking me why I have been off the screen. I just need space for now because I just gave birth to my baby last year after seven years of marriage. I went through hell before I had my child. I had 11 missed carriages before I had my son. I think it's not too much to stay a year and take care of my boy. I will go back to acting very soon because my son is a year already.