I staged a one-man protest in secondary school and it was closed down —Adeniran
Debo Adeniran, executive chairman, Centre for Anti-Corruption and Open Leadership (CACOL), speaks with EMMANUEL UDOM about life struggles, romance, music and family.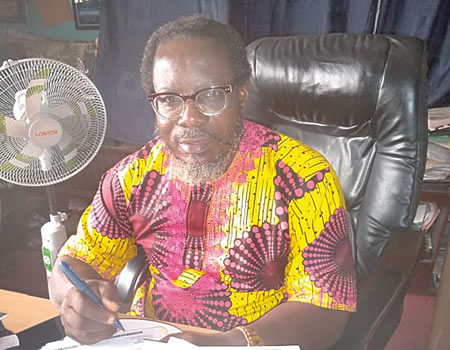 DURING your many battles against successive governments, was there any moment you ever considered quitting?
Yes, it was during the anti-Special Adjustment Programme (SAP) protest where I mobilised students of the University of Lagos for the protest. We were motivated by an article where the pains of SAP on the masses were outlined. Before the protest, we photocopied the articles overnight and distributed them on campus. Soldiers were drafted to Jibowu, Palmgrove and Fadeyi. I was at Fadeyi Bridge and saw some students who suffered bulletwounds. It was while trying to rescue some of the injured students that I began to reflect if it was really worth all the efforts.
That must have been a near-death experience. Have you had similar ones?
The near-death moment was during the 1989 anti-SAP protest I organised while at UNILAG to force the then military president, Ibrahim Babangida, to have a rethink on the programme, as it was killing ordinary Nigerians. I escaped being shot by soldiers and policemen, though quite a number of students were injured.
Today, you are one of the frontline activists. How did the journey begin? 
It began when I was born in the 1960s to parents who were peasant farmer and trader at Iresi in the present-day Osun State. I was born on May 15, 1963 to Chief and Mrs. Samuel Adediran. We were 11 and one died before I was born and another, after I came. My father was forthright, out-spoken, blunt, truthful, sincere and transparent to everyone. He did not care whose ox was gored when it came to speaking the truth. He trained us to imbibe these virtues. It was my father who actually fired the activism spirit in me. My mother was the quiet, easygoing and hardworking type. She sold kolanut, palm oil, garri, fabrics, among others.
How was the earlier years in school?
I attended Baptist Day School, Iresi, for my primary education and Baptist Modern Secondary School, also in Iresi, where I read up to Standard Three. While in primary school at the age of five, some pupils bullied me. I took off from the school for my grandmother's place instead of our farm settlement. My parents looked for me for days and eventually found me at grandma's place. They took me back to school. That was in 1968. But when I left Baptist Modern Secondary School, my parents preferred I trained as a teacher and in obedience to them, I entered a teacher training college and ended up with a Grade 2 certificate. I wanted to attend secondary school and, even at that tender age, I wrote a series of application letters for admission into some secondary schools in Ilorin, Kwara State and Osun State. Some of the schools were: Baptist Grammar School, Ogbomoso; Cherubim Secondary School, Ilorin, Kwara State; Ogbomoso High School and Odo-Otin Grammar School, Okuku, Osun State, where I was finally admitted and I completed my secondary education. While in one of the secondary schools, I staged a one-man protest when the authorities of the school planned to impose fees on students living in the dormitory and the school was closed down for three months. Other students of the school as well as some staff who followed the critical way I was writing as a member of the school press club hailed me for my actions.
And the school authorities did nothing?
The school authorities set up a committee to investigate the rebellion and some of us were invited to appear before the committee. After some time, the matter died a natural death.
Can we describe you as a child with silver spoon?
Not really. My father had a couple of houses at Iresi town, but we basically lived in the farm settlement from Mondays through Fridays and only came home on weekends to attend church services at Baptist Church. Though the nine children were relatively comfortable, that did not mean my parents would not give us a few strokes of the cane each time we erred.
What about the University of Ife story?
While awaiting admission, armed with my WAEC O-level and Grade 2 Teacher's certificate, I was always visiting my student friends and staff at the University of Ife, now Obafemi  Awolowo University, to interact with them.
You eventually gained admission to the university?
Though I attempted it, I did not eventually succeed. But I eventually gained admission to Adeyemi College of Education where I obtained a National Certificate in Education and ended up at the University of Lagos, where I obtained a B.Sc in Biology Education.
You took your critical pen to the tertiary institutions you attended?
At the College of Education and UNILAG, I was a member of the Writers Club as well as one of the frontline activists on campus where authorities complained about our publications and activities. While in the university and the college of education, I was writing with a pen name: Blood In My Pen or Debo Blood and I rattled authorities of these institutions as well as the students.
And nothing happened to you at Adeyemi College?
I was cautioned by the authority.
There was a crocodile angle to your anti-SAP saga.
While at University of Lagos, I mobilised students and we staged the anti-SAP protest. We carried out the protest based on the alleged fraudulent activities of the wife of the military president said to have been published in a magazine. Soldiers stormed UNILAG at night to look for us. We disappeared from the campus through the bush around the university, where Olaitan Oyerinde, one of the protesting students stepped on a crocodile. Soldiers met us around Fadeyi-Jibowu axis and opened fire on us. A number of students were injured. While trying to rescue these students, I was soaked with blood and I trekked from Fadeyi to Ogba with blood-soaked shirt. Also, in Asaba, I was almost kidnapped by unknown persons.
What also happened in Asaba?
Please, I want to keep the issue out of this interview for now.
Have you ever received direct warning from any corrupt big men you try to bring to justice?
Babangida tried to tame me, especially during the anti-SAP protest, but he could not kill the aluta spirit in me.
How did CACOL come to be?
Centre for Anti-Corruption and Open Leadership is a child of necessity.  While in school, I was the National President of Youth Progressive Group of Nigeria as well as the President of Biology Students Association at Adeyemi College of Education. In addition, I loved reggae music. This brought me closer to Fela Anikulapo Kuti, where I was co-opted as a member of his band after visiting the shrine several times. Along the line, I became close to Dr Beko Kuti. From there, I became close to Femi Aborishade, Lanre Arogundade, Segun Sango, Gani Fawehinmi, Festus Iyayi, Femi Falana, Dipo Fashina, among others. When Babangida arrested Aborishade for openly challenging his policies, Arogundade and Sango tried their best to set Aborishade free without success. It was there and then we formed the Free Femi Aborishade Committee, which eventually evolved to the Committee for the Defence of Human Rights (CDHR) where I became the first Secretary-General and Femi Falana became the first President. Along the line, I established an NGO dealing with child legal education issues and it was from there that CACOL came into existence.
What about the allegation that you are being sponsored by some politicians?
The allegation is not new. When Bola Tinubu was the governor of Lagos State, the allegation came up. The same happened during the time of Babatunde Fashola, Akinwunmi Ambode and even now that President Muhammed Buhari is in power. CACOL has never been and will never be sponsored by any politician.
How did you meet your wife?
I met my wife at UNILAG. While at the institution, I met a course mate of mine. I wooed her and she told me she was married. Along the line, I met Bola, my present wife, at the same campus, who looked almost like the other lady. I showed my intention her and we dated from August 1995 to December of the same year when we got married. My wife and children come first in all my dealings. I am blessed with two boys, two girls. Nobody fights my wife or children and gets away with it.