I paid N42,500 for COVID-19 test, passenger says as Ethiopian airline lands in Abuja with 188 on board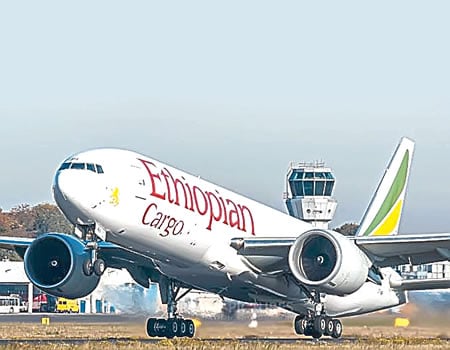 The Ethiopian airline, ET-911 from Addis Ababa has landed at the Nnamdi Azikiwe International Airport (NAIA) Abuja on Monday around 1:33 pm with 118 passengers on board.
Speaking to Tribune Online, most of the passengers who spoke under the condition of anonymity complained about long delays with some saying, they spent over 7 hours in Addis Ababa.
According to Joe Ugwu who came from London, "when we got to Addis Ababa this morning, the Nigerian government had authorized the Ethiopian authorities to detained us there until we pay the COVID-19 test fee when though we had paid.
"It took several hours before they could let us go, even after the flight had taxed away, they called the flight back again and ejected us from the flight and after some time, they called us back again."
He said "we paid and we didn't get confirmation, we know, they don't want to take responsibility. I paid N42, 500 and in the UK, I did this test for free, but here, I have to pay N42, 500, I don't know why COVID-19 test should be this expensive, " Joe lamented.
Although some passengers travelling from the Abuja airport today to other countries refused reactions to discussions on the payment of COVID-19 test fee, others said they did the test for free in government-designated testing centres.
Generally, our reporter observed that safety protocols were watched with both going and incoming passengers testifying that safety measures were complained to.
Speaking to the media, the Managing Director of Federal Airport Authority (FAAN), Capt. Rabiu Yadudu said the resumption of international flights was a lifesaver, it is a lifesaver for all of us in the Aviation sector, for the last 7 months, things have been very slow and Challenging. We have been distressed, no revenue, no business, no operations.
"But we have seen the first flights come in, first it was the domestic flights, that gave us a lot of confidence, and now the international flights have resumed. I believe that every stakeholder in the aviation industry is happy with the development."
On the number of airlines ready to resume operations, the MD noted that "It depends on the preparation of the airlines, you saw what has happened and is affecting the industry. As airports, we are one and we have resumed operations, we have opened our door, that's what it means.
"For the airlines, some airlines will be ready to resume today. Some, they will tell you they will come in a week, some airlines have already gone into bankruptcy, so when to resume depends on the airline," he stated.
Many airlines are expected to resume operation in the coming days.
YOU SHOULD NOT MISS THESE HEADLINES FROM NIGERIAN TRIBUNE
TOUGH POLICIES: IMF, World Bank Take Over Nigeria's Economy •More Pains Ahead For Nigerians
ALTHOUGH this seems a difficult period for Nigerians, Sunday Tribune investigations have, however, revealed that it  could actually be a signal to the beginning of more unbearable pains in the form of economic policies as the Federal  Government continues to implement the stringent conditions of its international creditors…Ethiopian airline lands  Ethiopian airline lands
What I See Around The Villa — Primate Ayodele
In this interview by KEHINDE OYETIMI, founder of Inri Evangelical Spiritual Church, Lagos, Primate Ayodele speaks on both global and local issues…Ethiopian airline lands  Ethiopian airline lands
High Cost Of Fuel, Electricity Will Ruin Our Lives — Market Leaders, Business Owners Lament
CONDEMNATION of the hike in petroleum products and electricity went notches higher at the weekend as more  Nigerians flayed the decision of the Federal Government to take such a decision not minding the fatal blow dealt the economy by the coronavirus pandemic…Ethiopian airline lands  Ethiopian airline lands