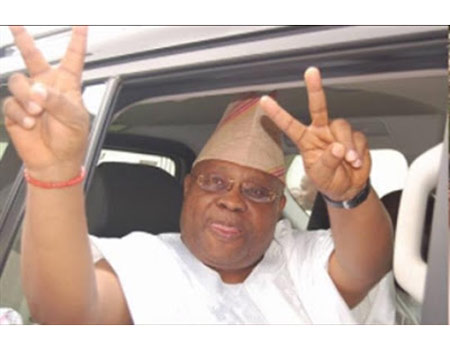 The candidate of the Peoples Democratic Party (PDP) for July 8 bye-election for Osun West Senatorial District, Dr Ademola Adeleke has said he would continue the philanthropic legacy of his late brother, Senator Isiaka Adetunji Adeleke, with a view to better the lots of indigent people in the society.
He also said he had commenced a N250million scholarship scheme for the youth of Osun West, with a tackling poverty and empower indigent students of his constituency to realise their educational projections.
Adeleke, who stated this in Iwo, the headquarters of Osun West Senatorial District, while being presented to the PDP leaders charged the people of the 10 communities, constituting the district to come out in large number to vote for the PDP during the July 8 bye-election.
While expressing appreciation to the party leadership for accepting wholeheartedly, he maintained that he was overwhelmed by their show of support towards him, stressing that "I promise not to disappoint you. I'll continue the philanthropic legacy of my late elder brother, whose main worry was how to better the lives of the masses".
"To kick start, I have rolled out scholarship scheme of N250million for the youths of Osun West Senatorial District, but it is important for all eligible people go out and vote for out PDP during this forthcoming July 8 bye-election and next year governorship poll."
"I have been in politics since 1991. My late father and brother also taught me a lot, especially to be good to people, which is what I've always been doing and will continue to do", Adeleke remarked.
In his remark, a member of the PDP Board of Trustees, Alhaji Shuaib Oyedokun lauded the process which brought about the accord in the party and enjoined every member to go out and canvass for the party's candidate.
Similarly, former governor of Osun State and the candidate of the PDP in 2014 governorship election, Senator Iyiola Omisore said "Osun West is very important to everyone of us, that's why we decided to come together and honour the memory of our late senator by massively supporting his brother, Ademola Adeleke to emerge victorious in the bye election."
---
---