I know I goofed by having sex with ladies I prayed for —Pastor taking nude pictures of church members he was sleeping with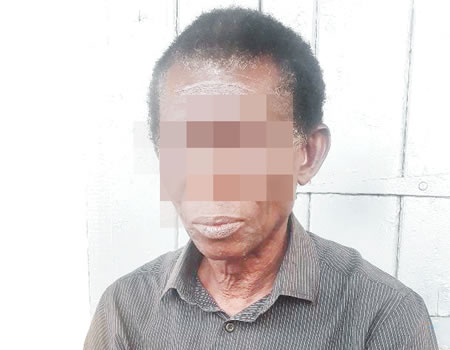 A self-acclaimed Pastor, Olusegun Oyetunji, based in Awe town, Oyo State, claims he got a call from God. But going by the acts he indulged in during his stint as a cleric, he became a guest of the police in Oyo State Police Command for interrogation on the acts and their relevance to the work of gospel ministry.
Saturday Tribune learnt that Oyetunji, a 62-year-old man, who claimed to have retired from a federal broadcast media organization (name withheld), was arrested on August 15 at about 7:00 a.m., after the operatives of the Special Anti-Robbery Squad (SARS), at Durbar area of Oyo town, got a report from one of his victims,a lady (names withheld).
The state Commissioner of Police, Shina Olukolu, told the Saturday Tribune, while speaking on the suspect's arrest, that the lady told the police that Pastor Oyetunji allegedly took her nude pictures with his cell phone which he kept, allegedly for his pleasure.
Saturday Tribune also learnt that the 28-year-old lady who reported him was not only the victim; the nude pictures of a 17-year-old girl and another lady were found in his phone.
In the case of the teenager, she was said to be taking her mother for prayers at Pastor Oyetunji's place, until a day when he told her that when she was six years old, somebody defiled her, and she needed to pray so that it won't affect her in the future.
Investigations that followed revealed that the pastor engaged her and others in sexual acts, before convincing them to pose for the photographs, which he told them he would pray on to solve their spiritual problems.
Saturday Tribune gathered that when the first lady discovered that the problem the Pastor told her she had was not real, she stopped going to his church. The pastor was alleged to have started threatening that he would post her nude pictures online.
It was further learnt that this made her to go back to the pastor for reconciliation, so that she would find a way of deleting her pictures from his phone.
But to her surprise, after laying hand on the pastor's phone, she discovered the teenager's pictures, as well as that of another woman. Saturday Tribune further learnt that she had to invite the girl to confirm her relationship with the man, which she did.
Also, in the course of looking through the pictures on the phone, she also discovered those of a third lady, said to be a mother of two, though she refused to talk to the police on how the pictures got to the pastor's phone.
In an interview with the pastor, he admitted that he deviated from the call he got to be a shepherd, but said the relationships with the lady kicked off from prayer and deliverance sessions.
According to Pastor Oyetunji, "I went into cleric work after getting a calling from God. I pastor the Gospel Ministers Commission. I didn't found it myself; the founder asked me to take over shortly before he died."
How I came in contact with my victims
For the first victim, one day, I went to a hospital in Awe, Oyo, to see one of the members of the church who was ill, and I prayed for him. Then, some staff members of the hospital also asked me to pray for them, which I did.
They also pressured me to tell them what God was saying concerning them. They gave me a room in the hospital so I could deliver the message to them and I did. That was how I met one of them, the 28- year-old lady (name withheld).
She later came to me to seek counsel for her problems. She said several men had dumped her in the past. This happened in 2018. We prayed together and I couldn't get a clue, so I told her that she would have to come back.
After some days, she returned and I gave her anointing oil to rub on every part of her body, which she did. The next time she came, I anointed her, I anointed every part of her body, including her private part. That was the starting point; later, we had sexual intercourse. That was the deceit of the enemy. I can't blame anybody for it but myself.
When I was anointing her, I was not feeling any urge until when we both decided to have sex. There was no plan to do such a thing. However, I was the one who demanded for sex and she agreed. It was the deceit of the enemy.
I told her that since those who put her in her problem of not being able to find a husband also had sex with her, I would also need to have sex with her in order to cleanse her, and she caved in. It was not even that day that we had sex; she returned after 10 days and the act started. Everything happened within a span of two and a half months.
We, however, stopped it after two and a half months because she got pregnant and aborted the pregnancy herself. I wanted her to give birth to the child. I was not in support of abortion because I don't want to be a murderer.
I travelled; and before I returned, she had started the abortion process. However, along the line, while we were still having sex, I told her I wanted to marry her and she agreed. That was why I asked her to leave the pregnancy.
Why I took her nude pictures
I took some pictures of her while she was naked; I had wanted to use the pictures to pray further for her, but when I started that, God told me I had goofed. We were having sex in my house. I am the only person staying in my house. My wife and I had a quarrel some four years ago and separated, so I live alone.
How I landed in police net
The lady reported me to the police and they came to arrest me. However, I want to say that God will always call those He wants to call, and that does not guarantee them 100 per cent sinless life. When the devil comes after the departure of the Holy Spirit, one will fall flat, and that is exactly what happened to me. My action was not in consonance with God.
How I met the 17-year-old girl
In January, the girl came to me to lodge a complaint that she had blood flow that was not stopping; that she would start her menses and it would run for two weeks or more non-stop.
After praying with her, I told her that someone had defiled her when she was six years, and she confirmed it. So we started with how we could neutralise the curses, because the person who defiled her had used something on her.
I never knew she was 17 years old because she told me she was 18, and I used the system that was used for the older lady. I told her she would be anointed. The first time, she anointed herself; after that, I anointed her, and the third time, we had sex.
I was not using protection because at a stage, she told me she was on family planning and that I should not get worried. Initially, she told me I should help her with family planning injection, and I disagreed, but after a while, she told me she had taken it and I was angry with her.
So, when she got pregnant and aborted it, I felt very bad because she was a young woman who is not married and that was how I stopped contacting her. Although I was not expecting a child from her, I was just angry that she took family planning injection. She was a young girl, but the mother of my children, being a nurse, had told me family planning was to prevent married women from getting pregnant incessantly.
It was later that the 28-year-old lady contacted her and I was arrested. Both of them were members of the church. It was because we were able to cure the mother's spiritual problem that made them become members of the church.
Justification for my actions
My actions cannot be justified. Men of God must be careful; at a time when the devil encroaches on their lives, scaring away the Holy Spirit, then they can be tempted on anything and they will fall flat. At that time, any crime can be committed. So, if we are vigilant enough, then we can avoid all that; I wasn't vigilant enough.