I knew it was unethical to accept money from lawyers who had cases before me, Judge accused of accepting bribe tells court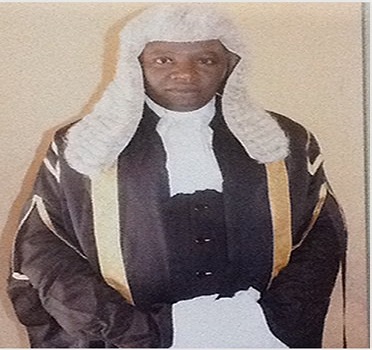 EMBATTLED former Federal High Court Judge, Justice Mohammed Yunusa who was accused by the EFCC of collecting bribes from lawyers, on Tuesday admitted that it was ethically wrong to accept money from lawyers with pending cases before him.
Justice Yinusa is standing trial before an Ikeja High Court for allegedly collecting bribes from former Senior Advocate of Nigeria, Joseph Nwobike who has since been convicted and stripped of his SAN status for bribing judges and Rickey Tarfa who is also undergoing trial for similar offences.
Yinusa in his statement to the EFCC which was tendered before the court admitted collecting N750,000 for purposes of paying for his ailing mother's kidney dialysis.
ALSO READ: I was ordered to pay money into Ajumogobia's account —Witness
The statement which was read in court by an Economic and Financial Crimes Commission investigator, Moses Awolusi, reads in part: "I know it is unethical to accept money from counsel when he has a pending matter before the court. I have been shown my UBA account where I received N750,000 from Joseph Nwobike. I reached out to him as a personal friend. I shared my problems with him, in the light of my mother's diabetic condition which required dialysis."
Awolusi while being led in evidence by EFCC prosecutor, Wahab Shittu told the court that investigations further revealed that there was constant communication between the defendant and the two Senior Advocates.
"Investigations on the defendant's MTN line revealed that there was constant communication between the defendant and Rickey Tarfa SAN.
"We discovered that before certain matters being handled by the counsels were filed, there was constant communication between them as regards those matters.
"They even kept communicating even while the matter was going on even to the point of judgement," he said.
"On the 19th of March 2015, Dr Nwobike paid N750,000 into Yinusa's UBA account.
"By October 10 that same year, judgement was delivered in favour of Dr Nwobike in suit number FHC/L/ CS/1471/2015.
"We also wrote to the National Judicial Commission to furnish us with information in relation to allegations. It was observed that the defendant violated the code of conduct by relating with counsels with pending matters before him, he was therefore recommended by the NJC for sanctions," Awolusi said.
However, during cross-examination by the first defendant's counsel, Robert Clarke SAN, Awolusi said he did not know what the monies paid into Yinusa's UBA account.
He further added that the commission investigated Yinusa based on the multiple communications he had with the SANs who had cases before him.
The presiding judge, Justice Sherifat Solebo thereafter adjourned the matter till November 14 for the continuation of trial.
Yunusa is standing trial alongside Esther Agbo, a staff of the law chambers of Mr Rickey Tarfa (SAN)
Yunusa faces four counts of attempted perversion of the course of justice and corruption by a public official, while Agbo is facing a charge of offering gratification to a public official.
According to the EFCC, Yunusa had constant and confidential communications with Tarfa, who was handling three lawsuits marked FHC/L/CS/714/2015, FHC/L/CS/715/2015 and FHC/L/CS/716/2015 before him.
It also alleged that Yunusa collected N1.5 million bribe from Tarfa for the purpose of giving favourable rulings and judgments in the cases.
The judge is also being accused of receiving N750, 000 from Nwobike , between March 2015 and September, 2015, to get "favourable" judgment in some cases.
Agbo, the second defendant who is an employee of Rickey Tarfa and Co., on May 14, 2015 paid the N1.5 million allegedly from Tarfa into Yunusa's UBA account number 1005055617.
The offences violated Sections 64(1)(a) and 97(3) of the Criminal Law of Lagos State, 2011.