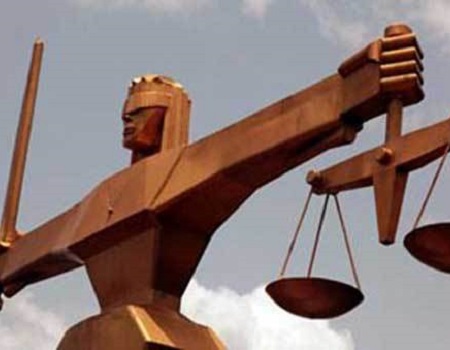 JUSTICE Oluwatoyin Taiwo of an Ikeja High Court on Friday fixed October 5 to rule on a no case submission filed by a legal practitioner, Kole Bello who is standing trial for allegedly forging a Certificate of Occupancy (CofO) of landed property in Lekki.
Bello who is standing trial alongside three others was expected to open his defence in the forgery case but he filed an application asking the court to drop all the charges against him.
TribuneOnline recalls that Bello was arraigned before the court alongside Chukwu Victor, Friday Palmer and Osumah Terry sometimes in October 2017, by the Lagos State Government on a three-count charge bordering on conspiracy, fraud and forgery.
According to the charge, the defendants allegedly conspired among themselves and forged a C of O with reference no. 63/63/1989, dated Sept. 28, 1989.
The defendants allegedly forged C of O in order to take over a plot of land belonging to late Mrs Francisca Awolaja.
However, at Friday's proceedings, Bello's counsel, Oke Akintunde SAN, informed the court of the pending application, wherein the defendant had asked the court to quash all the charges against him as the prosecution has not been able to prove any case against him.
ALSO READ: NYSC on Shittu: Political posts can't replace youth service
"My Lord we have an application before the court where he filed a no case submission on the basis that the defendant does not have any case to answer before the court, " Akintunde said.
Counsels to the 2nd, 3rd and 4th defendants also informed the court of their intention to file similar applications.
The prosecution led by Ms O. A Bamisaiye Howe informed the court that the prosecution had closed its case and was waiting for the defence to open its case.
Justice Taiwo thereafter adjourned the matter till October 5, to hear the pending applications and to also give a ruling on the no case submission.
Bello and his co-defendants were also accused of impersonating the late Awolaja in order to fraudulently sell her land to one Mr Rotimi Olubeko for the sum of N5 million.
Bello was convicted in a similar matter where he served jail time before his conviction was upturned by a court of Appeal