I had my triplets despite blocked fallopian tubes —50-year-old new mother Seeks help for children's upkeep
Mrs Foluke Kosoko, a Level 9 civil servant, is married to Mr Babatunde Kosoko, also a Level 9 civil servant. But since they got married 24 years ago, they had been waiting for a miracle to have a baby. Resident in Nyanya, a surburb of Abuja, the 50-year-old mother who welcomed a set of triplets, in this interview with Sunday Tribune, shared the story of her 24 years wait with ADETOLA BADEMOSI. Excerpts: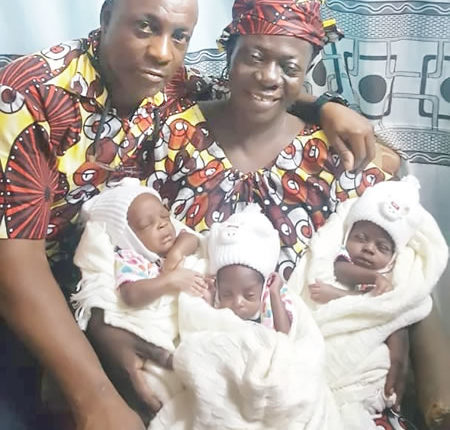 CONGRATULATIONS, how has the journey been in the last 24 years?
It has been years of depression and crying, but one thing I believed was that I did not create myself, God created me and he knows what he wants for me. But then as a human being, one would be worried. I usually wonder why my case was different; or whether I had offended God in any way or I have done something for which I was being punished. So I used to tell God to forgive me if it was my sin that caused the delay.
There was a time I bought a washing machine and somebody said 'you bought a washing machine? Don't you know that it is for washing babies clothes or is it to wash your husband's clothes? Didn't you see that there is a picture of a baby on the washing machine? "
That day I cried to God, I thought she would rejoice with me. So I cried to God that look at what this woman is saying. But I used that word as a challenge that God just has to do something. Sometimes if I call my neighbors' children to send them an errand, they will refuse. In all, I never knew that God had something in stock for me. I thought there was no solution anymore because I had done everything humanly possible but all to no avail. So I concluded that perhaps that is how God wants it to be.
Were you stigmatised by family members or friends over your situation
I will say severally, Yes! Even from neighbours. A woman gave birth to a baby girl and you know with my nature I was joyous, rejoicing with them so I wanted to hold the baby but she just avoided giving her to me and she did it openly. She never allowed me to touch the baby till they left this place. Family will not show it but through their actions. Maybe they used to call before and they realise nothing good can come out from you, then they abandon you. They didn't care on how one was faring, except my mother. I encouraged myself a lot because people have pushed me to the extent of committing suicide but I refused to do so.
Some people would even say how come you are married and there is nothing to show for it. What is your happiness when there is no child to show that you are married? But I refused to get angry, because it is God's doing and I know He will do it, I have no power of my own.
Did you suspect that someone was behind your predicament?
One day I thought I had offended my sister who brought me up in Ibadan, I visited her and knelt down and asked if I had offended her in any way; that since I got married there was nothing to show for it and she was not doing anything about it. I was the one that took care of her children from birth, but she said I had not offended her in any way and that she had been praying for me only that she did not know how to ask me. That was how I left Ibadan the following day but immediately I left her place, it seems like a heavy burden was lifted from my shoulder. Since I left her place, I felt relieved.
Did you at any point seek for medical help?
Yes, we did even before our first year wedding anniversary. I could remember they sent me and my husband home. When we came to the hospital to complain after 6months, they asked us to come back after one year. So after one year, we went back and they conducted a series of tests on us. One thing they saw is that one of my fallopian tubes was blocked, that only one is opened. So I asked if I can conceive with it, they said it is possible, that we should go back and continue trying. I never took it very serious but then pregnancy was not forthcoming.
So years again we went back to tell the doctor that nothing has happened, so the doctor asked us to do another test. They said the one fallopian tube is still there. I even went for HSG a process to open the blocked fallopian tube but they could not. So my hope was on that one. That was how I kept increasing in age.
I know the fact that women are like flower and we have limited reproductive age and that was why I started earlier because I did not marry early, I got married around 27-28 years. So because of that, I started waiting for baby but didn't come until now.
Have you ever given up hope?
Yes, I gave up plenty of times, but thank God for my pastor who rekindled my lost hope. When I clocked 45years, I looked at myself and wondered what is it I am still looking for. At that time, when I went for a test again, I was told that the two fallopian tubes are totally blocked. So I lost hope, but then I continued praying. In fact we have resorted to adoption. We went to Karu orphanage; we took provisions there and stylishly asked for the process of adoption. Surprisingly, it was not up to three months that we went to the orphanage that I got the news that I am pregnant. It was surprising and I cannot explain the situation. I have never been to an orphanage; it never even occurred to me that in my condition, I ought to be going there. I did not see it as an obligation until my pastor called to tell me to go.
So when we went there, I was moved to see the children. They surrounded us and prayed for us. That day, I felt relieved, I was moved that it felt like the entire children should be transferred to my home. What will they eat? Even if I don't have what they will eat, I don't mind selling anything to provide for them. I felt for them but I did not know that God sees my heart, it was not up to three months, and I took in.
You did not anticipate that such would happen when it did?
Anticipate ke? Talk about IVF we had done enough! So what else? I did IVF up to four times but all came out negative. So when I went for the fifth IVF, I never expected any good news. In all, I thank God because I never allowed these things to weigh me down and I cannot fight God. So I concluded that maybe when I come back to this world again or perhaps I came before and had plenty of children such that I vowed that when I come back to this world I don't want them or maybe when I come back the second time, that is when I will have enough.
How did you feel when they broke the news of your pregnancy to you?
Even right from the day they told me I was pregnant, I did not believe it. I told my husband that the doctor only said that we should leave the environment so we won't break down. Maybe when we get home, they will call back to tell us the truth. My husband asked if the doctor was telling us the truth. Even when they told me positive I said No, it cannot be me, they just want me to leave this place, so that I will not cry.
The doctor even showed me the urine and test strips, so they could not have lied. So they asked me to come back in six weeks to know the number of babies. I started crying because I did not believe that something could grow in my womb. If it was true, why didn't it happen all these years? So after six weeks, we went back, so the doctor said they should do a scan on me to know how many babies were there.
At that point I asked the doctor again if it was true that I was pregnant, he said yes. So I was asked to lie down to check the number of babies in my womb, they counted three! In fact God is great! So I said three? It was from there I took the doctor's words serious. I started imagining it, and from there I started feeling that something was growing in my stomach. God is great!
Did you not feel any pregnancy symptoms?
I did not. Doctor asked if I saw my period, I said no.
Haven't you stopped your monthly cycle?
I stopped since I clocked 48. But then the fact is that the babies are IVF babies. We have been doing IVF, but it always turned negative so I never put my mind there.
When was the last IVF?
It was September 2018; I had one by April, May, and June 2018. It failed then I went back in September to take the 5th one. They asked me for my period, we looked for it but didn't come and the doctor said without the menses they cannot do anything. So I told the doctor that I had entered menopause. They gave me a drug to use, I used it, and finished the entire pack but it still didn't come not until they gave me another. It was in the process of taking the second one that the menses came.
So are you saying the 5th IVF worked?
Yes, it did.
How has the cost of IVF affected you financially?
At the National Hospital where we started the process, one was about N700,000 to N800,000 because it is a government hospital. But at Garki Specialist Hospital, we had it for N1.2 million. So the first one of N1.2  million failed, I lost hope, it was my pastor that insisted I go back and I told him that I cannot lose N1.2 million and still say I want to go back. Where will I get the money? I'm a civil servant but the pastor insisted that I go back and that if it is money he will do something. So here we are. It worked.
What message do you have for people in similar situation?
I never thought I could ever be pregnant again in my entire life, but God in his infinite mercy made it happen. So anyone facing something like I faced should be patient and prayerful. Another thing is show love to any mother or pregnant woman. I developed the attitude; God is seeing our heart concerning children and that contributed to my miracle.
So how has it been having to cater for the triplets?
In fact, I need help. I am a civil servant, level 9 at that and even my husband is a civil servant. Within two days they have finished a can of food. So we need help, we call on well-meaning Nigerians to help us. Even this apartment is small. It is just one room with extension. We don't have any hope of getting a larger apartment; we call on anyone who can help us financially or in material terms.