I dropped out of school because of my passion for music —Singer Nappy
Jimoh Olayinka Oladipo is an Ogun State-born rapper, singer, songwriter and music producer, who goes by the stage name, Nappy. To him, Nappy is a reminder of a state he must remain to achieve his goals. He started making music since he was 11 and today dreams of taking Nigerians by surprise. And while talking with Newton-Ray Ukwuoma in this interview, he describes his passion for music and how he dropped out of secondary school to pursue his music career. Excerpts: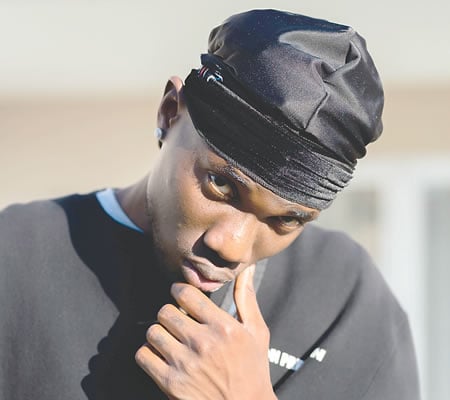 How did you get your professional name, Nappy?
It's from nap. I believe in napping and not sleeping and being lazy. I believe if you want to be great, you have to constantly be on your grind. So, I am always nappy, not sleepy.
Then shouldn't nappy suggest a state of sleepiness?
What I am saying is that I take naps, instead of sleep. I believe that if you have something you want to chase, you take naps not sleep.
How will this philosophy impact on your music?
If I don't sleep, I am awake doing music. And I intend to make great music, great vibe, nice sound, obviously a message to the listeners.
What is the inspiration behind your latest offering, "She Didn't Know"?
"She Didn't Know" is a satire on women who underrate men based on financial and social status. It's a song everyone should listen to and just smile about. Most young people will also be able to relate to, because every one of us has had one or more of those encounters before. The song is just a normal guy's experience with girls.
Have you taken stock of the Nigerian music industry?
Yes, before I joined the music industry I took time to study the music environment of Nigeria, who my audience should be and when it is best to release my music. Yes, I have been doing my home work.
Do you think Nigeria is ready for your kind of music?
Yes. Nigerian music has gotten global attention. We have been ruling the world in music. And I am so excited about the future of Nigerian music with the kind of new kids that are on the block right now; stars like Odunsi, Rema, DNA and Crayon among others. For me, this is an interesting time to join the league. I just love good music. And I know as long as I continue to make good music, I will stand the test of time
You are signed to Naptown record label. Are you the founder?
It is a family record label handled by my brother.
What musical ingredients are you bringing into the industry?
I understand Nigerian music. I say again I know that as long as you give Nigerians good music constantly, you will stand the test of time. It is about giving people good product.
Tell us about the type of music you do?
I like vibey songs and I always want to pass a message and I believe that's what music is really all about. I believe any music without a relatable story to it wouldn't last. So, I obviously want to make good music which is relatable to.
Who are your audience?
Those people that love good music with message in it. If you listen to my songs you will know that it is unique, you can't really compare it to any kind. Though, I have been influenced by other singers, you cannot necessarily compare my music with anyone.
Who do you listen to?
I listened to good music. I like Wizkid, I like Davido, I like Burna Boy. These have been consistent over the years. I also like Bob Marley, 2Pac and Drake. But my musical flexibility makes my genre extremely unique and creates a sound that will completely change the music industry.
 How do you describe the present music industry in Nigeria?
It is simply vast. With the kind of music that is being released today, the kind of sound that is out there, I think there is space for everyone. If you want to listen to hip hop, you know where to go, if you want commercial sound you know where to go, if you want alternative music you also know where to go, if you want the vibe sounds and other kinds of music, you will find ample examples.
It didn't use to be so ten years ago, but we can now say that there is space for everyone right now. The audience has expanded and all kinds of music fit into the music industry in their own way. There are those who want to listen to artiste with message, there is space for them too. So, in my opinion, the Nigerian music scene is open to all genres now.
Let's talk about your growing up. How did music start for you?
I started making music when I was eleven. I didn't pay much attention to it. After High School and two years into College I went to the studio for the first time. I heard the sound of my voice, I liked how I sounded and since then, I started paying more attention to it than school.
You dropped out because of music?
I immediately discovered that it was music I wanted to do. I was very confident that my music was good and that people were going to like it.
You left school?
Yes. It was a good thing for me.
Would you say you were a stubborn child?
Not necessarily a stubborn child. I am someone that understands himself, I know it is my life and I need to take action.
Did you find it hard to convince your parents to accept this aspect of your life?
Not necessarily, the way I was brought up made my life a lot easier. I was taught to be myself.
Who are you closer to between your parents?
I am closer to my dad. He supported me like every father will support a son. We love music in my family. When he started hearing me my father was like I should focus on it if that was what I wanted to do.
Where do you see yourself in five years?
I see myself giving people good music and being a good influence to the youth, guiding them to be better people. I want to be someone people are proud of, it is all about being great and leaving a lasting legacy.
What is your greatest challenge?
I haven't had a challenge. I am a very friendly person I don't think I will have a challenge.