I don't fancy my mum's career, music is my calling —Wright
Afro pop singer and songwriter, Ojayy Wright, is the son of veteran actress, Bukky Wright. Ojayy, who took a break from music for some time, is back and wants to take his game to the next level. He speaks about his career, his mum's influence and more in this interview with SEGUN ADEBAYO.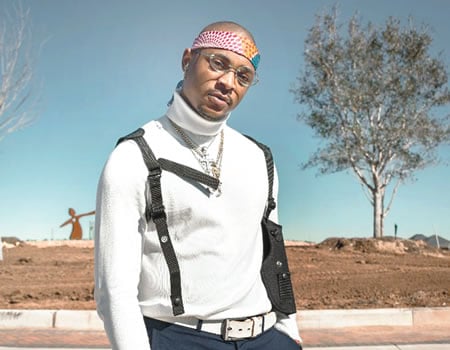 Why do people say you are one of the most underrated acts in Nigeria?
I think people are right to imagine that, so I would easily say they have every reason to think like that. But personally, I think it stemmed from the pressure to succeed my mother, who is an actress. So people just expect more from me.
You seem to have everything working for you. You have the name, the face and talent. What else is holding you back?
Holding me back? I won't necessarily call it that. I just believe my time was not ripe then, but it is about time now to show the world why they should bank on me when it comes to quality music. At this point, they have to adjust to the fact that a new act is about to take over. This is going to be different from any other artiste or project that penetrated the industry in the past.
Don't you think the pressure of being the son of Bukky Wright is weighing you down?
Well, you are right because it definitely affected my breakthrough a bit. As I said, people just expect more from me than the average person. But it isn't weighing me down. I relish the challenge of being who I am and the position I have been put in.
You have been in the music industry for a while and you have a couple of hit songs, but there seems to be the challenge of consistency.
I think the challenge for me has been about creating and focusing on my sound. I want to focus my career on the kind of music that I know. That, for me, is the true definition of me. That is the true essence of music. But I think we have found the code now and I'm sure you will see more consistency going forward.
At a point, it appeared you wanted to ride on the back of your mum's success as a celebrated thespian.
I was never trying to ride anyone's back. I am the son of Bukky Wright. People are always going to say this or that about me and I just had to learn to deal with it. I can't hide who I am, especially if you have a parent as famous as mine. However, life has been good, I have been working on more music and movies.
One would expect that being the son of a celebrity would help your career and take you a step ahead of others. How much influence did her status have on your music career?
It has a decent amount of influence on my career. But again, it has its high and low moments, being famous before actually becoming famous can mess with your head. But I am sure at the end of the day, my last name will still work for me. That's years and decades of work and legacy that go  into that name "Wright" and nothing anyone can do about it once God says it is time!
But the choice of music in the first place and not acting?
I just love music. I love sounds. My ears are super sensitive. I am super sensitive. I started to write songs at the age of seven. I have acted in a couple of movies as well, but I believe music is my calling. I have the sweetest voice and people will have no choice but to hear it.
Growing up with her, what kind of mum was she and how much did she indulge you in your quest to do music?
She's very strict. but I couldn't ask for a better mother. She was all about school when I first started and she didn't actually support me in the beginning. I think it's partly because she knew what she went through to get to where she is today and she knew it would be difficult for me. But eventually after several songs, she gave in and she has been supportive ever since.
There was a time we learnt that you both disagree on the way forward. Was it that she disapproved of your career path or you disagreed on how she wanted you to run your game?
She actually disapproved of how I wanted to run my game. I was still young and I just got out of school. I was very enthusiastic about getting into the game and the real world but at the same time, I was naive and she could see that. But it wasn't anything major, we quickly settled the whole thing.
Despite the level of hard work you put into your craft, some people believe that you are still struggling to catch the attention of those who matter and can turn things around for you.
That may be true to an extent. But again, I think with more consistency, I will grab attention this year.
How hard has it been showing the people that you are talented and music is actually your calling?
It has been very hard. People don't like me until they meet me. They take what they see online and judge me based on of that but I try to change people's opinion about me when they actually meet me. I remember visiting DJ Shabsy sometime last year and he received my manager and I well. We discussed music and he said to me after playing a couple songs "I never knew you were this talented." He said he thought I was just one of those children of celebrities who like to make noise up and down. So, you see I'm sure he's not the only one with this opinion. I know of artistes that have said the same about me.
What do you make of the competition in the music industry now and your chances of making yourself relevant?
There are so many good acts out there and our industry is growing outside of Nigeria and penetrating the rest of the world. We have many 'dope and dangerous' artistes in the industry actually but me sef carry ammunitions enter 2020.
How are you preparing to keep your space and your fan base?
It is true that we are the biggest we have ever been across the globe with Davido, Wizkid and Burna Boy making waves but believe me, I am the one that would take our sound and culture to the very top of the billboards. I intend to fulfill this with every bar and every hook and record I write.
You have not been around for a while and many people said that you relocated to the United States when your music was not bringing the return on investment. Is it true that you considered relocating?
That's true to an extent but I just got tired of how fetish the industry was becoming. I was running into and seeing too many things daily that I needed a break from them all. I can't mention certain things but these people wanted to take my life. They said though my mum was successful, they would not allow me to be as successful as her. It wasn't funny so I had to protect myself and my energy to live to fight another day.
Do you believe not having a record label has hampered the growth your career would have had over the years?
Yes I would say so because the pressure to release music especially from my stand point is a lot. And without the proper channel or platform to be heard nationally or globally, it's a bit difficult for people to pay attention in you as you would want.
You have an EP that is about to be released, tell us about the project?
It's titled '37 Degrees in Lagos.' 37 degrees represents the temperature in Celsius of the harsh weather conditions and the heat in Lagos State sometimes because we are right under the equator. It basically depicts our current economic value from an entertainment standpoint and how the world sees Nigeria and our music right now. We are the hottest, our sound is the hottest. They love us in the US, the UK and in other parts of Europe. Lagos is where all of this started from. Even some of us like Davido or Burna that schooled outside Nigeria decided to return to Lagos to understand and present this new afrobeat sound that some of us call Afro Pop. You're hot in Lagos now, you're not only hot in Nigeria or Africa.
We smell a romance between you and Chidinma. Tell us about your relationship.
I don't want to comment on that. She is a beautiful and fantastic individual. She is one of the most beautiful women in our industry definitely.
Where do you see yourself in the next five years?
I want to sell out the biggest arenas globally. From Wembley, to O2, to MSG. Burna Boy got nominated for Grammys recently, I will too.