I came to the world after my mum lost six pregnancies —Oyebanjo
Popularly known as "The Boy," former chairman of defunct Stationery Stores Football Club, politician and businessman, Chief Olufemi Oyebanjo, the Aro of Oke-Oro, Ekiti State, speaks to TUNDE ADELEKE about life and early years.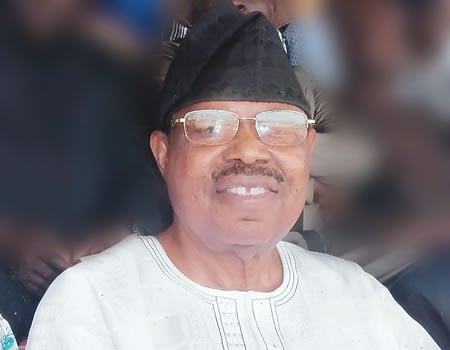 HOW did you come about the appellation, 'The Boy?'
During the first term of Dr. Kayode Fayemi as the governor of Ekiti State, we were holding a meeting of our party, the Action Congress of Nigeria (ACN), one day inside the Trade Fair complex, Ado-Ekiti. I was sitting among the youth and they were raising their hands to ask questions, but they were not recognised. I stood up and said 'The boys are here! Please, remember us here.' I was then in my late 70s. That statement generated laughter. At subsequent meetings, the governor addressed me as 'The Boy.' That was how the nickname stuck.
How were your early years?
If not for the grace of God, I wouldn't have existed at all. My birth at Idao (now Oke-Oro) on December 28, 1934 to the Aro and Odofin of Oke-Oro family in Ijero Local Government Area of Ekiti State was by some divine arrangement. My mother was pregnant six times but she lost them all. In order to prevent the misfortune happening the seventh time, the oracle instructed her to move eastward. That was how my mother, Dorcas Olofinyemi Oyebanjo, went to Ara-Ekiti where she was eventually delivered of a baby boy. But the battle was not over yet, she was further instructed not to go back home. She sought refuge at Inu (now Ayegunle) where she stayed to wean me. She occasionally visited Idao through the footpaths. It was when I was able to walk that my mother finally returned to Oke- Oro. But around 1938, my father relocated to Ayegunle to continue his timber business, leaving me with my mother at Oke-Oro because Ezekiel Oyebanjo, my father, was polygamous. My mother's plight could only be seen from the usual happenings in a typical polygamous home. It was by divine providence that I survived the subsequent years.
What can you tell us about your parents?
My mother was a food vendor while my father was a timber contractor, so, I was not brought up to be interested in farming. I was always with my mother, a well-patronised food seller. The spot where she was doing her business was the place I later built my house. My mother showered me with much affection and gave me very good training. She, however, died in December 1946, two year after I started schooling. Her death was a turning point in my life. I had to live with relations and sometimes, with teachers and guardians. My first place where I lived was my mother's aunt, Eyemoleiyo, who was equally caring. All her children and grandchildren took me as part of them. Among my relations, there was Madam Ajibogun, mother of Senator Iyabo Anisulowo. As the only surviving son of my mother, my father was constrained to show abundant love and care towards me. He would consider me first among others, being a motherless child among children of five wives.
How were your school days?
I was around 10 years old when I met the late Primate of the Anglican Communion, Most Reverend Abiodun Adetiloye, who advised my mother to allow me to be enrolled in school. My mother, who was also a Christian, jumped at the proposal. I was then taken to the United School, Iroko-Ekiti, a neighbouring community. Then, I got a guardian, Mr. A. O. Kayode, a native of Usi-Ekiti, who, having noticed my brilliance, would not want my education disrupted. He requested that I stay with him, but we didn't stay long together before Mr. Kayode got another job in Kano, and since I could not follow him to Kano, I had to move to Ifaki-Ekiti to live with the late Reverend. S. O. Ale.  At Ifaki, I enrolled at the Methodist Primary School and later followed Reverend Ale to Ijurin when he was transferred to the United School, Iloro/Ijurin. It was at the school that I met Justice Borishade (now late), a very brilliant student, and we became friends. But before we could settle down at Ijurin, another transfer took Reverend Ale to Ibadan. At this point, I had to join my relations at Ijero. That was when I stayed with Eyemoleiyo. I became a pupil of Christ Church School, Ijero, and I remained there till 1952 when I finished primary education. When I was in Standard VI in Ijero, I met Mr. S. C. Ojuola, a native of Ipoti–Ekiti, who was my teacher. I stayed with him in Standard VI. He was very pleasant and he loved me. He left Ijero for Lagos in 1952. By January 1953, Mr. Ojuola sent for me to join him in Lagos where he got me a teaching job. I took an aptitude test and I came first. That was my first job, it was in Ikorodu. The following year, I gained admission into Egbado Teacher Training College, Ilaro, Ogun State. I was in Ilaro for only two years, but I made a good gain there. I prepared for my General Certificate of Education of (GCE), which I sat for in Ibadan. I passed all my papers brilliantly.
Did you join the list of those who desired to travel abroad for study?
​In those days, the most appealing thing to young Nigerians was to study abroad. I also left for England in 1961. Shortly after I landed there, I registered at the Western College of Commerce, and at the same time, I took correspondence courses for the Higher School Certificate. I made three Advance Level papers at a sitting and qualified to register as a student for the Association of Certified Chartered Accountants (ACCA) in 1962. I proceeded to Balham Turton College of Commerce, London, where I had my Higher National Diploma. I had passed the examination of the Chartered Institute of Secretaries in 1963. I also attended London School of Economics where I had a Diploma in Public Administration in 1965. In London, I was also involved in students' unionism. Ekiti students meetings were held on monthly basis. I was elected social secretary and the late Oluyin, Oba Ademola Ajakaye, was the general secretary.
Apart from teaching at Ikorodu, where else did you work?
The teaching job at Ikorodu only lasted for about a year before I got admission to further my education. After my teacher training education, I became the Boys Brigade captain at the Methodist Education Board in Ibadan under Reverend N. O. Salako (now late). There, I was able to help many young school leavers. I facilitated the appointment of the late Professor Adegbite and late Prince Deji Adelabu, where they both taught at the newly-founded Methodist Grammar School, Ibadan. I later resigned my appointment with the board in 1960 and left for England. I secured a job with Board of Trade as a clerk. I left the board to take up another appointment as a junior accountant with the London and General Insurance Company for two years, where I gained enough experience in accounting. In 1966, I came back to Nigeria and my first appointment was with Vivian Younger & Bond Nigeria Limited as the administrative manager/accountant. I was later the head of administration and company secretary. From there, I joined Guthrie Nigeria Limited in managerial capacity and rose to become managing director. At Guthrie, I was able to help a lot of my people in securing employment. ​I eventually retired from Guthrie to establish my personal business outfits.
​How is life as a family man?
I met my late wife, Temitayo, through the Awolowos. The affair started at Ikenne Methodist Church at a time I was a very close friend of the Awolowo family. It was Oluwole Awolowo who was the go-between Tayo and I. ​Tayo was a teacher at the Methodist School, Ikenne. We became so fond of each other. My wife loved me and supported my efforts to travel abroad. She even contributed to my transport fare to demonstrate her commitment. She eventually joined me in England where we got married in 1962 at St. Hellen, West End. My late wife was lovely, caring, respectful and cosmopolitan.
Did you ever have to quarrel over any issue?
I met a lady, an Ijero girl, but she was not of my taste. I met another lady in Lagos with one of my friends, Justice Famakinwa. I did not want to have her, but she showed interest. We met at the burial of Justice Famakinwa's father at Owo, Ondo State. I later met her at the judge's  house. We became friendly. She got pregnant with a set of twins. She was afraid and wanted to abort the pregnancy, but I told my wife about it. Though she did not like it, but when the lady gave birth to the twins, my wife took care of the children and trained them. When the children were to go to secondary school, my first son, Dele, and his younger brother took them to Oke-Oro from Lagos.
What about your social life?
It was my social life that made me to have children outside wedlock. I was popular and likeable. I was a member, and still a member of the Lagos Island Club. I have so many friends
What puts you off in people?
I hate cheating. If you want to cheat my friend, right from my youth, you would get the bad side of me. I was very tough before I started school. We were involved in moonlight plays. If anybody tried to cheat, I would go there and fight. Cheating is what I hate most. When I was Stationery Stores Football Club chairman, I did not like what some referees did because they had their own ways of cheating other clubs. If you cheat other clubs in favour of my club, I won't like it.
What is your advice to the younger generation?
They should always face their studies and acquire good education before they jump into any other thing. Imagine somebody just finishing school certificate, wanting to be minister! I discourage sectionalism and parochialism. I don't like any people or community claiming supremacy over others. It is common these days. When you lift people up, they want to run you down. ​Our youths should shun cultism. I always warn my children not to have anything to do with cultism.