I am single but am I searching…? —Nollywood Actress, Allwell Ademola
Nollywood actress and award-winning movie director, Allwell Ademola, in this interview by FEMI OGUNTAYO, speaks on why present day Nollywood movies try to follow the trend by going deeper in shooting intimate scenes; why she is still single and cannot say if she is searching or not, among other issues. Excerpts: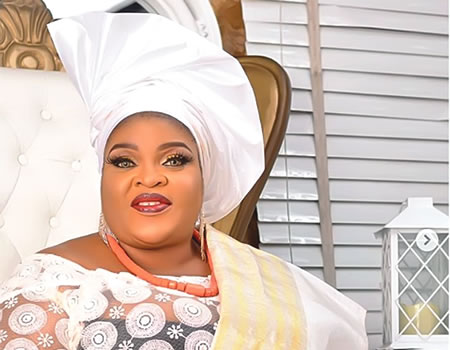 Can you tell briefly about yourself?
I am an actress, scriptwriter, movie director, filmmaker, movie producer and a singer. I am from Abeokuta in Ogun State, but born and bred in Lagos. I am the first child of my parents. Growing up, to me, was fun to some extent because I started entertainment well enough as a teenager. I was in the movie – 'Animal games' and I grew up with my parents in Surulere.
How did you join the movie industry?
Like I said, I started very early in life. I have done quite a number of stage productions with Cliff Igwe. I used to go to NCAC, I was in the movie 'Rhythm of the Blackman', we used to do stage productions in schools, the Muson Centre, at the National Theatre and after a while, I started mixing stage production with soap operas. In 1992/1993, I featured in my first home video, which was produced by Cliff Igwe and that was how it all started for me.
How do you cope with male admirers who approach you for an intimate relationship?
(Laughs) I make them my friends and I cannot date everyone that comes for me. Though I try as much as possible not to be rude to them, to be cordial, and at the end of the day, the ones that can stand being my friends become my friends, the one that cannot stand just let me be. So that is just it.
Are you still single or you are in a relationship now?
Yeah, I am still single.
So, are you searching?
Well, I cannot categorically tell you if I am searching or not (Laughs) that will be made known to you by my Oga at the top
Considering your age, do you have kids?
No, I do not have kids yet.
You best moments in life?
That was when I won the best director of the year. I was not expecting it, I never expected it. It was a shock to me, I have been hardworking and I knew that I deserve it but then, in a setting where the males are more appreciated in a particular field, I was the lady in that category and I never thought that I would be given that award because of the caliber of people in the category with me. I felt elated that I won the award. That is my best moment ever this year.
Your most embarrassing moment?
My most embarrassing moment was where my shoe pulled on a red carpet and I was so embarrassed. I didn't know whether to stay or to just pull it, but I later removed it and I had to walk barefooted. That was really embarrassing.
How profitable is the acting profession?
To me, it is very profitable. Financially, it might not be all that. I believe in touching lives, I believe if my movies in one way or the other are affecting your lives positively, people give testimonies after seeing your movies, like we hear of people say I was about giving up and I saw your movie and it gave me a new lease of life or your movie gave me an answer to a question I have been searching, then it is profitable. This is because you have been able to touch lives, that to me is profitable.
Veterans in the movie industry are of the opinion that present day Nollywood is fast neglecting our culture and tradition as they now promote nudity and immorality in movies. What is your say on this?
To some extent, I will say they are right because that is the truth of the matter anyway. If a movie is full of nudity, immorality and all that, then it is not promoting our culture. But secondly, I would say that it depends on the audience you are trying to reach out to. You know, our Nigerian audience can be very funny. I have seen where some of them will say, me I don't watch Yoruba films or me I don't watch Nigerian movies, I only watch American, Indian or Chinese movies etc. At the end of the day, they will tell you it is because our Nigerian movies are advertising voodoo or rituals. Some may even tell you that our kissing scenes are not real, we will be putting our mouth in the neck and use our hands to cover it. But foreign films would show more of it. Now, why we are doing business is to make money and if our people, our brothers and sisters refuse to see our movies and refuse to buy what we have in the market, won't we run at a loss? That is why we try to meet the foreign standards, because we are like, okay, if the reason you have refused to see this movie is because you feel that we are promoting rituals and all that, then we will improve.
Unfortunately, we cannot even do science fiction movies in Nigeria because that is not our way. It is just unfortunate that inferiority complex is what is worrying quite a number of us because the truth is, you cannot be whiter than the white. I do not support nudity, immorality in films and like I said, the veterans are right to some extent. The reason why they do that is because they want to be foreign, but then, we have a culture to protect.
What role do you enjoy playing most in movies and why?
Oh, I love comedy. I love comical roles; I love to make people happy. We deserve to be happy. You know, with all the things happening in the world now and in our society, we just need to make ourselves happy. So, I love to be happy and make the people around me happy.
If you were not an actress, what would you be doing?
I would be a cook, I love to cook.
You are a busty lady, have you at any time wished you were not busty?
I have never wished that I am not what I am, I have always been proud of what I am, how God has shaped me to be. I appreciate it and I will always want to be it, if I leave and I come back again in the afterworld, I will still love to be what I am. So, I have no cause whatsoever to regret whatever way God has shaped me to be.
What are your plans for 2020 and some words for your fans?
To plan a fulfilling career and I plan to work on my cinema project and to be a better filmmaker. To my fans and lovers, thank you for loving me and I love you all back, there is no me without you, you have been pushing me to do more and I promise not to disappoint.