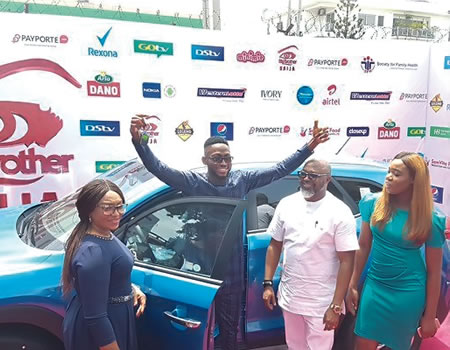 Miracle Igwoke, braved all odds to emerge the winner of this year's Big Brother Naija season, carting home N45 million naira worth of prizes, among other endorsements. He fielded questions from journalists at his prize handover ceremony on Monday. Friday Treat brings excerpts.

How do you feel about winning?
I feel happy and great. Of course, who won't feel happy. I won N45million; N25million cash and N20million worth of prizes. So it is actually a privilege. This is like a kick start to my main goal of becoming a billionaire.
So, did you sense it coming?
To be honest with you, I didn't see it coming. In the house, you don't have any idea of what is happening outside. If you noticed, anytime I am up for eviction, I am always tense because you never can tell what could happen. I was always nervous because I had no idea of what was coming. Let me even burst your bubble. I wore a captain's outfit on the last day. I felt that, if I had won the Payporte games, there was no way I won't win the other prizes. At the end of that day, it remained Cee-C and I. It was at that point I knew that she was very strong because she was always saved in most evictions and she was always coming back. So, when I heard my name, I was so surprised that I fell on the floor because I did not see it coming. At that point, the only thing I had in my head was the N25million. Every other prize I didn't know. It was the next day that Nina told me that I also won a Car. When I got back to Nigeria, they told me I had other gifts.
Three weeks into the game, you were still trying to find yourself in the house. Was that part of the strategy or was that the real Miracle?
People keep talking about strategy. Trust me, I had no strategy. The first day of audition, I never knew I would make it with the amount of crowd I saw. By any standards, I wasn't the best. I just told myself that whatever questions that would be asked, I would just be myself. They picked me for being me. Si I decided that I would be myself in the House with no strategy attached with it. Then again, I am a kind of person that likes to observe wherever I find myself. I take my time. Like right now, I am still trying to put up a team. I dont want to rush into anything for now. So, getting into the house, the first thing was to observe. I needed to know the kind of people I was  living with. It was just observation.
You want to be a billionaire. You also want to be a commercial captain. I have not met a billionaire captain…
Now, I will tell you about Captain Nosa. He is one of my role models. My becoming a billionaire is in stages. Before I went to Big Brother's house, I did my PPL training. But I was having issues with funding and that was why I came to Big Brother's house against my PPL training. But God has blessed me right now and I am sure a lot of people knew my dreams of becoming a pilot and that was one of the reasons most people voted for me because they wanted to help me achieve the dream. Now, they have helped me achieved the dream and God has blessed me. Obviously, I will go for my CPL training because that's my passion. Captain Nosan is someone I would love to meet and discuss on what to do and what not to do. Right now, I have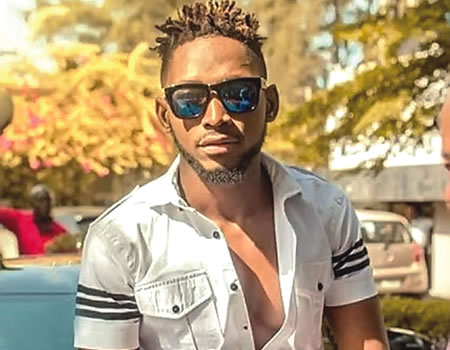 to learn from people's experiences. Another person I would love to look up to is Dangote because when it comes to agriculture, he is one of the dons in agriculture. So, these are the people I want to meet because I feel they have nothing to gain from me. The third stage is what most people tell me about, Entertainment! For me, entertainment is all for fun. Before I got into the show, I was a commercial model. Some people were also giving me the idea of having a clothing line because while we were in the house, many people loved the way I always rocked the styles and outfits. Like I said, I am not the kind of person that just rush into things. I always love to think and make my plans.
What informed your decision to go into the BBNaija?
Before Big Brother, i went for O's Island that was also a reality TV show. I did all these things t by the side because I wasn't rich . Initially, I wasn't a fan of the Big Brother Naija show until watched the last season and saw that it was actually interesting because most times I saw people sitting down, doing nothing. Then again, I saw the last season, the Payporte activities and it was all fun. Those were the kinds of things I love doing. It was my sister that actually told me that, "Miracle, I think you can actually do this". I said to myself that if I could emerge the winner, my CPL training would taken care of and if I did not emerge the winner, the platform would make me meet people I wouldnt have met on a normal day like my Governor, Rochas Okorocha.
You have just been made an ambassador in Imo State. How do you feel?
I heard it. I feel very humbled.
I heard in one of your radio interviews where you said that if you will not be going to Dubai with your mother, the second choice will be Nina. What informed your choice?
As you all know, it is obvious that Nina and I bonded in the house at first because we met at the audition and it has being natural that you go with the face you are familiar with. Apart from that,  if I don't go with my mother, it will be Nina or Tobi.
What is the status between you and Nina outside the house, having exhibited in the house some sort of genuine relationship?
From my end, I won't talk about her. Like I always said, nothing changes from my side and the kind of relationship we have still continues. Like I said, I don't like forcing things. I like things to happen naturally. You know that this grace that God has given us has a validity period. It is something that if you don't make good use of it right now, you will lose it. Nina and I are young. I was telling her something before we came back that this is the right time that we make good use of this God given opportunity and try and put more money in the bank. We will just be focused right now.
Has the mention of her boyfriend ever unsettled you? How did you manage that?
First of all, since I came back, I just took over my social media account yesterday. I just chose not to go on social media for a while because there will be positivity and negativity. So, I don't want to see things that would bring me down or draw me back. The first time I heard about her boyfriend was in the house and it was only natural to feel somehow. But then again, Nina told me something that before she came into the house that she had discussion with him that he should expect anything. So, that was it. Now, we are out it is her decision. I can never fight because of a lady. The only time I will fight for a woman is only if he is imposing himself on the lady. If you know my intention towards you, it's your right to decide.