I am fortunate enough to create content for a living —Babalola, producer of SOJU series
Seun Babalola is a Nigerian-Sierra Leonean-American content producer. Founder of Go Global Productions and producer of award-winning ṢOJU series, she has travelled to nine African countries, changing African narrative through documentary films. In this interview by Kingsley Alumona, she speaks about her triple national identity, the Ṣoju project, her passion for telling African stories and the things she likes about her three countries.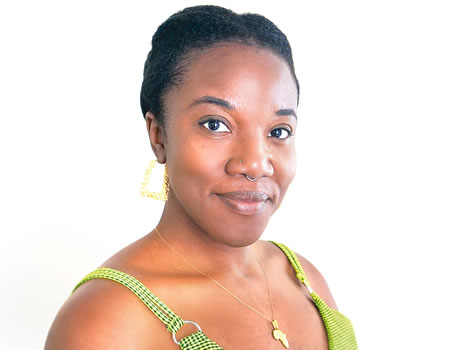 Briefly tell us the circumstances behind your Nigerian-Sierra Leonean-American status.
I was born in Brooklyn, New York, United States. I was raised there by my mother and father who were respectively born in Freetown, Sierra Leone and Lagos, Nigeria. All three identities are big parts of my character.
At different stages of your growth, education and work, how did you cope with the financial and cultural burden of commuting among your three countries?
It is expensive to travel to Africa from the States, as well as travel within Africa to other African countries. Growing up, my family didn't go back home for events or holidays, or even vacation. It was too costly. When I got older and began to save my own money, I started travelling to Africa by myself. My first trip was to Nigeria. A year later, I visited Sierra Leone. Since then, I've visited both countries multiple times, even living in Nigeria (Lagos) briefly in 2018.
You are the Founder of Do Global Productions and the co-Founder of BIAYA. What inspired you to found these outfits? And, how are you using them to tell African stories?
Do Global Productions is a video production company created to share stories from voices outside of the 'mainstream.' The company specialises in documentary productions, but I support all nuanced narratives for Black people and people of colour across the globe. I founded it because I was frustrated with the type of content I was seeing when it comes to Africans and African narrative. I wanted to have a space where people know that any story coming from this hub is created with care and integrity. BIAYA Consulting was co-founded by me and two other colleagues. BIAYA was inspiring to me because it tackled the business side of content creation. If I want to tell African stories, I need certain resources. How can I provide these resources and put systems in place to support Africans in producing work and making a living? Both companies enable African stories to be told independently, but through different avenues.
What is Ṣoju and how many documentary films have you turned out through it? How do you get the financial and human resources to sustain the Ṣoju project?
ṢOJU is an on-going documentary series showcasing the diversity of modern youth culture across Africa. It's an award-winning series that has 5-10 minute episodes covering a range of experiences including: a death metal music festival in Botswana; a hijabi fashionista creating modest fashion for Muslim women in Nairobi; a web developer camp in Ghana, and a surfing school in Sierra Leone. To date, ṢOJU has created 19 short-form documentaries with a focus on unique entrepreneurs who are pushing their communities forward. I funded the creation of these documentaries. I was working full-time in New York City when I launched the project, and since I have a film-production background, I was also the person traveling to these countries to direct, shoot, and produce. Subsequently, I edited the final pieces after I got home from work!
How many countries has Ṣoju taken you to? How did these countries receive you and Ṣoju?
I have travelled to nine countries for ṢOJU: Nigeria, Sierra Leone, Ghana, Ivory Coast, Kenya, Botswana, Namibia, Morocco and Spain. I've had an amazing time travelling to every single country and the cities within them, and I've met awesome people who took part in the series, who are supportive of it. The only confusion came from meeting people in person for the first time. A lot of my correspondence was via e-mail before travelling, and many people assumed I was a man. It was often a big surprise when I appeared with a camera on my shoulder and they realise they had been speaking to a woman the entire time.
Why do you think people refer to Africa as a country? And, have you thought of making films that would correct this wrong impression?
There are probably a few reasons why people refer to Africa as a country. My guess is ignorance, laziness, and probably an intentional way of belittling the continent. I have thought of making films that would correct the wrong impression, but people will think what they want to think, regardless of the truth that is in front of them. Instead, my focus is making films for Africans, for us to learn more about each other and maintain that pride within ourselves for ourselves, not to prove anything to anyone else.
What are you currently working on? And, what is your greatest challenge as a documentary filmmaker?
My main focus these days is developing ṢOJU into a network series that can reach many different audiences. I'd like to evolve the documentary series. The greatest challenge for any documentary filmmaker, anywhere, is funding. It's the main reason why I decided to launch ṢOJU on my own. I didn't want to wait for anyone to tell me "yes" or "no," or to pray that they understand my vision.
Apart from filmmaking, what else do you do for a living? And, what do you like doing at your leisure?
I am fortunate enough to create content for a living. I work as a freelance producer and editor, and it allows me to work on a variety of projects. In terms of leisure, all I need is good music, good weather, and good food and I'm happy. That's all I really do for fun, listen to music and eat!
In your Africa is a Country article titled 'Africa doesn't care about its women', you said your sister, Massah KaiKai, was kidnapped in Sierra Leone on August 2018 after she was recommended for appointment as Executive Chair of the Small and Medium Enterprise Development Agency (SMEDA) under President Julius Maada Bio. Do you think the kidnap was political motivated? And, do you believe she would be found?
I would not answer this one, as this is an on-going investigation. I hope she will be found.
Among your three countries, which one is really home for you and why? What is the one thing you like about each of your three countries?
I don't believe I have to choose. Each place answers to a different part of me. Growing up, so much of their cultures were in my home. When I visit Nigeria, it's a place where "everyone knows my name." I love that in terms of my name or ethnicity. I don't have to explain myself. In Sierra Leone, I love the beauty of its mountains and beaches. Unfortunately, it's very difficult to be a woman in those countries. I define home as a place where you can fully be yourself. While I can be myself in those places, it comes with some dialling down out of safety. I'm a free spirit and very opinionated. I've encountered scenarios where I've been threatened because of these characteristics. In America, you have a lot of different cultures based on where you are geographically, so more specifically, I'm a Brooklyn girl. New York City is a big part of my soul as it's where I was raised, and I love that you can be anyone you want to be in that city, without judgment.
What advice do you have for young people, especially the female ones, who are aspiring to be like you?
Follow your instinct. If you have a feeling in your gut that you can really accomplish something that is important, do it. There will be so many people who will tell you that you're crazy, but have the confidence in yourself to achieve it anyway. You don't need anyone else's validation, but your own.