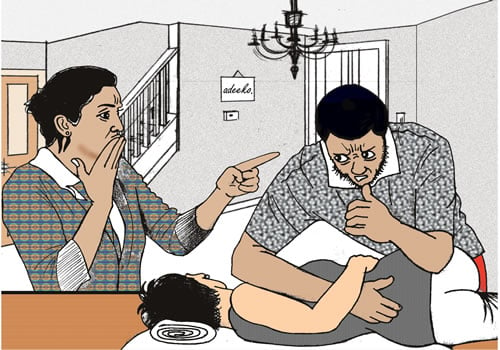 A housewife has cried out that her husband of 12 years steals from her and also maltreats her.
The petitioner, Amina Kazeem, told an Igando Customary Court in Lagos State that her husband,  Ramoni Kazeem,  was always accusing her of infidelity.
She alleged that her husband transferred  N100,000 from her  account to his without her knowledge.
She further accused him of stealing her money.
"He has a spare key to my wardrobe. I confronted him on several occasions about the act, but he did not desist.
"My husband steals my money all the time. He is an enemy of progress," she said.
Amina also told the court that she stood as surety for her husband to borrow N250, 000 from one "Iya Wale" a local money lender to complete the payment of a commercial bus he bought.
"As we speak, two years has passed, he only paid N95, 000. The woman we borrowed the money from has been disturbing me because I stood as surety for him."
She further revealed that her husband always embarrassed her male customers and accused her of sleeping with them.
"He got their numbers from my phone, called and insulted them for allegedly sleeping with me."
She also accused him of failing to care for her and their children.
"He doesn't care for me and our children. I'm always responsible for the children's feeding and school fees.
"In addition, he doesn't respect my family members. He insults my elder sister.  I don't love him again. I want this court to end our marriage, "Amina said.
Ramoni admitted that he was guilty of all the allegations leveled against him by his wife and pleaded with the court to help save his marriage, adding that he still loved her.
He promised the court he would pay back the money he borrowed from "Iya Wale," the money lender.
On the accusation of infidelity he leveled against his wife,  he stated that he called her male customers to let  them know she's married and so should stop calling her at odd hours.
He promised to take up his responsibilities at home, but denied disrespecting his wife's family members.
The court president, Akin Moses, asked the respondent to pay back the loan.
According to the court, he should be remitting N10, 000 weekly, beginning from the week of judgment.
The court further instructed the defendant to release the spare key to his wife's wardrobe to her.
Aminat was also advised to be more careful in keeping her money.
She was persuaded to reconsider  her decision  to have their marriage dissolved due to her husband's pledge to turn a new leaf.
Aminat, however, insisted on divorce.
The court thus adjourned the case till 15 May, 2018.