Hundreds protest in Denmark against new ban on face veils in public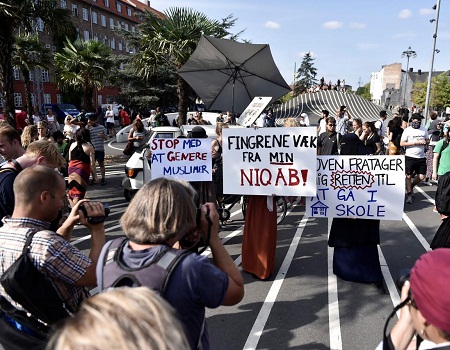 HUNDREDS of Danes rallied in Copenhagen on Wednesday in protest at a new ban on the wearing of face veils in public, accusing the government of infringing on women's right to dress as they choose.
Denmark's parliament enacted the ban in May, joining France and some other European Union countries to uphold what some politicians say are secular and democratic values.
The protesters, many wearing the niqab veil or the all-enveloping, body-length burqa, began a march from the Danish capital's central district of Norrebro to Bellahoj police station on the outskirts of the city.
Demonstrators, often with children in tow, included non-niqab-wearing Muslim women and non-Muslim Danes with faces covered. No incidents were reported.
"We need to send a signal to the government that we will not bow to discrimination and a law that specifically targets a religious minority," Sabina, 21, a niqab-garbed student, told Reuters, asking that her full name not be used.
ALSO READ: Thieves steal Swedish royal jewels, escape by speedboat
She is one of about 150-200 Muslim women – 0.1 percent of those in the country – who daily wear either the niqab or burqa garments covering the face or the entire body. Muslims account for around 5 percent of Denmark's 5.7 million population.
Under the law, police will be able to instruct women to remove their veils or order them to leave public areas. Justice Minister Soren Pape Poulsen said officers would fine them and tell them to go home.
Fines will range from 1,000 Danish crowns ($160) for a first offence to 10,000 crowns for a fourth.
Despite its generic wording, the legislation is being widely interpreted as discriminating against Denmark's Muslims and violating women's right to freedom of expression and religion.
Critics, noting the tiny number of Muslim women in Denmark who actually wear a niqab, regard the law as largely a sop to increased anti-immigrant sentiment in the Nordic country.