'How we handle men from Niger, Chad, Cameroon who troop into Lagos'
•Hausa/Fulani leaders in Lagos open up on arrested 123 youths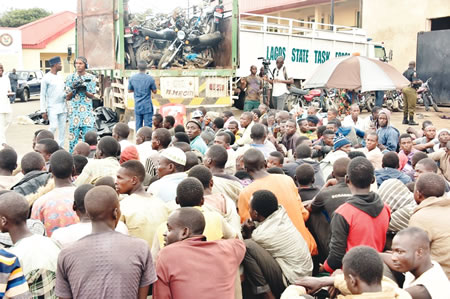 Is Lagos truly a no-man's land? TUNBOSUN OGUNDARE and SHOLA ADEKOLA seek answers in the wake of the controversy trailing the alleged profiling of 123 youths from Jigawa State, storming Lagos like a thief in the night.
In the outgoing week, the Lagos State Ministry of Justice was a beehive of activities, mostly meetings, and nearly all were geared towards achieving a goal: resolving the legal logjam arising from the arrest and subsequent release of 123 young men from Jigawa State who were brought into the mega-city in a manner that raised a lot of highbrows, including those of security agencies and the administration of Governor Babajide Sanwo-Olu. The affected youths, who are obviously unlettered, have controversially gone ahead to sue the state government for exemplary damages of N1 billion for allegedly profiling them, in a case that is opening a new chapter in internal migration in the country amidst security concerns everywhere.
The young male adults, who came from Jigawa State, in the north-western part of the country, were intercepted around Agege in Agege Local Government Area of Lagos State by security operatives, penultimate Friday. They were all inside a single trailer and coming with 48 motorcycles. Their arrest and the involvement of the Lagos State government in the matter before they were eventually released after investigations and confirmation of their true identifies generated lots of controversies not only in Lagos but also in the North and other parts of the country.
Even at the moment, the dust raised by the occurrence is yet to settle, though the state Chief Judge was yet to assign the controversial suit when Saturday Tribune checked at the appropriate quarters. The spokesperson of the state's Justice Ministry, Mr Kayode Oyekanmi, claimed that he was in a meeting when Saturday Tribune called to make an inquiry concerning the suit and the decision of the state government.
Moyo Onigbajo, a Senior Advocate of Nigeria, the state's Attorney-General and Commissioner for Justice, didn't pick calls made to his mobile lines and was yet to return them as of press time.
The Commissioner for Information, Gbenga Omotoso, referred Saturday Tribune to the attorney-general when his views were sought.
An exodus?
As stakeholders await the position of the state government on the matter the affected youths say is an infringement on their fundamental rights to free movement and residence as Nigerians within the country, tongues have continued to wag on their mission(s) in the state and numerous conspiracy theories are flying around the airspace.
Available facts, however, showed that it was not only last week that young male adults like those 123 persons, believed to be from the northern parts of the country, troop particularly into Lagos State. Several others had done same before then. They come in their tens and hundreds and at times, in suspicious manners, just like that of last week, almost on a daily basis, according to Saturday Tribune checks.
But the question is whether all these 'boys' perceived to be from the North and coming, and in droves, to South West and Lagos in particular and in suspicious manners, are actually Hausa-Fulani, and even if they are, one would wonder what the attractions are to Lagos, a city of about 20 million people and high cost of living, where everybody is always in a haste.
Some of the traditional leaders from the North in Lagos provided the answer. They believe that many things could make one to live outside his or her ancestral home.
'We've spent over 100 years here'
The Sarkin Fulani of Lagos State and the chairman of the association of Fulani chiefs in south-western Nigeria, Alhaji Mohammed Bambado, for example, identified some of these factors. According to him, every Nigerian has equal right to live, and at any time, wherever he or she chooses across the country.
"So, I can decide today to go and live in Kano or Osogbo or in Enugu or Uyo and still come back to Lagos if God permits so," he told Saturday Tribune in an exclusive conversation in his palace. "All that is required, for me, just as any other Nigerian citizen who chose to live in Lagos, is to be ready to live in peace and harmony with my host community," he added
Alhaji Bambado said he was born in Lagos and has lived virtually all his life, except during his school days, also in Lagos, the hustling and bubbly commercial nerve centre of Nigeria. "Lagos, for me, is home and so is Jigawa, where I am from," he stressed.
Explaining further why some people choose to live or find themselves living in a particular place (and still using himself as a reference), he said his family had been in Lagos for more than 100 years. According to him, he is among the third generation of his family living in Lagos while his children are the fourth, also in Lagos. Interestingly, his father, who is now late and from whom he inherited the title of the Sarkin Fulani of Lagos State, married a Yoruba woman and that means he has stepbrothers whose mother is Yoruba.
"So, how do you call my brothers then, Fulani-Yoruba or what? He asked rhetorically. I think this scenario has qualified me and my family members and several other northerners who were also born or have lived in Lagos for many years like us to be seen as part and parcel of Lagos. In simple terms, I am a Lagosian and I always look out for greater Lagos," Bambado, who speaks Yoruba, Hausa and his native Fulfulde languages, pointed out.
Greener pasture for 'our people'
He considered economic purposes as another factor affecting the decision of the non-indigenes, just like the 123 persons in focus, to come for settlement in a place like Lagos. He explained that it is a normal practice of people anywhere in the world to seek greener pasture across borders.
For instance, he pointed out that he might not have known the main reason his forebears decided to come to Lagos but he had been in Lagos for many years and contributed, and still contributing, meaningfully to the economic development of the state and the country at large.
"So, that people from the North are rushing to Lagos should be a non-issue. They come because they believe here is where they can make it. And we should not even forget that the way people are coming to Lagos is the same way many from the South – Yorubas and Igbos in particular – are also going en masse to the North, especially Kano, Kaduna and Sokoto, to do business. Is it because people over there are not talking? They don't because they believe Nigeria is one entity and anybody is free to choose where to live and work," Alhaji Bambado added.
However, he pointed out that many of those people consider as Hausa-Fulani are actually not so. He said many of them were from neighbouring countries, including Republic of Benin, Republic of Niger, Cameroon and Chad, who sneaked into the country because of its porous borders.
Unfortunately, the affected 123 persons happened to be from his home state – Jigawa. Speaking specifically on them and the incident, he said it was not as if they were coming newly to Lagos. According to him, the majority of them are based in Lagos and doing legitimate businesses but only went home for the last Sallah celebration.
"So, apart from a few of them who were in Lagos for the first time to see if they could equally get something to survive on, others were only returning. And some of them reside in the Festac area, some in Agege, some in Badagry and all that and that was why no incriminating things were found on any of them. They are in Lagos just like every other non-indigene of Lagos State to do legitimate business," he explained.
Homeless, jobless…and a risk?
Findings, however, showed that many of the young adults from the North who come to Lagos (without particular reference)  don't have a legitimate place to call home or stay in Lagos. Rather, they sleep in the open. Some sleep in front of shops in the market, some inside under-construction or abandoned buildings, some, open balconies, some by the rail tracks and yet another set on pedestrian, or under, bridges. The few among them who are lucky to have apartments, notwithstanding the size, have many of their peers squatting with them.
The private security personnel who are engaged by private homes or organisations such as companies, churches and mosques and popularly known and addressed as maiguard are good example in this regard. Another set comprises those who ride okada to earn incomes and because of accommodation problem, some don't take a bath for days and defecate in the open, exposing themselves and their neighbours to all manner of health hazards. Suleiman is one of them.
Suleiman is a load carrier around the Moshalashi Alhaja axis of Agege. The area, just like Idi-Araba in Mushin, is known to have a large concentration of Hausa-Fulanis in Lagos. Suleiman, from Kano, who spoke to Saturday Tribune with the help of an interpreter, said he came to Lagos, just as the Sarkin Fulani had pointed out concerning his (Suleiman's) kind, to work.
Although he had no idea of the specific work to do when he got to Lagos, he knew, according to him, that he would definitely get something to do. Suleiman, 19, who preferred to be simply addressed as that, has spent up to six years in Lagos running after oncoming vehicles with colleagues to carry loads for a fee. According to him, his parents knew and approved of his coming to Lagos.
Another one with no accommodation, also in Agege, is Kabiru Yesufu from Borno State. Kabiru, 15, told Saturday Tribune in pidgin English that he was in Lagos because of the activities of insurgents who had made life almost unbearable for people in the northern region, especially the north-eastern states. Just like Suleiman, Kabiru also sleeps around the railway station in Agege. And their examples abound all over Lagos State.
I'm not king of bandits –Bambado
Concerning lack of accommodation and poor welfare that many of these young northerners face upon arrival and for many years in Lagos, the Sarkin Fulani said there was little someone like him and colleagues could do in that regard because of constraint of resources to tackle such problems. But, according to him, he had, on many occasions, provided accommodation and welfare and jobs for people he knew were in Lagos genuinely to work and live.
"I don't restrict my humanitarian activities like these to northerners alone. I do for people who approach me or I know for assistance in any little way I can, notwithstanding their tribes and religious backgrounds, and I derive joy in doing that. But then, it is the little we can do since we don't have the wherewithal. It is only the government, I think, that has the capacity to meet the need of so many people like that because that is even part of their responsibilities – to take good care of citizens, irrespective of where they are from," he said.
On the perception that many of them have sinister agenda or are on missions of their "masters" to do evil against the host communities and residents,  Bambado said he could not in any way imagine that because, for him, he had no business protecting anyone with bad motive in Lagos.
"I am not a king over criminals or bandits but over law-abiding Fulanis in Lagos State and my subjects know me for that," he said. He however, allayed fears being nursed in some quarters, especially in the South West, that Hausa-Fulani have a joint agenda to Fulanise or islamise the country. He said he believed that there was no such agenda by any northerner anywhere around the globe and that even if there was, it would never work.
"It is just an imagination that cannot become a reality. Nigeria is not China or United States or Saudi Arabia that has just one language. Nigeria has more than 700 languages spoken by people from different ethnic groups," he noted.
He acknowledged that Fulani herdsmen truly have clashes with farmers but declared that such occurrences are never a new thing in the country.
"There has been herdsmen clashing with farmers for a long time in Nigeria but at the same time, they have their own ways of resolving their differences without a third party. But politicians we have turned things around. They politicise virtually everything for their personal gains without considering the implications for the entire country. Truly, there could be bad eggs but that is not peculiar to Hausa-Fulani.
"There are bad eggs also among Yorubas, Igbos, Tivs, Itsekiris and all other tribes. We should, therefore, because of that, not generalise issues and blow them out of proportion as we have been doing lately," he pointed out.
He said as a traditional head of all Fulanis in Lagos State and also the chairman of all Fulani chiefs in the entire South West region of the country, comprising Lagos, Oyo, Osun, Ondo, Ekiti and Ogun states, he was in the best position to be in the know if truly the Hausa-Fulani have hidden agenda against other tribes as being claimed in some quarters.
Govt right with arrest of Jigawa youths –Sarkin Hausawa of Shashaland
Another northern traditional leader, the Sarkin Hausawa of Shasha Land in Alimosho Local Government Area of the state, Alhaji Ilyasu Isa-Kira, just like Bambado, allayed the fears of the people of Lagos, other South West states and the rest of the country, saying the influx of northerners into Lagos and other parts of the South West region should not breed any kind of fear.
Also in an exclusive chat with Saturday Tribune, the traditional ruler gave the assurance that the seeming influx of the young people from the North was not in any way to carry out any attack on their host communities but to find food for themselves and their families. According to him, the majority of them are looking for means of survival which can only be found easily in Lagos as a land with limitless opportunities for survival.
Ilyasu, who said he had over three million youths looking up to him as their leader, emphasised the cordial relationship existing between the North and the people of the South West which, he said, the northerners living in Lagos and the entire South West were enjoying. He however, said contrary to the fears being nursed in the wake of the recent arrest and release of the 123 people from Jigawa State, there was no cause for alarm as no evil would befall anyone from the area, including the residents from the north.
The Sarkin, who said he was in full control of the northerners living in the whole of Shasha, said he had the required information on all northerners in the area.
"I am on top of every situation. I have more than 16 lieutenants appointed to serve as my eyes and ears in the different communities in Shashaland who report any unclear issue traced to the Hausa/Fulani group to me for prompt action. Nothing can happen that I will not get information about within 24 hours. Once it happens, I step in and in case the person involved cannot be vouched for, we hand over such a case to the police," Alhaji Isa-Kira said.
Just as the Sarkin Fulani, Alhaji Bambado, had pointed out, Sarkin Ilyasu also expressed the belief that a good relationship was existing between the residents from the North and their Yoruba host communities. Making reference to his domain, he praised what he called the good leadership qualities being exhibited by his traditional ruler, Oba Babatunde Akanbi Nasiru Lawal Ogunronbi who, he said, had been fair to all sides.
With the security network he put on ground, the Sarkin explained, it would be impossible for any of the northerners under his care to misbehave.
Asked about those people from neighbouring countries of Niger, Chad, Sudan, Mali and others who also reside in Lagos and mingle with the northerners, the Sarkin said he chose leaders among them who have all the essential information about them up to their family backgrounds in their countries to enable them trace such foreigners if they misbehave.
While describing Lagos as a metropolitan city with several opportunities for everyone to make ends meet, he insisted that he was ready to ensure peace between the northerners in Lagos and the host communities. To ensure there was no violation of security, the Sarkin said he was always involved in the regular security meetings held with the law enforcement agencies. According to him and as far as he knew, the majority of the migrants come to Lagos for economic purposes. "There is no doubt about it, these people are only looking for what will put food on their tables and that is economic activities," he said.
On the action taken by the police and the Lagos State government on the 123 persons from Jigawa State, the Sarkin Fulani said the action was in order and that both government and the security agencies did no wrong. He said his position was without sentiment. According to him, it is a case of misunderstanding of the whole scenario in some quarters.
"To me, the government of Lagos State and the security agencies did their jobs and nobody should query them on that. When they did their investigations, they found out that those people were not who they thought they were. And that means the Lagos State government and the security agencies are working. And we should hail them for that.
"What if the people eventually turned out to be bad people? So, I'm not blaming the government of Lagos State or the security agencies for doing what they did. It is not about whether they are from my state or not. I talk as a true and patriotic Nigerian. They did what they were supposed to do and I must commend them for that. Because when they stopped them and investigated them, they found nothing incriminating against them and they allowed them to go because they were not a security threat. It is if they are held down after this that it may become an issue but they didn't.
"That is why it is surprising to me to hear that some lawyers went to court on their behalf challenging government and security agencies for doing their work. That they sue Lagos State and the police for NI billion damages is what I don't understand. Because, when you can sue someone or institution in this kind of situation is when you carry out your own investigations and found out that these people are still being held in the government custody and against their wish and without any reason. But that the government did its investigations is for the good of all of us. Because if they didn't do so, we will all blame the same government for not doing its work," he added.
So, for the Sarkin Fulani of Lagos State and the Sarkin Hausawa of Shasaland and every other person like them, what is required to have a peaceful Lagos is for all hands to be on deck.
Saturday Tribune also gathered that many of the northern youths in the state who are into okada business and the likes are paying their taxes in different ways to both the state and local governments, while also paying levies to street urchins, popularly known as area boys.
It was also learnt that politicians engage them for election duties.
"So, the issue is not about them, it is about Nigeria. It is about our oneness and how we can all make Lagos and Nigeria as a whole better place for all of us to live and work in, irrespective of ethnic or religious background," Bambado noted.