Two children who were on their way to a tutorial centre in Lagos State on Monday afternoon escaped after they entered a 'One Chance' vehicle apparently being used for kidnapping purposes.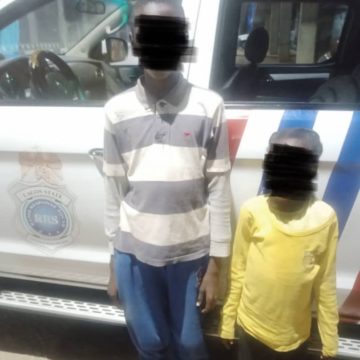 The two children, a boy and a girl, who escaped at around 11.00 p.m., were however seen around midnight on Tuesday crying at the Cement bus stop area of the Lagos-Abeokuta expressway by men of the Lagos State Police Command patrolling the area.
After some questions, the officers eventually took the children to their parents home around 12.10 a.m. on Tuesday.
ALSO READ: I am ready to take APC on a guided tour of Obaseki's project, says Edo PDP leader
It was gathered that the boy and his younger sister escaped from their abductors but missed their way before they were rescued by the operatives of the Rapid Response Squad.
The police in the state, in a statement on the incident, said: "These two children were seen walking and crying at a Cement bus stop along Lagos-Abeokuta expressway around 11.00 p.m. on Monday. They were accosted by police officers on patrol.
"The children said that they got into a "one chance" vehicle on their way to tutorial centre around 4.00 p.m. and were taken into a bushy area before passers-by saw them and raised the alarm.
"They fled the scene and were found by the police officers while they were crying and walking at a Cement bus stop along Lagos-Abeokuta expressway.
"They were eventually taken to the home address supplied by the children where they were reunited with their parents at about 12:10 a.m. today."
YOU SHOULD NOT MISS THESE HEADLINES FROM NIGERIAN TRIBUNE
Nigeria's Economy Shrank By 6.10% In Q2 2020 — NBS
NIGERIA'S Gross Domestic Product (GDP) in real terms declined by -6.10 per cent (year-on-year) in Q2 2020, thereby ending the three-year trend of low but positive real growth rates recorded since the 2016/17 recession. This is according to the second quarter (Q2) GDP report, released by the National Bureau of Statistics (NBS) on Monday. When compared with Q2 2019, which recorded a growth of 2.12 per cent, the Q2 2020 growth…