How to help brands survive harsh economic times —Experts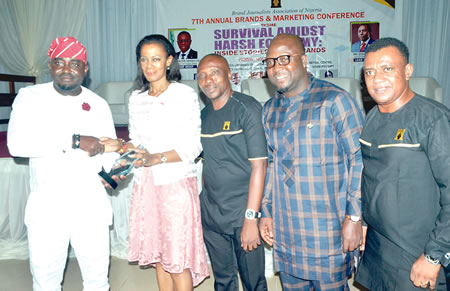 The general consensus among experts, especially, marketing communication practitioners in Nigeria, present at this year's edition of the Brands Journalists Association of Nigeria (BJAN) conference, held in Lagos, over the weekend, was clear. The months and years of economic recession are, definitely, over. For them, what is presently being experienced by businesses is a 'slow growth' in the economy, an indication that the relics of the past recession are still very much with us.
It is therefore not yet 'uhuru' for brands, hoping to eke out a living and survive the trying economic times that still linger. The need, therefore, for brand custodians to 'put on their thinking caps and re-strategise, is therefore becoming increasingly imperative, in the face of the very daunting task.
What are the survival strategies, therefore, for brands that still intend to remain relevant?
Delivering a keynote address at the event, the Chief Executive Officer, X3M Ideas, Mr. Steve Babaeko argued that every challenge presents its own opportunities, hence the need for brands to be on the lookout for such opportunities, and avail themselves of such, rather than throwing in the towel.
"In every trying economic times, everybody is affected. The brands and the clients are not immune. The challenge we have, is that we tend to dwell on the challenges for too long that we allow some of those opportunities to pass, unnoticed. But, if well utilized, challenges present an opportunity for brands to re-launch themselves and seize the limelight," Babaeko, who was represented by the company's Director, Brand Management and Strategy, Mr. Tunde Olaifa, stated.
Besides, the X3M boss also argued, there is the need for brands to react quickly at perilous economic times to avoid being left in the lurch by competition.
Citing General Motors' experience during the Great Depression, Babaeko stated that the auto brand was able to come out unscathed by re-strategising its business models to adjust to the realities of those times.
"During the Great Depression, between 1929 and 1932, GM lost about $29billion, while sales of its new auto vehicles fell by 75 percent. Instead of gloating over 'spilled milk', what the company did then was to keep some plants in storage for a while, lay off some workers and optimize sales forces," he added.
He however advised that applying the 'knife' on the organisation's marketing budget should never be an option at such trying times; since brands still need to maintain a top- of- the- mind awareness, among their consumers, to remain competitive.
"For instance, despite the decline in fortune, during the Great Depression, GM still  kept advertising running. It never cut down on advertising budget, because it knew the importance of constantly being in the minds of its consumers," he argued.
Procter and Gamble, he added, remains another brand that was able to survive 'turbulent' economic period, not by slicing off marketing budgets, but by sheer innovation, and readiness to do things differently.
According to him, sometimes ago, when the company was facing trying economic times, it was to also  re-strategise by focusing on products that that people could not do without.
"Also, rather than embarking on a downward review of advertising spend, what the company did was to look for fresher avenues of marketing its products, one of which was through drama skits," he stated.
He also believed some local brands such Gala Sausage Rolls, GTBank, First Bank, Cowbell Milk, Insight Publicis and United Bank for Africa (UBA), among others had been able to survive decades of business storms by 'keeping their minds open, adjusting to economic realities and maintaining a constant touch with their consumers, through advertising,
Also speaking at the event, Sustainability and Public Affairs Manager, Nigerian Bottling Company, Ifeoma Okoye,  believes  one of the survival strategies a brand must adopt at a time of recession is to  react quickly to the realities of the time by listening to the man on the streets, and come up with products that best satisfy their yearnings.
"For instance, we never at time cut down on marketing budgets, during those hard times. What we did was to be more innovative in how we spend the budget. Besides, we also came up with other products, such as water, juice and other products to ensure our consumers have a wide range of choices," she argued.
The Chief Executive Officer, H&K, Tokunbo George-Taylor believes brands must strive to keep their heads above the waters during recession, by harnessing their unique selling points.
"Keeping quite or throwing in the towel can never be an option during crisis. We just need to create our unique selling points and focus on them," she stated.
She also stressed the need for companies' boards to seek the counsel of communication experts, regarding marketing spend.
"We, as communication experts, should be able to push back and advise clients on how best to achieve results with their marketing spend, and not just taking whatever the clients say hook, line and sinker, without any input from us," the H&K boss stated.
Managing Director/Chief Executive Officer, Modion Communications, Mr. Odion Aleobua believes opportunities still abound for brands, despite the trying economic times.
He argued that the advent of the social media has given practitioners the opportunity of accessing huge data, to work with.
"I think all that is required is to have business intelligence and street alignment to business," he stated.
Managing Director of Precise Communications, Mr. Bolaji Okusaga, however, noted that the fortunes of the marketing communications industry and that of the nation's economy are intertwined.
"Advertising is a function of the micro-economy. Though recession is over now, in Nigeria, but what we are experiencing now is a slow growth, and in that instance, brands are hesitant when it comes to marketing budget," Okusaga stated.
In his welcome address, the Chairman of BJAN, Mr Princewill Ekwujuru, explained that the topic was chosen to enable brands who have kept on innovating and creating value, despite the challenging times, tell their stories.
"For a nation that has, over the years, depended on a mono-product economic model, the persistent crash in commodity prices and the attendant consequences we now see in our declining economic fortunes have affected virtually every brand existing in the economic eco-system.
"We deliberately picked a marketing player, who has worked closely with brands, and has experienced different levels of success in the Nigerian market, to aggregate and present in an unbiased form, a synchronized survival narrative," Ekwujuru stated.