How Oranyan Festival brought Afon people back to roots
One of the targets of the Alaafin of Oyo, Oba Lamidi Olayiwola Adeyemi, to turn Oranyan Festival into a tourism  roduct pis uniting the Yoruba nation in Nigeria and in the diaspora. The people of Afon in Ogun State aligned with this vision and followed their traditional ruler to Oyo where they witnessed the eighth edition of the Festival. TUNDE BUSARI reports.
It was a historic homecoming for the sons and daughters of Afon, an Ogun State town, when they arrived Oyo and headed   straight to the palace of the Alaafin, Oba Lamidi Olayiwola Adeyemi as part of Oranmiyan Festival event for Day Six.
The people, led by the Obaladi of Afon Kingdom, Oba Busari Adetona (Orimadegun III), demonstrated that they are culturally inclined as they arrived Oyo in company of traditional drummers and dancers. The Alaafin's palace had made special arrangements for their visit and warmly welcomed them also with drums.
Ushered into the palace hall where they were later joined by Oba Adeyemi in company with the coordinator of the festival, ArchBishop Ayo Ladigbolu, the guests were courteous and orderly.
They were treated to a reception after they had paid homage to the Ikubabayeye. Thereafter, they were led to the palace open field, the regular venue of every big function of Oba Adeyemi.
Cultural performances by select troupes from Afon added colour to the event. It was followed by performances by Oyo-based groups giving a perfect image of a grand festival.
Contractors deny petitioning EFCC over freezing of Ekiti SUBEB accounts
Seated in his regular spot under a canopy, Oba Adeyemi, dressed in blue ofi fabrics,  every bit of the performance. He would later rise from his seat to show appreciation in the  Yoruba traditional way of placing currency notes on his guests.
Aside that, the Alaafin shared his thoughts with the Afon people on the significance of their visit, describing it as homecoming which, according to him, was overdue. He expressed his joy that the event was taking place in his lifetime.
"None of you here can measure the volume of excitement which is running in my system for witnessing today. Not everyone will be that lucky to witness it. For this, I give glory to God. I want to assure you that your return home is a right step in a right direction because there is no river without a source. "It is my joy that you are out there expanding. That was how Alaafin Oranmiyan expanded his territory to what was known in history as Oyo Empire, which stretched to Kumasi in Ghana. Oranmiyan brought glory to Yorubaland. That is why we cannot afford to forget him.
"By your coming, you have done well. By coming with drums and dancers, you have also done well. You have proved that you hold Yoruba culture in high esteem. You should not allow anything to take the culture away from you. Our culture is rich. That is why Yoruba Language is being studied in about 34 universities in the US. I am very proud of our culture, and want you too to promote the culture so that the generation coming behind in future will be proud of us and pray too," Oba Adeyemi said.
The elated Oba Adetona also expressed his appreciation to the Alaafin, affirming the historical ties between his domain and the ancient Oyo. He promised to always encourage his people to visit Oyo even for the purpose of tourism.
"There is no place like home. As soon as we stepped here, the reception given us is one reserved for father and son. We appreciate our Baba for creating this free atmosphere to reunite with our roots. Even without seeing Baba, every report we read about him would always make one to want to see him as a fountain of knowledge. I shall particularly continue to benefit from his wealth of knowledge. We thank the people of Oyo for preserving our culture," he said.
Before 2012 when its inaugural edition was staged, the Oranyan Festival had always been observed within the confinement of the palace of the Alaafin and two major shrines at Agbaakin and Ajiroba in the town. When, however, the Alaafin realized the need to give it a broader outlook, he gave his nod to a committee saddled with a singular task to put the festival together.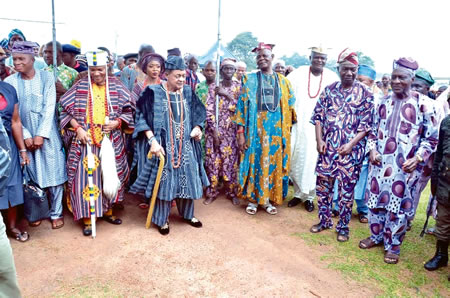 The grand finale held on September 13 witnessed unusual human and vehicular traffic owing to the activities marking the eighth  edition of the Oranyan Festival. A newspaper and television announcement by the organizing committee had earlier informed the public of a change in date, but the change was adjudged as being in order given the turnout recorded at all events that made up the festival.
The Osolo of Isolo, Oba AbdulKabir Agbabiaka, and many other traditional rulers, especially from Oke-Ogun, graced the occasion in company with their chiefs. The Aare Ona Kakanfo, Gani Adams, was also in attendance, watching a variety of live performances.
Adams, who is the chief promoter of Olokun Festival Foundation, used his imposing presence at the festival to make additional statement that his new title is not all about war but also about preserving the cultural heritage of Yoruba nation.
"The workload is enormous, but I am happy that we are used to it. With what the Olokun Festival Foundation has covered across the length and breadth of Yorubaland, the sky is the starting point for marketing our culture to the world," he assured.
Oba Agbabiaka did the presentation of trophies to school pupils who participated in the quiz completion.
According to Archbishop Ladigbolu, Oranyan Festival brings back towns and communities that originated from Oyo but were scattered in different parts of Yorubaland. He revealed that the Ewes who scattered at the coastal areas and whose progenitors left Oyo and Ile-Ife are retracing their roots now.
"They participate at Oranyan Festival. The Ohori people also from Benin Republic have come to unite with their origin at Olusami compound in Ago Isona area of Oyo. Since they had discovered their roots, they come to attend Oranyan Festival here. Recently too, two families from Togo and Benin Republic visited the palace to trace their origin too.
"Kabiyesi was of help to them as well to link up with their families here. As we have Fiditi here along Ibadan road, so there is a Fiditi in Benin Republic. We are working on how to establish the link between the two. The Ilaro people too. In the past the Alaafin used to send the Olu to administer Ilaro every three years because Ilaro emerged from Oyo. Also, the history of Ede is not hidden. This year,  Ofa is participating because Olalomi is a son of the Alaafin. In short, Oranyan is achieving new unity among Yoruba towns and communities. The organizing committee of which I am the coordinator does a lot of research to shed light on forgotten history with a view to setting record straight for posterity and unity of Yoruba nation," he noted.
Some observers, none of whom wanted their name in print, however, observed what they called some inadequacies in the festival, especially in the area of attracting sponsors. They urged the planning committee to go all out to seek some profitable deals that  would make Oranyan another Osun Osogbo, in terms of patronage by multinational companies as well as foreign tourists.
"I am an indigene of Oyo and I have seen Osun Osogbo and seen the glamour attached to it. Oranyan Festival should be a bigger one if it is better packaged. That is my candid advice to the organisers. What we see every year is becoming boring as far as I am concerned. I just bared my soul to with you because it is about my town, the leading town in the whole of Yorubaland," the activist-like 45-year-old told our correspondent.