How my teacher who hated me, helped in my career choice —Dr Oriire
Dr. Andrew Adebayo Orire is the chairman, Ekiti State Health Management Board. He shares his life story with TUNDE ADELEKE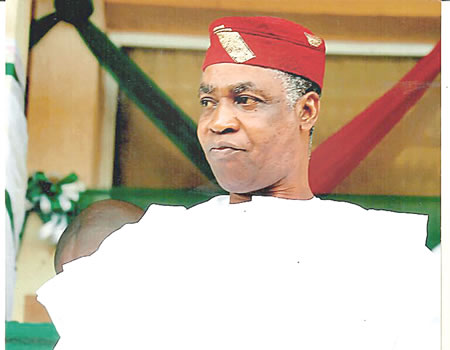 HOW did you get to where you are today?
I grew up in a polygamous home and an agrarian setup. We could hardly afford three meals, so we had to work every time to eat. But one thing I have always remembered was that I never felt I was poor in life. I have always made money for my mother to cook soup, to buy dresses for us (the children), even to meet my own needs and that was when I was in Primary 4 because I finished secondary school at 17. I was very inquisitive, always exploring. I would learn how to make rubber stamp from discarded shoe soles, I would weave basket. Anytime I weaved a basket, my mother would hide it because it was always beautiful and because it was generally believed that it was an impotent that made beautiful things. I carved walking sticks, wooden goats, birds, anything I wanted, and my mother would sell them. Nobody taught me how to draw and I was always making money in my primary school days. I would organise 'esusu' group and I would take my mates, about four or five, and go and do rotational labour.
How poor?
When I was in secondary school, we were supposed to pay 10 pounds as deposit. I planted tomatoes and made five pounds while my mother would pluck every five days to take to the market. So, I had five pounds in 1969 when I was going to secondary school. My mother and I contributed money to pay the deposit. That forced my father to borrow money against the next cocoa season to pay the balance. I was in Primary Six and I wanted to attend Christ's School, Ado-Ekiti. By the time I realised that they had conducted the entrance examination, I wrote an application to the school using the address of my primary school, St. Columba's Primary School, Ikoro-Ekiti. On the strength of that application, because of the English and the handwriting, Christ's School sent someone to my school and interviewed me in the headmaster's office. I was given an admission. When I took the admission letter home, my father said I was too young to go to the school. I didn't know it was because he didn't have money.
How much of disruption did lack of financial support cause your education?
I was always leading at school. There was an incident.  I went to modern school, but I couldn't complete Modern I because when I got admitted into the secondary school, I was withdrawn to the farm to help them in making money. My teacher, Mr. Olukanni, had good handwriting which I always copied. I thought I had good handwriting, but when I got to secondary school, I met a senior, Thomas, a tiny boy with better handwriting. I then recopied my note until my handwriting became better than his. Anytime we had prizes in the school, I would make sure my handwriting was the best and I would be the best in majority of the subjects. If I knew you would beat me in a subject, I would study so much that it's either I beat you or I came second. In Form III, I won 11 prizes. When we got to Form IV, we became seniors and officers and the next thing was to buy trousers and nylon shirts. Instead of buying the stuff, I used the money and borrowed more from my teacher to register for the General Certificate of Education (GCE) Ordinary Level (London GCE in those days). My first term in Form V was when I did my GCE and I cleared my sciences in As and had C in English and other subjects. I was already in the university before my results came out. Up till today, I still have the best results in Notre Dame College, Usi-Ekiti. Since 1973 when I left, nobody has beaten my record.
So, the sail was smooth?
When I got to the university, I didn't have any problem. The only problem I had was finance, yet, I was living like a rich person. I was on bursary and in the Western Region, there was this rule that if you were on bursary, you were not entitled to loan or scholarship except you were a university scholar. Because of that, I used to teach people Physics, Chemistry and Biology. I would go to Dugbe Market, make friends with Igbo boys and sell fairly-used clothes. I would go to Lagos to buy imported clothes and sell and make N10 on each cloth, which was good money in those days. So, I lived like a rich person.
Why medicine despite all the creative and innovative abilities?
I didn't want to study medicine. I wanted to study engineering. In fact, there were some seniors in my school, Professor Oriye and one Professor Fasuyi. They would go to the laboratory, put things together and come out with gadgets. That was what I wanted to study because I was very good in science. I knew I didn't have money and if I took Higher School Certificate (HSC) in the North, I would have scholarship. The North started from Kwara in those days. In Form V, I sat for the HSC entrance exam and I had a teacher that was not friendly, we were enemies and I didn't like it.
How did both of you become enemies?
My teacher would say 'I will beat everybody in this class today because I know you're not going to have one answer correct.' Then, I would say 'Sir, I will be the only person you'll not beat in this class.' So, there was no way he would ask any question and I won't get it right. One day, he said he must beat me and I said 'Sir, I will allow you to flog me 20 strokes of the cane instead of one if I miss any of your questions. But if I don't miss any, I will not allow you to beat me.' He did everything to make it difficult, yet I got the answers right. Then, he said he would beat me. I ran and jumped out of the window. And that was a serious offence in Notre Dame. He was so happy and went to the principal to report me. The principal called me and I said 'Do you want me to tell you the truth?' He said 'Yes, I know you will always tell me the truth.' I said the teacher did not teach us to understand, but to memorise. That was how we became enemies. I wanted to sign the HSC form one day when the principal was not around. The teacher was one of those who could sign the form. After I waited for about one hour in the principal's office, he just looked at me and said, 'Those who think they are rascally, somebody who is supposed to study medicine wants to go for HSC.' It was then it rang in my head. I went to another teacher, Mr. Awoyeye from Igbara-Odo, to borrow money and I sat for the concessional examination.
So, an enemy influenced you for good?
Yes. After I became a doctor, he was one of my teachers that I first treated. He was on a queue when I saw him. He wanted to hide and didn't want to greet me because he thought I hated him. After watching him for a few minutes, I went to him and prostrated before him. In those days, about 50 people would be on the queue to see me. I greeted him. He didn't want to answer. I asked him to come in, examined him, asked him to sit down, went to the pharmacy and brought his drugs. I didn't allow him to do anything. Then, I said 'Sir, you made me a doctor, I would have become an engineer.
You grew up in a polygamous family
The Orire family of Ikoro was a unique one. My father was the third of three males, and there was a female before and another female as the last. The three men in the middle were doing things together – they built their houses together in the same compound. So, if I finished working on my father's yard, I must also work in the yard of the elder brothers. When it was time to eat, if you found food in any of the homes, you ate. There was no difference in the way they took us. Those days, if a person was older than you by five days, you must not call the person by name. Another thing we were taught in the family was that you must never be beaten. If you fought someone and you cried back home, any of our fathers at home would beat you and send you back to the spot.
How was school like like?
I started at St. Columba Primary School, Ikoro. I was in Ibadan for a year or two and came back to Ikoro. I came back to Ikoro wearing shoes and neat clothes. The first day I went to school, my mates surrounded me, clapping and singing that I dressed like a teacher. Students there walked barefoot. I was embarrassed for about two or three days, so I would dress normally at home and pull my shoes and socks on my way back and walk barefoot to school. While coming back, I would put them on again. In the secondary school, when we were in Form I, we had a lot of modern school graduates who used to teach in those days. I was four or five months in the modern school before I was withdrawn. These people had an edge over us, especially in English and Mathematics. In our first exam in Form II, because of my good handwriting, teachers called me to help them record the marks, so, I had the privilege of seeing the results. I scored 900 over 1100 while the person that came first scored 901. My secondary school was interesting, we didn't have much of good teachers, but the available ones were very hardworking. Many of them went to the university the same time with me because they were HSC teachers.
What about your love life?
As a Catholic, our love life up to secondary school level was almost nil. Girls would run after me to teach them Mathematics or sciences. But the farthest you could go was kiss. In fact, I had a girlfriend that was always in our house, we would sleep on each other, but the father knew we would not do anything. The only thing we could do was to play and kiss all through secondary school days. When I got to the university, I became a Casanova. I started to enjoy myself on campus. I had a girl that could tolerate anything. I wrote to the girl that I could not marry her that we should stop seeing. But she exhibited unusual maturity.  She was the person I eventually married. I graduated in 1979 and by 1980, I was married. Unfortunately, I lost her three days after childbirth and that was the beginning of my rough love life. She was like a mother and a sister. She would tell me the girl I would take to parties, even after we got married. We had become so close; she had understood me so much that up till now, except for about one or two, every woman appears deficient to me. One thing I do is that I don't lie to anybody. If I don't love you again, I tell you. If you misbehave, I'll allow you to misbehave 10 times. When I warn you and by the time I have had enough from you, you'll regret till you die.
Did your background have anything to do with your love life?
The problem we have in Nigeria is with the family. You don't teach your children the right thing. My father would tell me that whatever you can do to yourself, you must do to your wife. My father would tell me if you need a concubine, you must tell your wife, that you must not go to anywhere your wife doesn't know and that you must not sleep in any woman's house.
There was a time I had problems with my wife and I wanted to marry another one. I wrote to the woman for her to show to the family that in six months' time, if things didn't change, I would marry another wife. I eventually got another woman and rented an apartment for her. My father got to know. He came to the hospital by 6.30 a.m. When I was coming to work around 7.00 a.m., I met him at the gate. He asked where I was coming from. I said I was coming from my wife's house. He asked, 'which wife?' I said my second wife. That was how I rushed back and by 10.00am, the whole thing was settled. My father just said, "Iyale, you know your husband has a second wife?" She said yes. And he turned to the younger one, "you know he was married before?" She said yes. "Why then are you risking my son's life? You, new wife, if you know you can't stay, leave now. Iyale, if you don't want this one to stay, you'd better leave. Luckily, your husband has two flats. Bayo, if I see you going out, I will disown you."
What about your social life?
My social life is interesting. I was a Casanova in school. When I came back from school, my house was the disco house for everybody:  Ayo Arise, Dayo Adeyeye, Dayo Fajuyi, Sola Oloniluyi, Yinka Obasa and others. There is an elder brother of Niyi Adebayo, he is in London now. He was our DJ. Deji Aturamu was our DJ in the university. We all studied medicine. I was a heavy drinker until about 10 years ago. I used to finish four packets of cigarettes a day until I stopped about 10 years ago. I won't say it's Christianity. it's God. I enjoyed everything while it lasted. I never fought for a girl with anybody. I was always enjoying myself, drinking and working very hard. When I was in the State Hospital, Ado-Ekiti, I would leave around 1.00 a.m. and still stopped at the hospital to check my patients. I resigned and started my practice in Ekiti.
What would you like to be remembered for?
I want to be remembered for liberating people from the shackles of the environment of restriction. You can be anything. You must follow your passion. It's not money that makes a person. You must be kind, give out of yourself, give your time and tell the truth at all times. The person you hurt by telling the truth, in 10 years time, will recommend you for telling the truth.
I want to be remembered for the truth.