FOR Chrisitianah Owuamanam, Saturday, May 29, was a normal day and she had no inkling that her world was going to crash around her. 
Indeed, she was patiently waiting for the return of her husband who she knew was on his way home when news reached her that he had been shot. 
It was with optimism that she could rescue him that she and the children rushed to the scene to meet his body in a pool of his blood and she was still optimistic that he could be revived when she rushed him to the hospital, where it was confirmed that he was dead.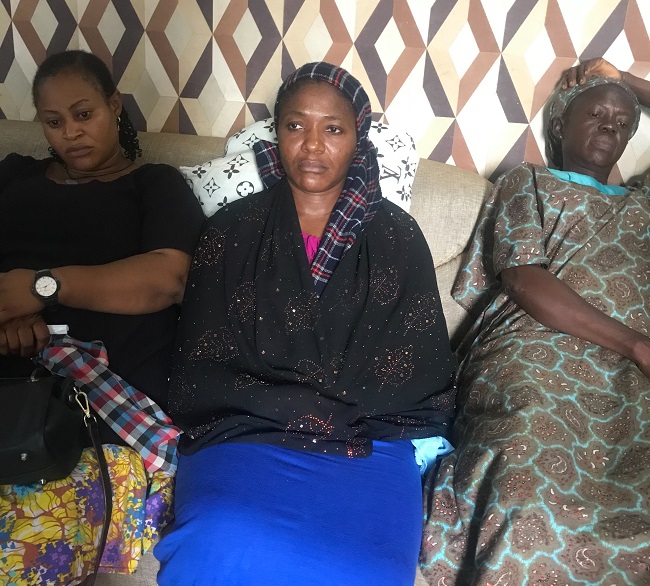 Since that Saturday night, what she knew as normal and stability had been shattered as she continues to wonder in her pain, who could have killed her husband and why. 
Narrating how she got the news of her husband's murder, Chrisitianah, in tears told Nigerian Tribune that, "On Saturday, May 29, at about 8pm, someone came to our residence, knocking at our door. I came out and she told me that my husband had been shot. I asked if he was still alive and she said yes, but she didn't know his condition. I quickly called my children and we rushed to the scene at Oremeji area. We saw that people had picked him from the ground where he was attacked and laid him in his car. But he was already dead. 
"The people there told me that he came down from his vehicle to purchase some things from a shop there. It was routine for him to buy things for the children whenever he was coming home. I learnt that he got a call on one of his phones which he left in the car. The lady, his staff that was in the car took the phone to him and went back to the car. As he picked the call and was moving towards his car after the purchase, a motorcycle with two people on it blocked him, and he was shot. 
"He was said to have been shouting 'help! Help,' but the people around ran away when they heard gunshots. He also made efforts to run but the assailants ran after him. When they saw that he was still alive after shooting him, one of them took what they said could be a cutlass or an axe and started inflicting cuts on him, which made him to slump. After making sure that he was dead, they took his photographs and left. 
"The people there told me that they took him to the University College Hospital, Ibadan, but were not attended to because doctors were on strike. By that time, the lady, his worker, had rushed to the house to inform us. The people took him to a nearby hospital but they also said that they could not attend to him because it was a police case. After I came, my children and I took him to three different hospitals, including our family hospital and Ibadan Central Hospital, before we took him to Adeoyo Hospital at Ring Road. It was at Ibadan Central Hospital that he was first confirmed dead. 
"When we got to Adeoyo, we were told to go and make statement to the police, which we had to do. They checked and also confirmed him dead. That was when his body was deposited in the mortuary there," she said in tears. 
The widow said there was no inkling of any evil, as he was coming home with their second son and others in another car and they were moving together until he stopped to do his purchase. He was said to have dropped other workers along the way, leaving the young lady with him as the last to disembark. When asked to describe who her husband was, she became overwhelmed and as she began to talk, she broke down weeping uncontrollably. 
"My husband was a very loving man. He was so good to people; he was not tribalistic. He even loved the Yoruba more than the Igbo. The people around us have been crying. I don't know how my children will cope. He was so caring." 
At this point, she couldn't go on again and the conversation had to stop as people around started weeping while trying to comfort her. 
His neigbourhood is not the only place affected as the Ogunpa market was also thrown into sadness and mourning. 
On the way leading to Ogunpa Market from Oke Bola area of Ibadan, Oyo State, a stop at Blessed Maduabuchi Nigeria Limited, a building owned by late Maduabuchi Owuamanam, on Monday, showed disquiet as the complex was empty and the surrounding shops had been shut to mourn the effervescent businessman gruesomely murdered last Saturday.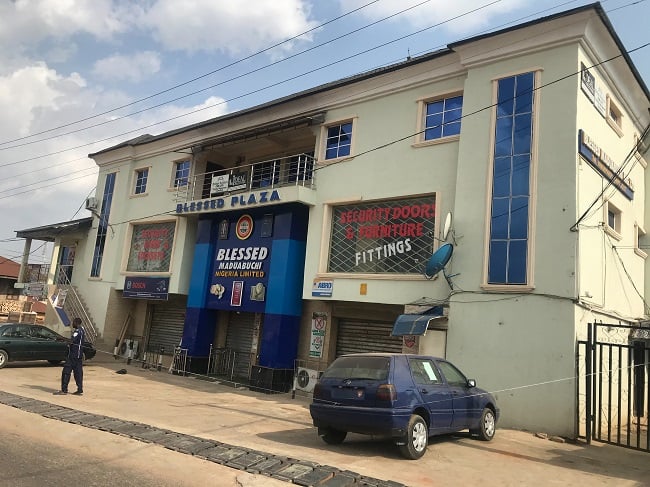 The late businessman got life snuffed out of him when he was waylaid at Oremeji Area in the city by unknown assailants, shot at, and inflicted with machete cuts until they made sure he was dead. 
Since that day, it had been sorrow, tears, wailing and sobbing by family, friends, acquaintances, tribesmen and even those who did not know him but heard of his attributes. 
The area, known for its boisterous activity, was calm, with only few people seen sitting and discussing in groups what was later known to be the news of the killing of Owuamanam, a leading figure in the market. 
As the Nigerian Tribune approached a security man met at the building, he informed that all occupants of the building were not around. It was later discovered that they had gone to the residence of the late businessman to commiserate with his family. 
Some of those who sat were approached to know about who Owuamanam was. With looks that showed grief, a man, Mr Olanrewaju Lateef, who trades in glass said: "Madu's (as he was fondly called) death is shocking to us. That is why we decided to lock our shops to mourn him and sympathise with his family. 
"We heard about the occurrence on Sunday, and it was a shock because I still saw him in front of his complex discussing with his customers. He didn't use to hide himself; he would interact with everyone. 
"You can never know he's an Igbo man. He was speaking Yoruba fluently and loved all people around him. He passed a pipe outside from his borehole for everyone around to fetch free of any charge. Not only that; he gave his security men the mandate to also watch our shops in the night along with his building." 
A woman chipped in: "as he was going home the evening he was killed, I called out to him 'Madu!' and he replied 'Iyalaje!' If he noticed disagreement between two people, he would intervene and settle it amicably." 
Mr Lateef continued: "he had a building ahead of this place, and I was the one he gave the job to do the roofing. We used to buy goods from him, and he used to buy from and send customers our way. 
"These make it shocking that anyone could kill such a good man. He always faced his business and had no interest in politics, whether ethnic or national. And he was so accommodating of all tribes. If we calculate his staff to be 40 in number, 30 of them would be Yoruba. 
"A lady selling wares just told us he gave her N2,000 in four N500 notes on the fateful Saturday. That was Madu for you. Not only her, he did so for numerous others who talked about it since they learnt of his murder. We just pray that God will expose the perpetrators of such evil. As they killed him, they have killed many people to whom he was a benefactor. His workers are in deep thought of what their fate will be and how they will survive." 
Also speaking, the Vice-Chairman of Igbo Traders Association at Labaowo, Ogunpa Market, Mr Obasi Emmanuel, said it was shocking to behold the remains of Madu in the mortuary on Sunday. 
"I heard about the shocking news at about 11pm on Saturday. We went to the mortuary on Sunday morning to confirm it, and we saw it was true as we beheld his remains that were so unsightly. The injuries inflicted on him were too many. We told the police and they visited the scene, as well as took pictures." 
Mr Emmanuel told the Nigerian Tribune that it was his just-employed young female worker who lives close and was with him when the incident occurred that went to his house to inform his wife and other family members. 
Describing Owuamanam, Emmanuel said: "Maduabuchi was one of his kind. I've told people that in Ibadan, there's no other Igbo man like him. He's a peace-loving man; a peacemaker. His character is indescribable. He loved everyone and would not want them to suffer. He told me he had suffered before; that no one who knew him would suffer." 
On what he thought could have prompted the killing, the spare parts trader responded: "One thing I know about this life is that weather you are rich or poor, you will have enemies, and people can hate you without a cause. I don't know what could have propelled his killers to take such a step on such a good man. 
"But his good deeds can never be forgotten. I know the Yoruba, Igbo, Hausa, Ghanaians, Senegalese tenants he has in his neighborhood loved him. They were just weeping. I know a lot of people are missing him. Those who killed him have killed many people who look up to him for help." He said that all the Igbo people at Labaowo shut their shops on Monday in mourning. "Business today is not normal, we are mourning our brother," he said. 
On Tuesday, the Nigerian Tribune was also at his family house in Ibadan, where there were scores of people who thronged the house to mourn with the family. The shops around his residence were also shut. A woman, Mrs Bisola Adeyemi, who sat in front of her shop directly opposite Owuamanam's house looked sombre. As she was commiserated with on the death of her neighbour, she was asked how she left. 
With a sad look, she replied: "He was a good and kind man. There was no one that would go to him crying that would not come out smiling. He used to help a lot of people and we all loved him. His murder is shocking and we are all in pain."
Also, his neighbour, popularly called Abula, had this to say: "his death is saddening. We still sent notice to him for landlord's meeting on Friday, and he sent his son on Saturday. We were jokingly telling him that he would pay N100,000 for not being there himself, because we all loved him to always be in our midst, not knowing that we will not see him again. He was the one who took everything about electricity in the neighbourhood on himself. I was so close to him and I'm still in shock. Everything looks so unreal."
A delegation of Imo Town Development Association in Oyo State was also there among others, wearing mournful, tensed looks. Those who were there included the president, Barrister Udo Ofurunna; Vice President, Mazi Ifeanyi Akim; Gen Secretary, Mazi Chrys. Erege, Chaplain Godwin Ukaegbu; Chief Obioma Obi; Chief E. Ewuzie; Chief B.O. Eke; Chief C. Nwachukwu; Pastor Jerry Nwaka, among many others. According to Barrister Ofurunna, who spoke on behalf of others, members of the delegation were with the family on condolence visit and to find out what happened.
"The circumstances surrounding Maduabuchi's death is unpleasant. This was a man full of life before the incident occurred and his life was truncated.
"We don't want to talk much on the sad incident because the police are already investigating so that we will not pre-empt them, but we are expecting them to do a thorough job and come up with credible report that our people, both nationally and internationally will be happy with.
"This is a colossal loss and we will not like to hear that it has been swept under the carpet. This should be a different case. They should do professional and appropriate findings and give us justice for the benefit of the living. We need to know what actually happened so that our security system will learn a lesson to beef up security so that people can move freely and sleep with their two eyes closed.
"This death is distasteful and we condemn it in clear terms. And we say that never again shall it happen to any of us. We are watching and will be following events to know the progress. I know the nation has no tolerance for crime.
"The police should fish the person(s) involved it, no matter how highly or lowly placed, and let the law take its full course," he said.
YOU SHOULD NOT MISS THESE HEADLINES FROM NIGERIAN TRIBUNE
Battle For First Bank: The Untold Story
Last week was one of twists and turns for First Bank of Nigeria Limited, the nation's oldest banking institution. It was a week that saw the bank's MD sacked and reinstated, as major shareholders struggled for control of the financial powerhouse. SULAIMON OLANREWAJU reports…
#EndSARS Panel: Drama As Witness Presents Video Evidence Of Slain Lekki Protesters
A witness of the Lekki tollgate shooting incident, Miss Sarah Ibrahim has presented video evidence of people injured and killed at the scene to the Lagos State Judicial Panel. Tribune Online reports that…