How my grandfather invited the British to end Yoruba wars — Alaafin
The Alaafin of Oyo, Oba Lamidi Olayiwola Adeyemi clocked 81 recently and has decided to make the special day a low key. However, he shares his thoughts with TUNDE BUSARI in this interview.
How do you feel attaining four scores and one year old?
As I said last year when I clocked 80, I give credit of every phase of my life to God, for without Him, I am nobody. I am read and knowledgeable enough to know that God is the Supreme Being over His creatures among whom I am. So to Him be the glory because of the road I tread to have attained this age.
Can you share some of those experiences leading to your 81st birthday?
There is nothing in my experiences of life which are not in the public domain. There is no need to serve your readers with same story.
Some weeks back, you played host to the British Deputy High Commissioner, Harriet Thompson and his team. What was the reason for the visit?
It was a courtesy visit to the Alaafin, and nothing more. He was accompanied to the palace by the Deputy Head of Political Desk, Stuart Garoner and Political Adviser, British Deputy High Commission, Lagos, Wale Adebajo
I'm concerned no one is willing to be Sowore's surety ― Judge
Is there any other reason you think led those guests to Oyo?
There is no other reason apart from the British recognising the position of Oyo in the Yoruba nation. They keep records and know history. They know how the Alaafin, my great grandfather, His Imperial Majesty, King Adeyemi sought Britain's intervention to end the fratricidal Yoruba war then ravaging the whole of Yorubaland.
Can we then say you invited the British to impose their authority on Yoruba?
Go and read history and find out when and under what circumstances the British came here. There was already a colonial office in Lagos, hence the Alaafin's letter through the then Lieutenant Governor W. B. Griffiths to the Imperial Majesty, Queen of England and the Government of England for the intervention.
How can you justify the Alaafin's action?
The Alaafin, as father of the Yoruba realised that the loss in that war was becoming too much. Young, abled bodied people were being killed. That development was making the Yoruba nation vulnerable. For instance, the French exploited that opportunity to penetrate us in the western side where we had Dahomey, even before the European powers formally sat round a table in Berlin and partitioned Africa. Till today, we never recovered from that development. You need to visit Benin Republic and see the state of our Yoruba kith and kin. The Alaafin invited the British as a father who did not want further decimation of his land. The effort paid off as it led to the final treaty which put a stop to that war. I am also bold to say that the foresight of the Alaafin Adeyemi I, when he surrendered the Yoruba nation to the British for commerce, education and unfettered access of British subjects into Yoruba nation and Nigeria in general as well as the Yoruba and Nigerians into Britain through a treaty signed on February 3rd 1893, paid off for both sides. The indigenous Yoruba political administration has a lot of similarities with the British political system. The Yoruba political system is monarchical while the Queen is the head of British nation just as the Alaafin being the king of the Yoruba nation.
Can you say that internal war is over in Yoruba land, considering wrangling and political differences among the people of Yorubaland?
Let us get it in the right context. Differences are part of human existence. So also is conflict. I have always maintained that the Yoruba are too civilized to face one direction. I don't need to repeat those areas where we scored first in this country. In medicine; in Law and other professions, we are always ahead. Do you now expect such an ethnic group to be uncritical of issues or public policies? Go and read history to appreciate what I am talking about. Coming back to your question, what you call differences are natural. We shall continue to have differences and we shall continue to find ways to mend fences. There is no more war in Yorubaland despite the fact that our people belong to different political parties. How do you feel when you see Governor Seyi Makinde of Oyo State at the same meeting with other governors of the South-West who belong to a different party? You should feel proud that Yorubas' cause unites our governors more now.
Can we have a Yoruba leader in the true sense of it?
Why can't we?
You're an animal, judge tells Chrisland School ex-supervisor, jailed 60 years for defiling toddler
The late Reverend Samuel Johnson'sThe History of the Yorubas is considered as an authority in Yoruba history. Are you aware that some still criticize his book for alleged bias to Oyo, being an Oyo son?
Every scholarly work is naturally subjected to academic review and criticism. That is what academics is all about. That is the essence of research. Where you stop is the beginning of another work. So, I am aware of what you talked about but the question I always ask is that the same critics also always make reference to the same Samuel Johnson. As far as I am concerned, his account remains the best and most referenced.
The public seems disillusioned by some actions of public office holders. What is your take on this?
The public has every right to their feelings about those they elected through their votes. So, I have nothing against how the public feels about politicians. With my close observation, I have found out that many politicians have become very selfish and uncaring about their fellow human beings and society. We have become less than animals in our struggle for survival and quest for good things of life. The end justifies the means, we say. And sometimes, the means can be as crass as downright dirty to downright evil. It is now a case of everyone for himself or herself and God for us all. Nothing can be as demoralising, debasing and heartbreaking as for our politicians to brazenly betray the trust and confidence reposed in them by the teeming impoverished populace, in a most callous manner. It is high time they had a change of heart and refocused their attention on how to improve the well-being of these people back home. They must remember that there is always life after political offices.
Last month you travelled to London to rest, how was that trip?
It was a short rest but I enjoyed it. I was refreshed. You know how tight my schedule is on a daily basis inside and outside the palace. Therefore, creating time to rest should also be important.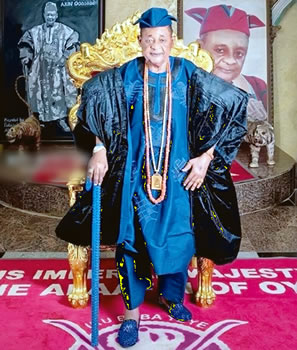 Are you advising other traditional rulers to also find time to rest?
I can only advise those who are also busy; who also run tight schedule. Those who are busy should rest and do regular check on their health status. I don't joke with my health;  I abstain from those chemical food and drinks. I am a natural person and happy for it. You can't see me drinking all those things.
Is that the reason you still keep faith with your sporting activities at 81?
A sportsman is ever a sportsman. I cannot compromise my passion for sporting activities. I am happy that I started my life as boxer. It gives me all round benefits of physical fitness. That is one of the things that makes the Alaafin different. And that is the reason also I commend President Muhammadu Buhari for appointing our son, Mr Sunday Dare as Minister of Sports and Youth Development. Obviously his choice has clearly shown what to expect in the second term of President Buhari. Like others on the list, our nominee from Oyo State, his training, pedigree and various contributions over the years to Oyo State and the country have clearly shown that as  a minister, he could now extend his contributions to highly significant and critical areas of our development as a nation. The president did not make any mistake in his choice. We must give him maximum support. He has started on a promising note by not only inspecting all the National Stadia in the country, but choosing the MKO Abiola International Stadium, Abuja, as his office. Besides, the appointment of Mary Onyali, an Olympic medalist as his Special Adviser is another right step.
The problem of broken homes and its effects is taking a toll on the security of the society. What is the way out of this problem?
The problem has effect on both family and the society as they have continued to place unnecessary tension, thereby constituting clogs in the wheels of national development and survival. Broken homes produce children deprived and denied of qualitative education, adequate parental care and wider opportunities, and consequently, most times turn out to be social deviants and delinquents with constitution of nuisance in the society as their major stock in trade. The child's first place of contact to the world is parent. So, the child acquires initial education and socialisation from parents and other significant persons in the family. The family lays the psychological, moral and spiritual foundation in the overall development of the child. The way out as your question requested is that couples should allow trust, confidence, harmony and sincerity of purpose to be cornerstones of their lifestyles. When the child grows with these virtues, there is no way the child would derail and turn to social vices. It is important for parents to take note of this. To a large extent, you are the determinants of development of your children.
What is your birthday message to the youths?
Our youths should know today that one single most important quality they can ever develop to live a meaningful life is the value of integrity. Integrity is the core quality of a successful and happy life. Having integrity means being totally honest and truthful in every part of your life. By making the commitment to become a totally honest person, you will be doing more to ensure your success and happiness in life than anything else you can ever do. Integrity is a value, like persistence, courage, and intelligence. It is your choice of values and resolution to live by those values that form your character and personality. And it is integrity that enhances all your other values. The quality of person you are is determined by how well you live up to the values that are most important to you. Integrity is the quality that locks in your values and causes you to live consistent with them. It is not how far a journey but how well. And when you talk of wellness of a journey you talk of integrity with which you travel the route.