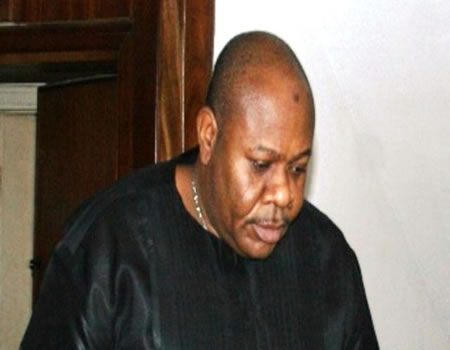 The fraud trial of a Lagos socialite, Fred Ajudua,  continued on Thursday in Ikeja with a German, Mr Zaid Abu Zalaf, narrating how the accused allegedly duped him of one million dollars.
Zalaf told an Ikeja Special Offences Court that Ajudua duped him 25 years ago when he came to Nigeria to start a business.
The German was cross-examined by Ajudua's counsel, Mr Olalekan Ojo (SAN).
He testified that he was still learning how to do business in 1993 when he spoke to Ajudua on phone through two Germans,  whose names he simply gave as Chehad and Dizenko.
ALSO READ: EFCC re-arraigns Fred Ajudua for allegedly duping General Bamaiyi of $10m
The News of Nigeria (NAN) reports that Ajudua was arraigned alongside one Joseph Ochunor (now at large) by the Economic and Financial Crimes Commission (EFCC) on a 12-count charge bordering on conspiracy, fraud, obtaining money by false pretences, forgery and uttering of forged documents.
Zalaf said: "After Chehad and Dizenko introduced me to an oil contract marked NNPC/AA/80241/79, I had a telephone conversation with the defendant which thereafter propelled my business trip to Nigeria."
Zalaf, the first prosecution witness, said that if he did not speak with Ajudua, he would not have come to Nigeria at the time he came in 1993.
"I don't know whether Chehad and Dizenko are businessmen when I met them in Germany. It was Chehad and Dizenko that contacted me of the business proposal.
"They contacted me of the oil contract; I held a meeting with them in the house I used to live in.
"It was during the meeting that they suggested the contract. They said they didn't have the facility and that I could take advantage of that because I had the facility.
"They said the money involved was $28 million and the money would be transferred to my company account," he testified.
The German said that Ajudua was aware that he was coming to Nigeria.
"If I did not speak to him on the phone how did he know I was coming?
"I was a young man when I was conned 25 years ago while still learning how to do business."
Zalaf claimed that he was not aware of currency regulation law both at the point of departure in Germany and at the point of entry into Nigeria when he came in 1993.
Zalaf added that he did not bring any cash to Nigeria when he came for the first time in 1993, but testified that he brought $225,000 to Nigeria on his second trip.
"I brought only a suitcase when I came to Nigeria for the first time.
"It was on my second visit that I brought $225, 000. I don't recall having any document to show that I brought cash to Nigeria.
"In 1993, I was learning in terms of documentation but now I know the importance of documentation.
"We were expecting to get the contract; after we would get the job done, we would get the balance," Zalaf said.
He also said he met with Ajudua and his business associate, Joseph Ochunor (now at large), in Ajudua 's office, and that Ochunor gave details of an account where the money would be paid into.
"In his office, he introduced me to Joseph Ochunor, his business associate, who gave details of the account to be transferred money into," the witness said.
Justice Mojisola Dada adjourned the case until  Feb. 11, 2019, for the continuation of trial.