How culture, corruption, poverty, poor perception stall growth of health insurance
In spite of the comfort and convenience that health insurance offers, especially in an emergency, it is not quite popular among the
Nigerian populace. SADE OGUNTOLA looks at how the trend can be reversed.
The World Health Organisation (WHO) recognises health as a priority in its own right and a central input in development and poverty reduction. Healthcare utilisation thus comes up as a significant public health and policy issue and a matter of concern to stakeholders, reflecting efforts to both improve health outcomes and to make health care accessible.
The extent of healthcare use is however related to several factors including (physical) access, cost of service and a host of other socioeconomic and personal characteristics.
In Nigeria, like many other Sub-Saharan African countries, the economic factors of income and service costs strongly influence health-seeking behaviour, especially for the rural and low-income folks.
The need to improve access and use of healthcare by minimising the socioeconomic barriers of the service cost and low incomes come to the fore, paving the way for a health financing approach that shares risks across population groups over time, and replaces out-of-pocket health expenditure.
Increasing global attention is being drawn towards universal health coverage and policies on health insurance play a strategic role in that drive.
As a form of prepaid financing system, health insurance makes possible collective pooling of risks and the redistribution of financial resources in such a way that assures financial protection against the cost of illness.
Currently, about five per cent of Nigerians who are public servants in federal, state and local government levels are covered by the National Health Insurance Scheme (NHIS) which took off in 2005. And the scheme, at the federal level, still runs on employers' contribution and none from employees'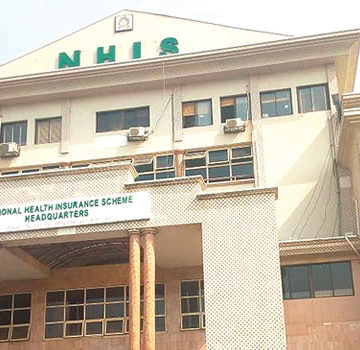 At least 10 Nigerian states have signed the health insurance laws to help in achieving equitable and sustainable health financing mechanism through the setting up of the state health insurance scheme.
ALSO READ: How Gov Oyetola traversed all sectors of Osun in one year
Functional state health insurance schemes will help increase the pool of individuals with health insurance thereby driving down premiums. Howbeit, in 2020, utilisation of health insurance is still low in Nigeria.
At the Lagos State University Teaching Hospital, Ikeja, Lagos, researchers found that 80.7 per cent of the respondents at the hospitals' outpatient clinic had poor knowledge of NHIS. Only 12.3 per cent of the respondents had registered with the NHIS, and 43.8 per cent of respondents who had not registered with NHIS claimed they do not know where to register. Most (96 per cent) of those who have utilised NHIS were satisfied with NHIS services.
This 2019 study, published in the African Journal of Primary Health Care and Family Medicine, had looked for factors affecting utilisation of health insurance.
According to President of the Nigerian Medical Association, Dr Francis Faduyile, to ensure that most of the vulnerable population is not left at the mercy of health care services which in most cases are not affordable, President Muhammed Buhari will have to sign the National Health Insurance bill that makes health insurance mandatory into law.
According to him, "a lot of state governments are putting up the state health insurance scheme; what they are doing is to politicize the health insurance scheme but its operationalisation in each of the states is far from desirable.
"Many of the stakeholders that are expected to participate are not consulted. If you do not get their buy-in, certainly, you know that it will be very difficult to operationalise it."
Dr Faduyile said Nigerian Health Insurance Scheme (NHIS) offices should play more of the regulatory role so that more community health insurance schemes can come up.
"As it is, people are moving towards the government-owned health insurance schemes. It is when you deregulate and have stringent conditions in place that different states and the community health insurance schemes can become more competitive."
ALSO READ: Reps mull legislation on life insurance for NYSC members
Dr Faduyile, however, declared that corruption was militating against people's enrolling into the scheme, which is still majorly government-owned.
Mr Lekan Ewenla, Managing Director/CEO of Ultimate Health and Publicity Secretary, Health and Managed Care Association of Nigeria (HMCAN), said most of the concept of the national health insurance programme to ensure its aims and objectives universal health coverage for all was still not being adhered to fully.
Ewenla said, "When the scheme started, the majority of the volume of federal civil servants and their dependents that were supposed to enrol at primary healthcare level migrated to the secondary and tertiary health facilities.
"Eventually the remaining enrollees were thinly spread across over 8,000 healthcare facilities enlisted as primary healthcare service providers.
"So, the concept of the primary providers bearing the risk at that level has been eroded completely and that was why the majority of the enrollees were being treated like lepers as it was reported sometimes ago."
He also suggested a review of the criteria for the HMOs participating in the scheme. "Even the number of HMOs in the country is too much for the scheme to be up and running. Quite a lot of HMOs were accepted without the technical know-how."
Ewenla observed that health insurance scheme had helped other countries to provide affordable, accessible and equitable healthcare. "It makes the payment for health out of the pocket no longer trendy. It ensures that the rich subsidise the medical needs of the poor or the healthy subsiding the medical needs of the sick."
He suggested that in driving enrollment into the scheme "the critical stakeholders should be meticulous and continuously look at its challenges and ensure that these challenges are converted to solutions."
No doubt, enrollment of the informal sector is impossible without the full buying in of people at the grassroots. Executive Secretary, Oyo State Health Insurance Agency (OYSHIA), Dr Olusola Akande, said the over two-year-old scheme in Oyo State had covered almost 200,000 of the residents of the state.
According to Dr Akande, in the last six months, a lot of the informal sector people had been covered and almost all the formal sector, that is civil servants had been covered in the state.
"It is the informal sector that we are focusing on and gradually we have started cracking that area. In December 2019, we had almost 150 people walk in to enrol because awareness of health insurance is increasing; some others came to make an enquiry on how to enrol."
He stated that the Oyo State Health Insurance scheme was instituted because NHIS alone cannot achieve universal health coverage and states are closer to their own people.
However, Dr Akande said ensuring every Nigerian is enrolled under the health insurance scheme will require a lot of enlightenment and change in beliefs, attitudes and customs of people on insurance policies, especially among people without structured income.
Dr Kayode Obembe, Chief Executive Officer, Premier Medicaid HMO, stated that without the assent of President Buhari to the bill that makes health insurance mandatory, ensuring everyone is insured cannot be achieved.
According to Dr Obembe, "There will now be so many other ways by which individuals can be insured. Even communities can pull themselves together for insurance."
However, "getting the funds can be a challenge. If someone will be paying a certain amount of money every month, it can create challenges if there is no money to pay.
"But when the amount is compared with the magnitude of either an accident or illness that is averted, they would not see putting something aside every month to have something to fall back on in case an event occurs as something inappropriate."
NHIS South-West zonal coordinator, Mr Chinyere Nduake, stated that the scheme runs different programmes that are targetted at both the public and private sectors, including students and the vulnerable groups such as the aged, orphans, and IDPs.
ALSO READ: 5 Ways to Get Health Insurance In Nigeria
These include the tertiary institution Social Health Insurance Programme, which covers students in a tertiary institution; Rural Community Programme that covers the self-employed and the Vital Contributors Social Health Insurance Programme that is to capture specific communities and private individuals.
Mr Nduake said there is usually a waiting time of two months before an enrollee can start to benefit from the scheme after registration.  This is to allow for administrative processes and help checkmate people that would want to take undue advantage of the programme.
According to him, "In Insurance, you don't come in when you have a need; you anticipate you may have a need. So, while you do not yet have a need, you should have already enrolled.  Your funds can be used for those who have present needs. Afterwards, their own can also be used for you."
Quality of drugs provided is a common complaint by many on the scheme. According to Mr Nduake, enrollees on the scheme are expected to pay only 10 per cent of the cost of their drugs, if such were listed on the schemes' drug list.
He stated that the schemes already had prices for such medicines on its drug list, adding "the 10 per cent the enrollee is paying was added as a safeguard. When people take everything free, they may even take drugs and throw them away."
He, however, declared that the scheme does not cover all drugs.
"We pick certain items from the essential drug list, which are in common use and that are reasonably useful in those specific ailments. For instance, instead of choosing every Non-Steroidal Antiinflammatory Drug (NSAIDs), we could just choose Diclofenac. We select among the different drug groups for different ailments. We go for the ones in broad use and that cover a broad range of that ailment."
He stated that not providing other drugs outside of the scheme was premised on the programme is an insurance scheme that must be made sustainable.
"People must understand that NHIS is like other financially related organizations or institutions that manage finances. We have a responsibility to keep the pool sustained so that all contributors can benefit from it. So, because we need to manage our funds sustainably, we try to minimise cost as much as possible."
Mr Nduake declared that the scheme recommended that generic drugs be given to enrollees rather than branded drugs, adding that the choice of the generic drug is solely that of the hospital and not the agency.
According to him, "People shouldn't crucify us because they think expensive products are only the ones working. The hospitals also create problems. They want to market drugs at the expense of the enrollee, so they confuse them by giving them the impression that NHIS gives low-quality drugs. In a bid to maximize profit, the hospitals end up buying products that are questionable."
Mr Nduake also corrected the notion that designated offices marked at hospitals as NHIS units are not under the control of the scheme as they were solely established for the easy running of the day to day treatment of enrollees of the scheme at such hospitals.
He declared, "If they do something wrong that doesn't mean we are part of it. We need to be informed so that we call them to order. "
ALSO READ: Oyo assembly summons health commissioner over sorry state of PHCs
Mr Nduake, however, declared that some of the challenges faced by enrollees, such as long waiting time, are not within the control of the agency.
He cited hospitals like UCH, Ibadan and LUTH, Lagos, that are tertiary health facilities with enrollees that should have been taken care of by other accredited hospitals, and so are crowded beyond what they can manage.
"Even for non-severe cases like malaria, people still prefer to choose UCH, Ibadan, when we expect them to go to other accredited hospitals around under NHIS.  Many people go there for minor cases so the place gets crowded beyond what they can manage," he declared.
Mr Nduake pointed out that demands such as being provided branded products and to be flown abroad if sick can be met if the premium being paid by civil servants is increased.
"Currently civil servants are not making any payment, the government is paying for them. If we are to do that, we have to tell the government, pay more as premium and if the government says civil servants should start contributing little of their salaries, they will protest. Even Nigeria Labour Congress will shout."
Mr Nduake assured that all enrollees have the right to complain of poor treatment both to the agency and their HMO. He said that enrollees on the scheme need not turn away where there are lapses because it is about their health and ensuring the scheme runs smoothly.