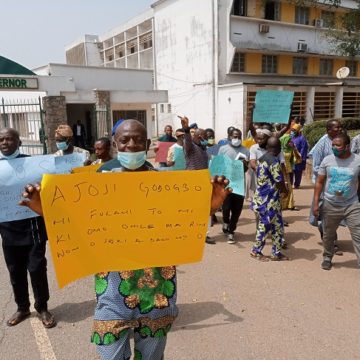 Farmers (settlers) of Ijaiye Farm Settlement in Oyo State have raised an outcry over incessant attacks on the settlement by herders, urging the Governor Seyi Makinde administration to urgently arrest the situation.
The farmers who led a protest to State Secretariat, Ibadan, on Tuesday, particularly raised the alarm that the recent invasion of the settlement was coming from herders who were dislodged from Ibarapa land.
Chairman, Ijaiye Farm Settlement Association, Dr Tairu Tajudeen, who led the protesting farmers, said there was an increasing concentration of herders and their cattle on the settlement, with the farmers living daily in fear of being attacked.
He reported that the herders constantly bore sophisticated weapons and threatened to kill anyone who questioned their invasion of the settlement and Ijaiye farms.
He noted that a farmer who resisted the invasion of his farm last week had his arm amputated by the invading herders.
Over the course of the past six months, Tairu said the association had documented the loss of over N2billion worth of farm produce to herders invasions.
In calling on the government to provide security for its own settlement, he bemoaned that there was virtually no presence of Amotekun corps in Ijaiye.
Tairu said: "We pay rent as and when due but we have discovered that the invasion by herders with their cattle is on the increase. These people are armed with sophisticated weapons. We cannot confront them.
"They have invaded our land and have started raping our wives on the farms. They amputated some of our farmers. Three days ago, one farmer who resisted the invasion of his own farm got his arm amputated. Must we continue to fold our hands and become slaves in our own land?
"When they chased the herders and their cows from Ibarapa land, they relocated to Ijaye farm settlement. They are so many that they are unconcerned about the existence of government in Oyo State.
"At night, we are usually awoken by gunshot sounds. Do we have to start bringing corpses to the state secretariat before government acknowledges that farmers are being killed? They attack us on government land. This is shameful to us as a state. Cows have taken over the Ijaye settlement.
"It is absolutely pertinent to invite the urgent attention of Your Excellency to incessant attacks of Fulani herders on the farm settlement with its attendant destruction of lives and properties (farm produce). With a documented loss of over a N2billion worth of our members' farm produce incurred in the last six months, the situation has become more precarious than ever.
"As many farmers continue to abandon their farms due to continuous invasion of this emboldened herders and their cattle, the urgent intervention of Your Excellency, is very much needed, now that we are fast approaching another planting season.
"We are appealing to the governor to look into our plight. We hope to get a response from the governor within two weeks. We thought with the inauguration of Amotekun, the mind of farmers will be at rest but there are not present in Ijaiye."
Aside from the invasion of farms, Tairu noted that Ijaiye and the environs had recorded incidences of rape, armed robbery and kidnapping.
Also speaking, an 85-year-old farmer in Ijaiye, Pa Adewale Adeoye lamented that his 10 acres of cassava farm were destroyed last year by herders.
He decried the failure of the government to provide security for farmlands which could end the South's reliance on the North for food.
Adeoye said: "It is sad that here in this region, we can't farm and have to rely on purchasing from the North. Back in those days, no one buys food from the North. They bring food from Oyo town, and there is no part of Ibadan that don't cultivate their land.
"Why will it now be that we will not be able to produce food for ourselves but rely on food from the North?
"We want security for the settlement and in Ijaiye. There are thousands of cows on the settlement. We have not seen Amotekun in our area."
Speaking on behalf of the state government, Executive Assistant to Governor Seyi Makinde on Security, Mr Sunday Odukoya, assured that the state government will diligently look at the agitation.
"I will ensure the SOS letter you have brought gets to the authority and I assure you that they will look into it and necessary action will be taken," Odukoya said.
YOU SHOULD NOT MISS THESE HEADLINES FROM NIGERIAN TRIBUNE
ANALYSIS: One Year After Index Case, Nigeria Yet To Meet COVID-19 Testing Target
One year after Nigeria recorded its first COVID-19 index case, the country has not been able to meet its testing target.
On February 27, 2020, Nigeria's first index case of COVID-19 was confirmed in Lagos. This was the first reported case in Sub-Saharan Africa. An Italian, who had just returned from Milan, Italy on the 25th of February 2020, was confirmed by the Virology Laboratory of the Lagos University Teaching Hospital (LUTH), and managed at the Infectious Disease Hospital (IDH) in Yaba, Lagos…Herders, cows dislodged from Ibarapa have taken over Ijaye farm settlement, Settlers cry out
Herders, cows dislodged from Ibarapa have taken over Ijaye farm settlement, Settlers cry out