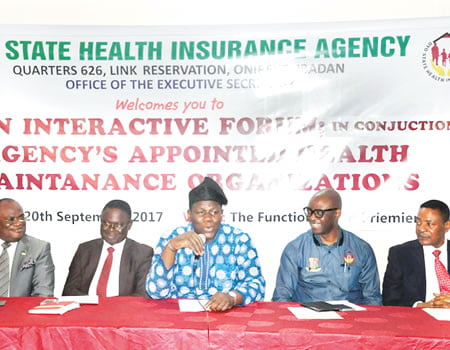 Oyo State government has said that its mandatory health insurance scheme is targeted at stopping premature deaths.
Oyo State Commissioner for Health, Dr Azeez Adeduntan speaking at the state's Health Insurance Agency interactive forum with organised private sector in Ibadan, stated that health insurance was one way to stop premature deaths.
Dr Adeduntan, who remarked that people were dying from preventable causes in Nigeria, said with N650 per month, individuals can access quality healthcare under the scheme.
He stated "with the health insurance, even if a poor man gets to the hospital, he will get care without any trouble."
While noting that people need not travel abroad for health care, he said anybody that cannot pay his or her capitation will be able to have the endowment fund to support them.
He assured enrolees on the scheme that they will get the best of care, adding that plans are ongoing to ensure that all government hospitals receive a facelift and are equipped.
Dr Adeduntan urged the entire health management organisation (HMOs) involved in the scheme to ensure the scheme does not fail, stressing that a productive work force is a healthy workforce.
Executive Director, United Healthcare, Dr Kazeem Mustapha speaking on behalf of the other six HMOs stated that health insurance was a form of health financing and a means of guaranteeing productivity of the workforce.
According to him,  "this will guarantee that the work force not thinking of what will happen if there is an health catastrophe. This is the only way you can predict your health budget."
The Managing Director, Ultimate Health, Mr Lekan Ewenla, in his lecture on the purpose and benefits of health insurance scheme, decried the politicisation of health insurance, saying it has contributed to its slow growth in Nigeria
Ewenla, also the National Publicity Secretary, Health and Managed Care Association of Nigeria (HMCAN) said that only health insurance had been viable among all the options and concept for healthcare delivery that employers of labour had tried to use in meeting the health need of their workforce.
While saying that the mandatory health insurance scheme was novel, he said its introduction was in compliance with the global concept of healthcare delivery in developed countries.
Earlier, Acting executive secretary, Oyo State Health Insurance Agency, Dr Sola Akande said the forum was to create awareness, sensitise and educate the private sector on the need to enrol into the health insurance scheme.
He added that it was also to shed more light on the provisions of the law establishing the agency and its operational guidelines..
According to Dr Akande, at the commencement of the scheme, its standard plan will cover over 90 per cent of the disease pattern in the community.