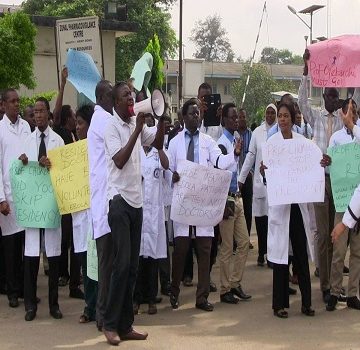 THE Nigerian Health Institutions Chairmen Forum (NHICF) has called on the Joint Health Sector Unions and Assembly of Healthcare Professionals, JOHESU, to suspend the on-going nationwide strike in the interest of the country and suffering patients.
Speaking recently in Abuja, the Chairman of the Forum, Chief Sam Jaja, reminded that the key objective of medical personnel in the hospitals' settings is to render health care services to patients, hence, the need to suspend the on-going strike and return to work while negotiations continue with the Federal government with the hope to bringing a lasting solution to their demands without loss to human lives.
Chief Jaja, speaking through Dr Saidu Ahmed Dumbulwa, the association's Secretary/Liaison officer, stated that JOHESU did not put into account the fact that President Muhammadu Buhari had recently appointed governing Boards of various health institutions thus JOHESU ought to have tabled their grievances at the Nigerian Health Institutions Chairmen Forum for possible consideration instead of embarking on the current strike.
While appreciating the rights of workers to ventilate their grievances, the current dispute which is almost one month old now is ill-timed and has ultimately affected our patients and the on-going infrastructural development in the health sector, the Chairman noted.
''Instead of always embarking on strike at the slightest opportunity, JOHESU should explore all avenues of dialogue in addressing their grievances.''
ALSO READ: Health workers' strike: It's fight to the finish, says JOHESU national officer
''There is no gainsaying that many patients in Nigerian Hospitals come from poor family backgrounds and the JOHESU strike is having negative effects on them because they cannot afford private hospital bills.''
Chief Jaja stressed that JOHESU must live up to their expectation by being a responsive and responsible association in accordance with the ethics of the health profession which members swore to uphold. ''We must, therefore, work together in the spirit of inclusiveness to save the lives of our people, he further maintained.
Chief Jaja underlined that the JOHESU's call on their members at the States and local government areas to join the strike would further compound the situation hence the appeal to give room for resolution particularly as the recent return of Ebola in the DRC would require the full corporation of all health professionals to keep the disease at bare.