He stopped me from working, ensured he frustrated me —Woman
She bought a car, lied her brother gave her —Man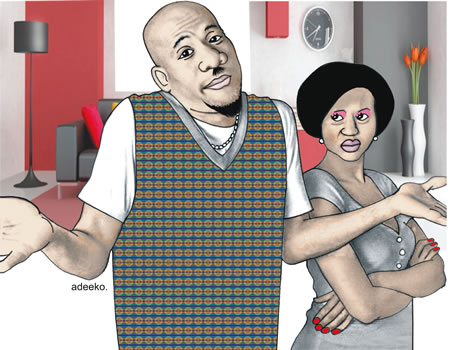 A woman in her 30s, Sherifat Kaluyi, has sought for an end to the nine-year-old union between her and her husband, Ganiyu Kaluyi.
Sherifat while giving her evidence told the court that Ganiyu, aside abandoning his duties in the home, never ceased to frustrate her by working against her progress.
She appealed to the court if her prayer of divorce was answered, to mandate her husband to allow her pack her belongings from his house and also leave with their two children.
Ganiyu agreed to divorce stating that Sherifat had no respect for his family and was deceitful.
She told the court that, "I told Ganiyu when we met that I already had a child. He agreed to marry me and allow my child to live with us.
"Few years after we got married and our union had produced two children, he told me he no longer wanted to have my first child living with us. I felt bad about this and took her to my mother.
"My lord, he has failed to carry out his responsibilities towards our two children. They look like scare crow because they hardly eat good food, while their healthcare and education are neglected.
"Worse is the fact that he is not interested in my progress. He has stopped me from working and has stood his ground on this decision despite his family members' intervention."
"My lord, Sherifat's decision on divorce is welcome, "Ganiyu told the court.
"I can't remember ever stopping her from accepting a job offer or lock her shop. Her allegation that I stopped her from working is therefore a surprise to me.
"I introduced her into rice business but she showed no interest in it.
"My lord, she bought a car but lied to me that her brother bought it for her. She told me the truth after the vehicle started developing faults and she decided I should help her sell it.
"She has presented me before the court as irresponsible but she has forgotten that few months ago, I gave her N20, 000 to attend to her car before she got rid of it. I also gave her another N100, 000 to start a business.
"My lord, I'm responsible for our children's education and I pay their fees as and when due.
"She has tagged me an enemy of progress because I advised against embarking on a business trip to Saudi Arabia. She ignored my counsel and went without my consent," the defendant said.
The court president, Chief Olasunkanmi Agbaje, stated that more evidence would be needed.
Ruling, Agbaje adjourned the case till June 14 and asked the couple, their children and family members to be in court on the date for judgment.