'He slapped me 15 times, damaged my eardrum, starved me of sex after I had bought him three cars'
•She has incisions on her breasts; says sex is not food —Husband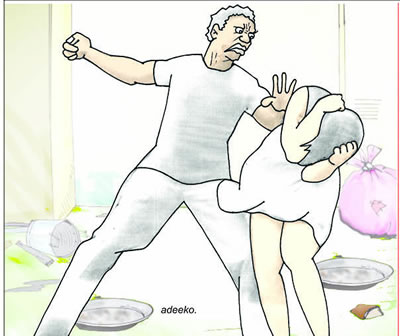 The 10-year-old wedlock between a woman, Eunice Opeyemi Babatunde, and her husband, Samuel Babatunde, has been dissolved at Oja Oba/Mapo Customary Court C, Mapo, Ibadan, Oyo State.
Opeyemi, a civil servant had dragged her husband to court on the grounds of deceit and irresponsibility.  She added that he was a brute and had constantly denied her of her conjugal right.
The plaintiff thus prayed the court to terminate their relationship and grant her custody of their two children.
"My husband never told me he had a wife while we were courting. I got know only after he impregnated me and I moved into his house," Eunice said.
She went on: "Shortly after we got married, he requested that I buy him a vehicle for commercial purpose and I did. I ended up buying him three vehicles. He wrecked the first, sold it in parts, destroyed the second in a crash and ruined the third. When he asked that I purchased a fourth for him, I bluntly refused.
"He was always complaining that his salary was not paid and left me to shoulder his responsibilities at home.  I got fed up one day and phoned his office and discovered he had been telling me lies. He got back home and hit me with his belt for daring to call his office and destroyed my SIM card," she added.
"I put him in charge of the purchase of blocks when I was building my house, but he cheated me by adding N20 to each block. He slapped me 15 times when I challenged him.
"He insisted I enrolled our children in a public school but I refused because I wanted the best for them. I pleaded that we jointly pay the fees and this we have been doing.
"He accused me of receiving calls from a lover and smashed my phone on the ground. He went ahead and took a new wife and denied me my conjugal right for almost a year.
"My lord, I pray the court to separate us and grant me custody of our children. I also appeal to be allowed to remove my belongings including my ram and our children's clothes from his house.
In his response, Babatunde stated that: "For three years, my wife dictated the time we had sex. I warned her I would take another wife if she failed to change and I went further to report her to our pastor.  She told our pastor sex was not food. I, therefore, took another wife.
"I heard her making incantation in the bathroom while being in possession of a soap and sponge she uses for diabolic purpose. She also has incisions all over her body especially on her breasts which made me stop having sex with her.
"Contrary to what she said, I purchase foodstuff for the home by myself and pay our children's school fees on regular basis. I paid that of this term on January 21. I also started handing over to our children the feeding allowance when she started misbehaving.
"My lord, I caught her discussing with her lover on phone and on January 2, she left home with our children for her lover's place and was there for three days.
"On January 5, I received a court summon to appear in court today," the defendant concluded.
Giving his judgment, the court president, Chief Ademola Odunade dissolved their union and handed over their children to the plaintiff.
The defendant was asked to pay N10, 000 monthly as feeding allowance for both children and be responsible for their health care and education.
He was also mandated to allow the plaintiff remove all her belongings and that of their children from his house.