He locked food up in the store, kept the key; insisted I aborted an advanced pregnancy —Wife
•She fed her lover with my food; went to Saudi without my consent —Husband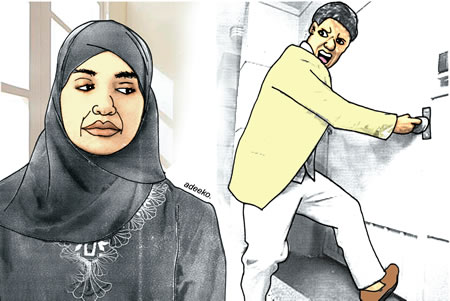 A woman, Monsurat Nojim, has prayed Oja Oba/Mapo Court C Customary Court, Mapo, Ibadan, Oyo State to put an end to the 13-year-old relationship between her and her husband, Owolabi Nojim.
Monsurat in her divorce suit accused her husband of neglect and battery.
The plaintiff also appealed to the court to put their three children in her care.
Owolabi consented to divorce when the claim was read to him.
"My lord, my purpose of coming to court is to put an end to my husband's maltreatment of me. Owolabi derives pleasure in beating me. I believe the major reason he married me was to humiliate me and beat me to death.
"Owolabi constantly shirkes his responsibility in the home. All he knows to do is to beat me.
"He's also selfish. Being an irresponsible person, he passed his responsibility of feeding the family especially our children to me but developed a way of feeding himself. He would lock the door of the store which he filled with foodstuff and keep the key. He would prepare himself sumptuous meal when the children and I are not around and clear the kitchen before our return.
"My lord, he insisted I abort the pregnancy of our third child which was already in the advance stage, giving paucity of fund as excuse. I refused because I was not ready to die and he totally neglected me.
Sadiya Farouq, Humanitarian minister, disowns fake Twitter account
"Few years after, I later decided to travel out of the country for greener pasture when my business nose-dived and kept our children with my parents. My lord, Owolabi forcefully took the children from my parents and handed them over to his parents.
"On my return, he gave me terms on seeing these children who obviously lacked proper care. He actually made it difficult for me to see them.
"The last time I went to see the children, I went with my brother. On getting there, he tried to hide them from me which led to a fight. My lord, Owolabi slapped me and later beat me blue black in the presence of our children. He went as far as pulling out my hair and I bled. He would have maimed or killed me if my brother had not come to my rescue.
"My lord, I'm through with Owolabi. I pray that you put an end to our union now," Monsurat pleaded.
"My lord, Monsurat need not plead for divorce. As far as I'm concerned we have ceased to be husband and wife from the moment she went against my wish and travelled out of the country, "Owolabi told the court.
"She was unfaithful to me even before she abandoned me for greener pasture. Monsurat would prepare a double ration of food, pack and take to her shop. She fed her lover who visited at her shop almost every day with this food which was provided by my hard-earned money.
"She lied that I didn't take care of her. I gave her N60, 000 in addition to what she had to purchase a plot of land and advised her to document the papers in her name," the defendant said.
"My lord, Monsurat with the help of her parents processed her travelling to Saudi Arabia. They had perfected their plan before informing me.
"I was stunned when his father informed me that she was leaving Nigeria to work in Saudi Arabia. I refused to give my consent and warned that if she went, she should regard herself as gone from my house for ever.
"I returned from work a few days after and met an empty home. I called her parents to find out about her whereabouts but they both feigned ignorance.
"Monsurat travelled out of the country against my wish and took our children to her parents for care. Mad, I went to her parents' place, took our children and brought them to my parents' place. They have been in their custody since then.
"I went further to make real my threat by taking a new wife. I have since then told her to come for her property because I need her no more.
"My lord, the day she came to check the children, she and her brother were rude to my mother. An argument ensued and Monsurat insulted my mother; she pressed my mother's nose with her finger. I was mad with her and slapped her. Her brother in a bid to retaliate raised his hand to slap me but I told him he would die if he dared to slap me," Owolabi said.
After he had heard both parties, the court president, Chief Ademola Odunade, adjourned the case for further hearing.