He has high libido, always demanding for sex, sleeps with other women in our room —Wife
•She fights like a jackal; locked up in police cell four times for fighting —Husband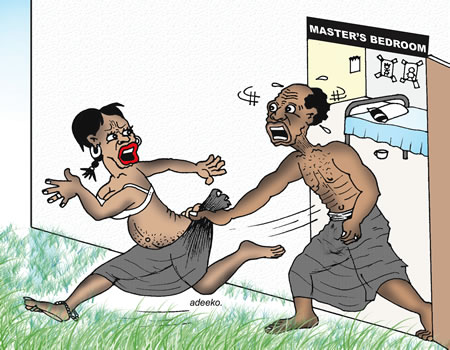 A woman in her  late 30's, Ganiyat  Adediran, has told Ile Tuntun               Customary Court, Mapo, Ibadan, Oyo State, that she's no more interested in her 15-year-old marriage to her husband, Marufu  Adediran.
Ganiyat in her divorce suit accused her husband of irresponsibility, battery and infidelity.
She added that he had no regard for her parents and was in the habit of insulting them.
She thus prayed the court to put an end to their relationship, grant her custody of their four children and make him responsible for their welfare.
"My lord, I've had enough of my husband's beatings. I nurse sores all over my body as a result of his constant beatings.
December 2019 deadline to flush out unqualified teachers ― FG
"He's irresponsible and does nothing in the home order than eat the food I prepare with my hard-earned money and harass me and our children. Since he's often out of job and is always at home most of the time, he concludes that his primary assignment is to have sex with me day and night. Any time I refuse him sex, he beats me blue-black.
"Our marriage has produced three children as a result of his high libido, but he does not have the wherewithal for their welfare.
"He reported me to my parents that I refused him sex and they counseled me it was wrong to deny him his conjugal right.
"He impregnated me again the fifth time and asked me to abort the pregnancy when I informed him about it. I bluntly refused because I feared I could die in the process. He got mad and beat me till I bled.
"I reported him to my parents who made some attempts at mediating in our issue, but he frustrated all their efforts and was rude to them," the plaintiff told the court.
"My lord, despite always satisfying my husband in bed, he still brings home his lovers any time he has some money on him.
"He eventually took a new wife who moved into our apartment with the children she had from her formal marriage.
"His second wife never gave me rest. She has caustic tongue and is in the habit of cursing me and saying unprintable words.
"We once had a misunderstanding and she poured water on me. This led into a brawl, but rather than mediate between us, my husband and his step daughter both beat me.
"He later took our children from me and put them in his mother's care and denied me access to them. He stopped them from picking my calls.
"My lord, I've had enough of my husband's maltreatment.  All I pray the court is to separate us, "Ganiyat said.
In response, Marufu said: "Ganiyat is troublesome and would soon snuff life out of me. She disregards me and intentionally flouts my order which informs my decision to take a new wife.
"She's shameless, mean and fights like a jackal. She fights me almost every day.
"She also extended her hostility to our neighbours who arrested her with the police four times. I paid through the nose securing her bail.
"The last time we fought she tore my clothes into shreds."
After listening to the duo, the court president, Chief Olasunkanmi  Agbaje, stated that more evidence would be needed.
Ruling, he adjourned the case and asked both parties to come with their children and parents.