He beats me to a pulp, neglects me, our child —Woman
•I tried all I could, but she failed to appreciate me —Man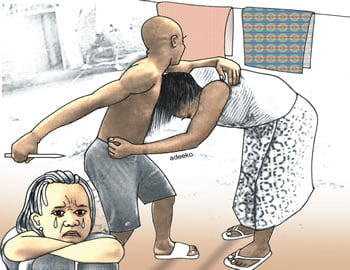 A woman, Bidemi Opebi has appealed to the Idi Ape Grade C Customary Court, Ibadan North East, Oyo State to dissolve her 3-year-old marriage to her husband,Ganiyu Opebi.
Bidemi in her suit claimed that her parents never consented to their marriage and that her husband is cruel.
The plaintiff told the court she was no more interested in their marriage. According to Bidemi, She had packed out of the husband's house four times because he was fond of beating her and would always come back pleading.
"My Lord, I am tired of this union. My husband is fond of beating me while  he never takes care of me and our only child. He has abandoned us. I have packed out of  his house four times because of his brutish nature but he was always coming back to beg me to come back  home which I always did  because I love him.
"Now, I am tired him. My parents never supported our marriage but I stuck to him out of love. He repaid me by abandoning me and our only child. I have packed out of his house for the last time and I am not going back to him.
"My lord, I went to his parent to explain his excesses to them but the defendant, rather than change, got worse,"she said.
Giving his evidence, Ganiya agreed to claim but refuted all the evidence given by the plaintiff.
He stated that the plaintiff's parents never consented to their marriage  which hindered  his payment of her dowry.  According to him, every other thing his wife said were lies.
Ganiyu  stated that he tried his best as a husband but the plaintiff wasn't appreciative of all he did.
Having listened to both parties,  the court president, Moses Oyekanmi dissolved their union on grounds of nonpayment of dowry and awarded the custody  of their child to the plaintiff.
He ordered the defendant to pay a monthly allowance of N3, 000 as upkeep of their child while mandating both parties to be responsible for their child's education.